What is Threads?
Is it the same as Twitter? No, but it seems to be an Instagram-branded version of it. You can quote, like and repost. The posting is straightforward. 500 characters and GIFs, images and videos are all thrown into the mix.
A new platform is always daunting, but Threads isn't anything complicated. If you've already got an Instagram account, you're halfway there. You can sign up via that. One thing to note is, you can't send DMs.
Should your brand be on Threads?
If Instagram is your primary channel for connecting with your target audience, yes. If you have a clear content strategy for short-form content, get on Threads to get that first-mover advantage.
It's definitely worth exploring it, seeing how people are using it and seeking out any potential opportunities.
Here are some top tips for your brand to get you started:
1) Jump-start your following by joining in early days – When users join Threads, they get the option to follow all the same accounts they follow on Instagram. So if your brand is one of them, you get an immediate follow if they opt for that! Even if they don't, there isn't a high inertia to get them to. Everyone is actively looking for accounts/content to follow on the platform.
2) Explore the features and engage your audience – There is a very first-week-in-school atmosphere now on Threads. Everyone is excited and curious and very ready to engage and interact with posts. It's the prime opportunity to start a thread, interact with your target audience (or even with other brands) and to explore all its features (including its multi-photo carousel feature). Need some easy wins to rake in the engagement? Memes or simple user-generated content requests (e.g. RollingStones asking their followers to share their favourite concert videos). You can also do a quick rewards offer (e.g. MTV offering to write back a song recommendation based on an Emoji – even Adobe joined in on the fun!).
MTV wasted no time getting stuck in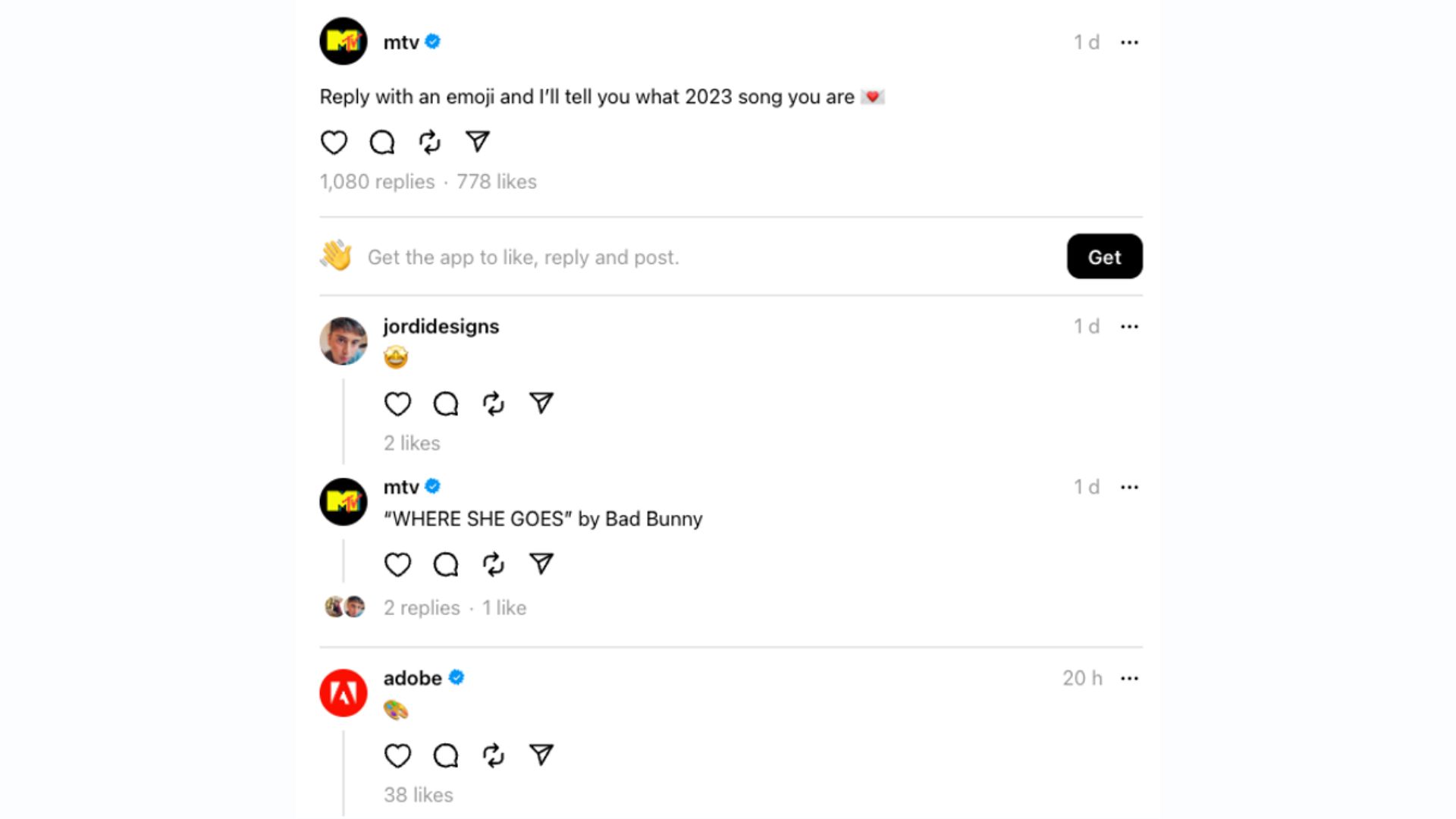 3) Have fun! – There's no right or wrong way to approach Threads. It's new for everyone. You have plenty of room to find your voice and find what your audience prefers. You also have a high chance of being discovered and reaching new audiences. Its main feed is currently not sorted strictly by the content users follow.
With all the recent press about Twitter and Elon's (rather unpopular) platform updates, coming out with a shiny new toy as an alternative to Twitter is a smart move.
Will Threads catch on? Time will tell. What we do know is, your audience is already there, so you should be too.