I was lucky enough to attend the 2018 FIFA World Cup in Russia with a friend. While catching a couple of matches, I got to see how brands were getting involved with the event.
The usual suspects were all out in force – Adidas, Coca-Cola, Hyundai, McDonalds. But who stole the show? Which brands stood out from the rest? For me, there were three clear winners.
#3: Visa
Coming in at third place is Visa. Not only did the financial services corporation partner with one of the most quotable football players of all time, Zlatan Ibrahimović (who despite not playing at the World Cup, still managed to steal a few headlines for himself), it also snagged the spot as the only accepted form of electronic payment. Fortunately for me, Visa had me covered – I was able to use my Mastercard to load money into a limited-edition FIFA Visa prepaid card. While it may not have been ideal or convenient, it did enforce Visa's position; everywhere you want to be.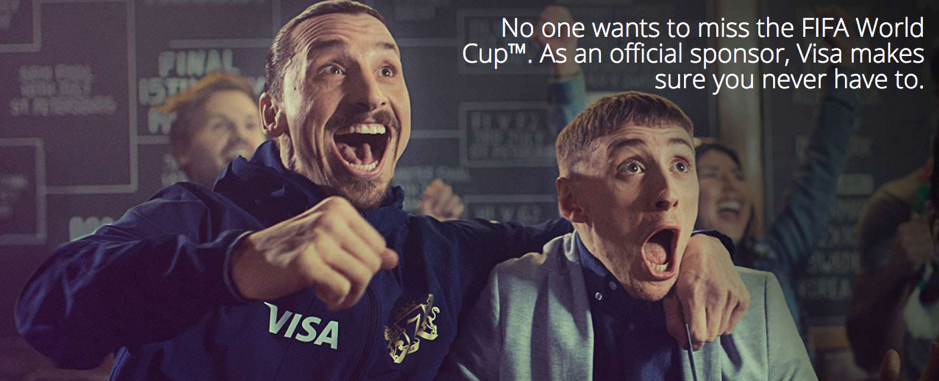 Source: Visa.com.au
#2: Budweiser
En route to Kazan, our first destination, we had to wait five hours for our connecting flight in Moscow. Luckily for us we found a bar screening the Uruguay and Egypt game. As we enjoyed a few Buds, little did we know it would be the only alcoholic beverage choice throughout our trip at FIFA events. In other words, no vodka! (I later found out that vodka is bit of a stereotype in Russia; it's not everyone's choice). How was this effective? The taste of a Bud will always take me back to the 2018 FIFA World Cup in Russia. Budweiser certainly has shot to the top of my mind when I think about football and great memories.
#1: Hisense
It wasn't until after I got home that I realised which brand had taken the top spot. I was talking to a friend who mentioned they recently got a new TV that was 'the best TV to watch the World Cup on'. Without hesitation I replied, "Did you get a Hisense?" Even I was surprised that I had not assumed other established brands like Sony or Panasonic. The official television for the tournament, Hisense, had created the perception that its TVs were the best for tuning in to the World Cup by partnering with influencers fans loved and found credible. Take for example, Australia's adored captain Mile Jedinak; He wouldn't deceive us, would he? We often hear that good timing matters when launching an advertising or marketing campaign. Couple good timing with trust, brands will be able to positively influence intent for purchase.
Sure, visibility at large events like the World Cup can help brands win the war for most number of eyeballs reached. But it is exclusivity and memorability that facilitate a strong connection between brand and consumer, especially at a time when consumers are most passionate.
Being in this industry, my purchase decisions are often based on facts and are not so easily influenced by marketing campaigns. With that said, I'm going to purchase a Hisense TV and a few Buds with my new Visa card so that I can put my feet up and watch the rest of the most unpredictable FIFA World Cup we've seen in a long time.