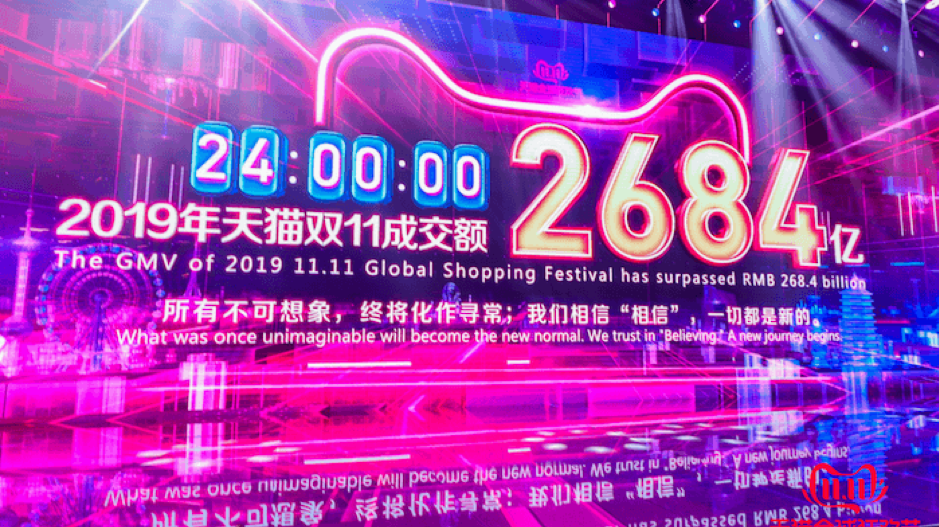 Tmall Double 11 2019
Alibaba's Tmall Double Eleven pre-sale started on 21 October and reach its peak on 11 November 2019.
Over 200,000 brands are participating, one million new products are on offer and more than 500 million users are expected to participate in this year's festival – about 100 million more than last year.
Tmall's Double 11 ended with a whopping 268.4 billion yuan (US$38 billion).
Heres the timeline:
At 00:17:06 11 Nov- total sales of 57.1 billion yuan, exceeded 2014 full day's GMV
01:01:32- 91.2 billion yuan, exceeded 2015 full day's GMV
01:03:59- 100 billion yuan
01:26:07- 120.7 billion yuan, exceeded 2016 full day's GMV
10:04:49- 168.2 billion yuan (US$24 bn), exceeded 2017 full day's GMV
14:21:28- 200 billion yuan
16:31:13- 213.5 billion yuan, exceeded 2018 full day's GMV
Full day sales on Tmall 11.11 day 2019: 268.4 billion yuan (US$38 billion)
Tmall Double 11 2019 saw a new record of 544 thousand transactions per second, which is 1,360 times as many as the first Double 11 in 2009.
There were 299 brands that reached RMB 100 million in GMV, including Apple, Nike, Estee Lauder and Giorgio Armani. The top 10 countries selling to China through Alibaba's cross-border platforms were Japan, US, Korea, Australia, Germany, France, UK, New Zealand, Italy and Canada.
JD Double 11 2019 Sales
JD, another key e-commerce shopping platform announced a total order value of 131.3 billion yuan (US$18.73 bn) from 1 November to 10 November midnight. At the end of 11 November, JD total sales for Double 11 reached 204.4 billion yuan (US$29 billion yuan).
Suning Double 11 Sales
Suning saw over 100 million yuan in total sales value in the first hour on 11 November 2019. Its offline sales outlet, Suning Plaza grew by 56% YoY. Suning Double 11 omni-channel sales orders increased by 76% year-on-year.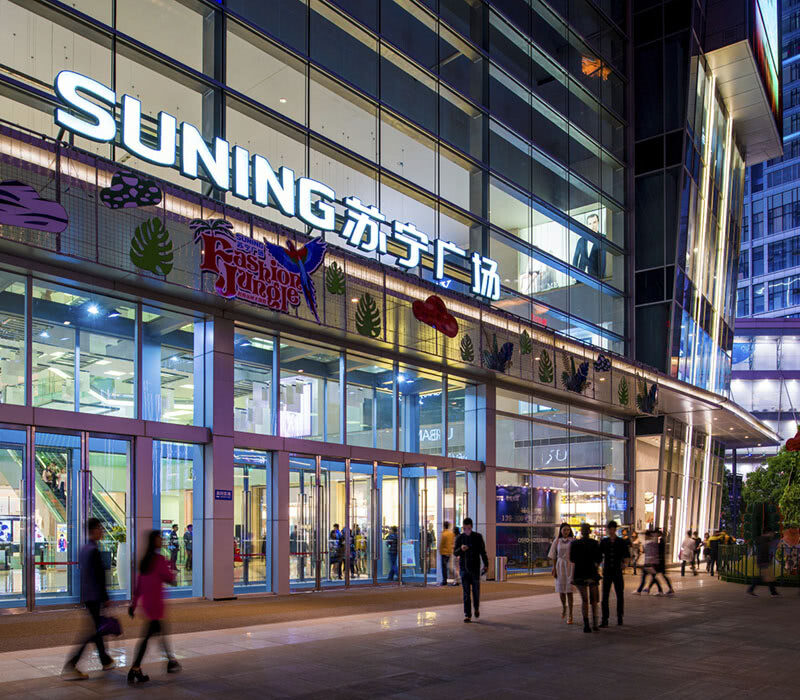 China E-commerce market is highly competitive. Every year, you've signed probably the biggest marketing budget on e-commerce platform in China. Your e-commerce and brand team report to you that this is the right thing to do because this boost the sales. But you keep asking one of your favourite questions: how to manage this budget to efficiently grow the business.
This question is challenging to answer considering marketers would need to manage the following:
multi platforms stores (3rd party, official store, mini-program, etc)
variety customer relationship manage products (Alimama, Jingzhuntong, Search, Feeds ads, etc)
all sort of customers (existing, prospects, competitor's, etc)
all products / SKUs (hero, new, upgrade products, etc)
and so many events / promotion periods
These altogether make extremely difficult to identify growth points and where to improve efficiency.
Platform provides AI solutions for you to manage customer relationships through tailor product/content recommendations to different prospect customers. This is convenient and most of the time it works, of course. However, it is also a 'Black Box' that we don't have 100% control in competitions and budget wasting. If all brands are using this same machine learning solution, how come it works best for you?
Strategic Foundation for E-Commerce Media Investment
The key strategic foundation to optimise e-commerce investment are 1. media investing strategy for balancing growth and efficiency, and 2. lean management. These are not brand new findings, and you might heard of them a lot. But they are a lot more complicated to achieving than on paper.
Media investing strategy for balancing growth and efficiency
So what exactly are you investing in?
Basically, you are investing a combination of opportunities including:
at certain time/place (big promotions, seasoning, national event, etc), with
customer's intentions, with
your products & services
and this combination normally generate three types of performance.
Three types of performance of e-commerce media investment

Relatively bad return on investment (ROI) and relatively lower probability
– Some of customers, no matter how much dollar we invest in them, they are not interested and they don't buy from us. Think about how difficult it that you try to sell XS size shirt to Shaq or Yaoming.

– Some of our products, no matter how much dollar we invest, give them a lot of exposure. But they just don't sell due to a lot of reasons. (selling point, price strategy, strong competitors, etc)

– Some of events / holidays, are not relevant to your category or products.
Relatively Good ROI and relatively upper probability
– They are the loyal customers, they willing try most of your new products and repeat purchase your hero ones. If you have limited budget and want to protect the sales, these customer are what you need to focus.

– They are your hero products, work best for both existing customers and prospects.

– Double 11, June 18th are the largest shopping festival, so does the March 8th to beauty industry, Chinese New Year to food and beverage markets.
Relatively bad ROI and relatively upper probability
– These are the smart customers. They didn't paid the order at the moment you meet them. But they willing to send the good signal that they like your products by adding products to shopping cart, taking the coupons, favourite your store and arrange a reminder to next promotion.

– Some of your products sales performance relatively bad or average than total product portfolio at daily sales. However, it seem get huge uplift when it has promotion or activities then other products.
Media investing strategy for balancing growth and efficiency

If we are able to identify and quantify how much we invest in each type of performance, the Media investing strategy for balancing growth and efficiency are simple and straight forward:
Stop waste and reallocate budget to
Good ROI combination and Upper probability combinations
Continuous improvement
Aggregating data to understand what kind of customers you engage and setting the right e-commerce strategy towards different customer groups are going to create a scalable and sustainable e-commerce business in the China market.
Get in touch with us to understand more about how the right strategy can help your e-commerce marketing!