According to Dr. Robert Cialdini, Professor Emeritus of Psychology and Marketing at Arizona State University, this is caused by the fear of losing out, or as we now say #FOMO. He described scarcity as being one of the principles in his theory of influence.
If you want to apply this principle to your brand, take this example from the monks of the Saint Sixtus Abbey in the Belgian Westvleteren. These monks brew beer that cannot be purchased from any supermarket or liquor store. An appointment at the abbey is required before an individual is allowed to collect a maximum of one crate. The rarity of this beer made everyone want to try it at least once. The supermarket chain Jan Linders made clever use of this knowledge. They managed to obtain the beer and continued the use of the principle of scarcity: allowing customers to buy a maximum of two bottles each. The beer sold out in no time.
The beer sold out in no time
Another good example is the Yeezy sneakers from Adidas. These shoes, designed by Kanye West, are very scarce because they are not available all-year long. In addition, while some 75,000 people are ready to buy them at the end of their computer, only a limited amount of shoes are produced during each launch. This mismatch in supply and demand drives the prices of the shoes up, because those who have missed the opportunity to purchase during the official sale still want to have those shoes.
While these are nice examples,  I can imagine that you do not have Kanye West in your contact list. But it is still possible to apply the scarcity principle in a simpler way as part of your campaign. Below are three examples that you can include in your marketing strategy:
Available up to…
When companies send press releases, this often concerns a new product or new service. The focus is usually on what is so great about it and when it is available. It does not just work with every product or service, but sometimes you can experiment a bit with the influencing principle of scarcity in press releases. Describe for example that the product is only available in a limited edition or that it is a special edition. You can also indicate that it is only available during a specified time frame.
Full = full
After sending an invitation for a webinar or an event, ideally we
want everyone to sign up as quickly as possible. But this does not always happen. In your invitation, state how many places are available. It also works to indicate that no new spots will be made available once the maximum quota is reached – this is the familiar full = full'. Mid-way during your campaign, include an update or reminder to share what fraction remains, such as: only 50 of the 300 spots left.
This promotion runs for three days and six hours
The principle of scarcity can also work well on a website. Indicate here if something is a limited edition or if a webinar is almost fully booked. You can also add a countdown clock to show when the registration period ends. For products that go on sale, highlight what quantities is still available.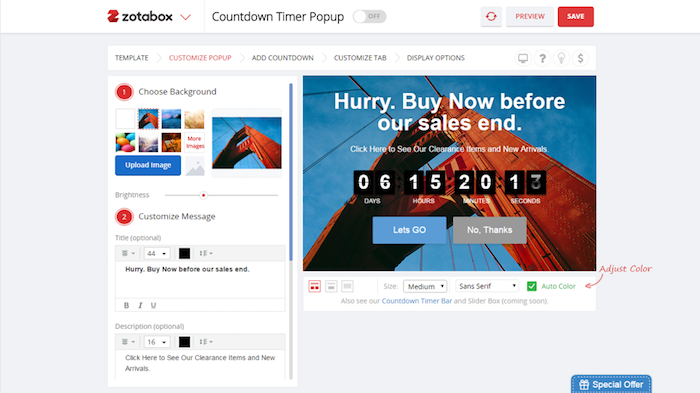 The key to using scarcity is to keep it subtle and avoid applying it excessively. Applying it everywhere will cause it to lose credibility. In short, give it a try and see how it works best for your organisation and keep in mind to not overdo it.