Let's face it: if you're dropping over $400 on a festival ticket, you're going for more than just a few musical performances and capturing the perfect picture for the 'Gram. You're going for an immersive experience that you'll remember forever. Mark de Bruijn, VP of Marketing at SAP Customer Experience, said it best: "Emotional memories always depend on the hippocampus, a part of the brain which ensures that short-term memories are moved to the long-term memory. In other words, beautiful experiences leave deep traces in our memory." With festival season kicking into high gear, there's a lot that brands both big and small can take away from Coachella to ensure that they make an impact on consumers. Below are the top brand activations from this year's festival that excelled at creating immersive experiences to connect with existing customers and reach new audiences.
Heineken House
As an official sponsor of Coachella for the last 18 years, Heineken has witnessed many changes throughout its relationship with the festival. This year, the beer brand decided to turn up the heat by creating the Heineken House Evolution. Previously, the brand's activation included a walled structure and club atmosphere. But with the festival dabbling in a rearranged landscape, Heineken saw an opportunity to change the pace. Using the strategy of creating its own festival experience within Coachella, the Heineken House morphed into a beer garden complete with its own lineup of musical guests. The new layout definitely created a more intimate experience for 21+ attendees. Because you couldn't see inside of the house from the outside, there was an added element of surprise when you entered the bass-bumping beer garden.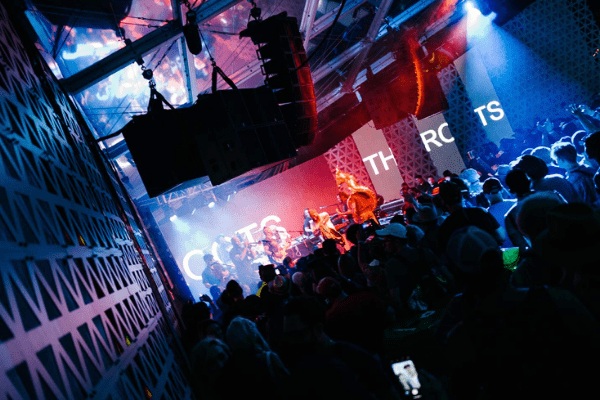 Pantene Styling Lounge and Salon
Another official 2019 sponsor of Coachella, Pantene was on a mission to make sure festival-goers were ready to slay. Not only did Pantene have their own in-venue styling lounge where attendees could take advantage of free styling touch-ups, Wi-Fi, air conditioning, and numerous photo ops, but they also had a free salon located within the Camping Center. As someone who braved the festival's car camping conditions, discovering that there was a professional stylist ready to tame my desert locks was such a relief. Pantene even gave festival hopefuls the chance to win two VIP weekend one passes, round trip flights to the festival, hotel accommodation, and spending money if they posted a photo of themselves on Instagram rocking their best Pantene-inspired festival hair. The #FestivalHair contest gives Pantene customers the opportunity to experience Coachella, Stagecoach, and Firefly music festivals as a reward for involving themselves with the brand, creating a memorable relationship between consumer and company.
Peet's Cold Brew
Let's face it, you don't get much sleep when you're attending a three-day music festival. Between staying up late to watch the last performances of the day and walking thousands of steps across the venue to different stages, your body starts to feel drained pretty quickly. This year, Peet's was ready to help keep festival attendees alert with their cold brew bus and trike. Their vintage bus located in the Camping Center came complete with phone charging stations, cooling misters, and (of course) free cold brew samples. The blue trike could be found outside of the Sahara Tent passing out free samples during Peet's weekend happy hour. By connecting with consumers during a moment of need (exhaustion and caffeine deprivation), Peet's was able to capitalize on this well-timed surprise while providing soothing comfort to festival attendees.
The Do LaB
A Coachella staple for the last 15 years, the Do LaB has evolved to become the festival's hidden gem. Complete with bumping electronic beats, water cannons, and crowds of people ready to vibe with the music, the Do LaB has grown bigger and better as the years have passed. This year's design called Warrior One stood 46 feet tall, 225 feet wide, and 272 feet long. The California event company behind the Do LaB has worked to create an immersive, unique environment unlike any other. Because of their ability to do this, the company is the only outside entity to design, build, and curate their own portion of Coachella. To help keep festival attendees in the loop, the Do LaB even allows guests to opt-in to text updates so they're aware of the tent's surprise guests each day. Additionally, the text alerts notify attendees of opportunities to win tickets to other festivals like the Do LaB's very own Lightning in a Bottle, giving guests another experience to look forward to.
Move through 〰️ pic.twitter.com/XZJKMgjsRJ

— Do LaB (@TheDoLaB) April 13, 2019
HP Antarctic Dome and Lounge
For the third year in a row, Coachella featured their HP Antarctic Dome, a 360-experience providing festival-goers with an escape from the desert heat. This year's HP activation featured Coachella performers Rüfüs Du Sol and a new visual music video to the band's fan-favorite song, "Underwater." Paired with milky ripples of lights and waves projected overhead, viewers were given the sensation that they were actually underwater. According to the band, the immersive film project was a way for them to have their artistry live on long after the festival is over. HP's ability to bring together the festival's musical acts, new technology, and visual artistry resulted in an experience that moved festival attendees through space and time.
In addition to the Antarctic Dome, HP also brought back the HP Lounge with the theme "Dreamland." Throughout the lounge, attendees were surrounded by various technological tools designed to bring their inner creativity to life. Take the "Lucid Dreaming" experience, for example. This immersive projection room captured festival-goers' body movements and combined them with one of three visual patterns and manipulated fluid, resulting in a Boomerang that attendees could email to themselves and keep as a digital memento.
A digital dreamland came to life at Coachella, powered by HP and @intel technology. We had a blast creating immersive experiences to empower your creativity. #HPCoachella pic.twitter.com/RZr1TTFHU4

— HP (@HP) April 23, 2019
Music festivals provide the perfect opportunity for brands to meet their desired audience on their own territory. But with so many brands trying to stand out among the crowd and be the next big thing that all the "cool kids" are talking about, it's important to zoom out and remember what all of these festival attendees are there for: a memorable experience. Providing that experience for the festival-goers and relating to them on an emotional level is what will build a solid relationship between your brand and your customers. As festival season kicks into high gear, keep the customer experience in mind to effectively leverage these millennial playgrounds into your marketing strategy.
Have any event marketing questions? Reach out to our event experts today!