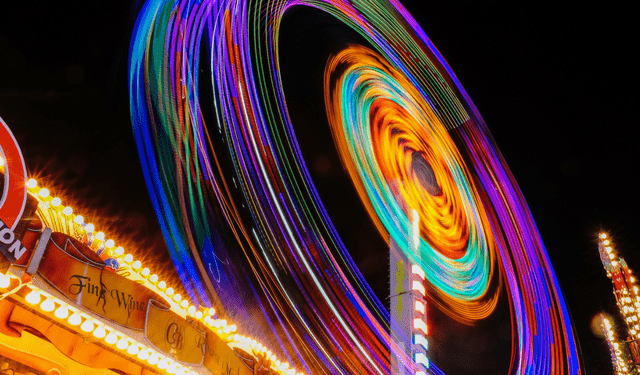 Working with Slacker Radio, we gained so much momentum with Jeff Wilson of PC Magazine that he covered Slacker 27 times in 14 months, causing the Slacker CEO to joke, "I feel like I should be a paid subscriber to PCMag." As the coverage continued, he eventually asked us to refrain from pursuing any further activity with PCMag because it had already done all it could for Slacker – a crazy request given that the publication reached our exact target audience, and a large one at that. Our outreach to Jeff was ridiculously more productive than the rest of our outreach, all because we (and the Slacker product, of course) had gained so much momentum with him. This helped me realize that developing strong, enduring relationships with reporters makes us so much more effective at our jobs. So why don't we put more effort specifically into establishing, developing and nurturing those relationships? Below are three tricks for doing so.
1. Contact reporters about their articles, even when you don't have a story to pitch
Regardless of whether we have a pitch or not, we can be reaching out to reporters and responding to their stories, such as by emailing or tweeting at them about their articles or commenting on their articles directly. By doing this regularly, we familiarize reporters with our names, which can give us an advantage over the tons of unfamiliar PR people sending them emails, while also proving to reporters that we're reading their articles. One of the biggest complaints reporters have about PR people is that we don't read their work and ensure that our pitches are aligned with their coverage areas, so hopefully once they know that we do indeed read their articles, they'll at least give our pitches a chance. By connecting this way, we can also establish ourselves as more than just another PR person who sends pitches, but also somebody who provides useful or appreciated feedback and, eventually, ideally, somebody who is a great all-around resource and partner.
Of course, the feedback we share can be detrimental too, if not done properly. We can't be lazy with it, such as simply thanking the reporter for their article. Harry McCracken of Fast Company actually said PR people have ruined compliments by sending him too many that are insincere, probably after receiving too many like this one sent to Mike Isaac of The New York Times: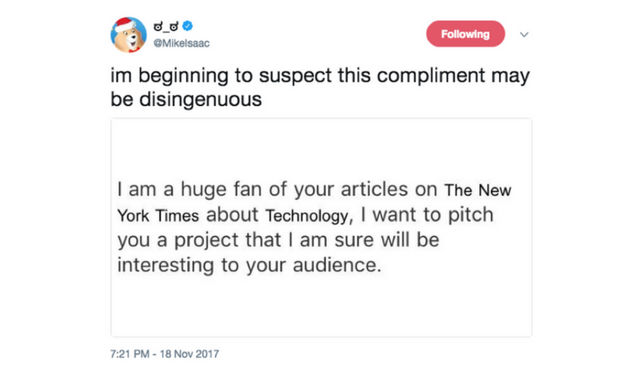 However, a thank you can be appropriate if it's sincere and specific and non-myopic, such as recognition for how the article was different from other coverage on the same topic or praise for its strong journalistic values (accuracy, thoroughness, fairness, use of a variety of sources or unique sources, use of a unique angle, speed, etc.). It can also be helpful to prove you read the whole article by referencing several different parts of it or the end of it, or by making a comprehensive comment.
Our feedback might also include a question or a follow up story idea, as long as it improves the story or propels it forward. And in some cases, it's appropriate to point out errors or faulty hyperlinks, especially if they're significant or detrimental to the story.
2. When you do make contact with reporters, prove to them that working together will be a great experience
When we secure interest from reporters, it's not only an opportunity to generate coverage but also an opportunity to make a good impression so that the reporters will want to work with us again. Fortunately, these best practices increase our chances of both:
Be concise, detailed and straightforward, and provide the key information early. This is how we can be most helpful, making the process as quick and easy as possible for reporters. It also allows us to present as much of our key information as possible before they make their ultimate judgment.
Respond quickly and hustle to provide any information they want (or any that would be helpful) as soon as possible. This also shows respect for the reporters' time. Plus, as U.S. News & World Report managing editor Lylah Alphonse says, "If a reporter responds to your pitch and wants to know more information, have that info handy and reply right away. Saying 'I'll get back to you on that' is the same as saying 'We're not really ready to have you write about this right now.'"
Be amiable and professional. Generally, reporters want to have amicable relationships as long as they're taking care of business. This of course varies significantly depending on the situation and on the reporter, so adjust your tone accordingly. Some reporters aren't exactly friendly to us, so just being professional is best for them.
3. Connect with reporters once more after working together on an opportunity
We can express our appreciation, close out the opportunity and reinforce our relationship by quickly connecting with reporters after we're done working with them. This could be a good time to connect on LinkedIn or let the reporters know if our client shared the article and offer any positive results / feedback. And don't let too much time pass before reaching out again in one way or another – maintaining a semi-regular dialogue with key reporters is essential to developing strong relationships.
Our clients invest heavily in their relationships that drive results, so we should be investing heavily in ours too. For our clients, that's largely marketing and advertising; for us PR pros, that's largely reporter relations. If we can consistently connect with reporters and prove to them that we're good partners, we'll establish ourselves as helpful, reliable resources who they want to be working with.
Need help gaining momentum with reporters? Contact us today.