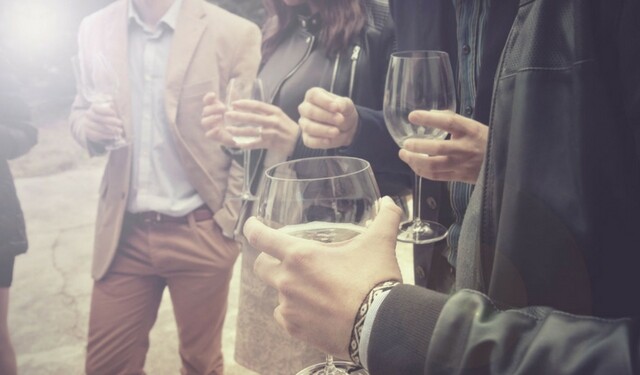 Tip: Be inquisitive
Ask a new contact good questions and take the time to listen to their answers. A "good" question is one that gets the person talking about himself/herself while helping you understand their business. See if you can ask questions for the first two minutes of the conversation without saying anything about yourself. It's much harder than it sounds!

Sample "good" questions :
1. What do you like most about what you do?
2. You mentioned that you were in [industry]. What got you started in that direction?
3. Which other events do you usually find useful?
4. What are some of your biggest challenges?
Tip: Answer "What do you do?" with style
You really should only be thinking about this once you've let the person tell you about themselves for a while, and you've posed several questions to them. This simple question trips up a lot of people, no matter how many times they've had to answer it. This is your chance to show someone how interesting you are. Keep in mind they're meeting lots of people and you want to be memorable. Think about how to describe what you do with a little more flair so that people want to dig deeper. For instance, "I'm a matchmaker" begs further questions. Or how about "I'm a brand-builder" or a "storyteller"? These are responses they're not likely to have heard and will pique their interest in learning more about you.
Tip: Exit the conversation gracefully
Almost as important as how you start the conversation is how you leave things. After you've spent five minutes with someone, if you need to move on, don't pretend to go to the bathroom or make a feeble excuse. Be honest about the fact that you're there to meet other people too. Say something along the lines of, "Well, it was great meeting you. There are a few people I want to catch up with tonight. Thanks for your card. I'll find you on LinkedIn and please stay in touch."
Final Do's and Don'ts: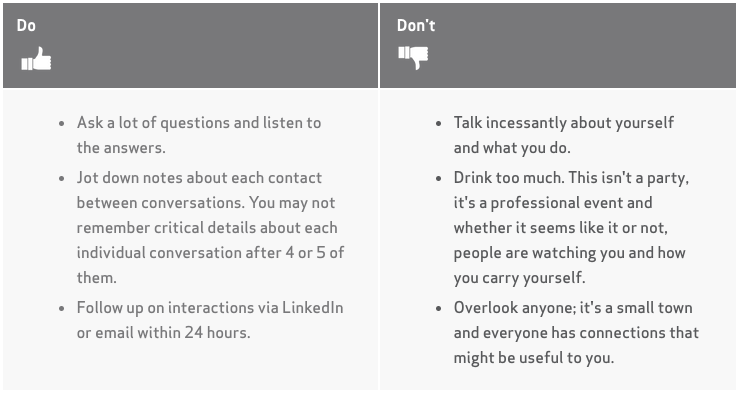 So go ahead and rate your past and present networking performances. What specifically are areas that need improvement? And what areas have you mastered?