The same is true for developing great marketing initiatives across PR, social or digital. A successful campaign has a starts smart, translates insights into a great execution and is then assessed, refined and improved for the next campaign. It's not just an approach; it's how we do business. We call it The LEWIS Story Cycle.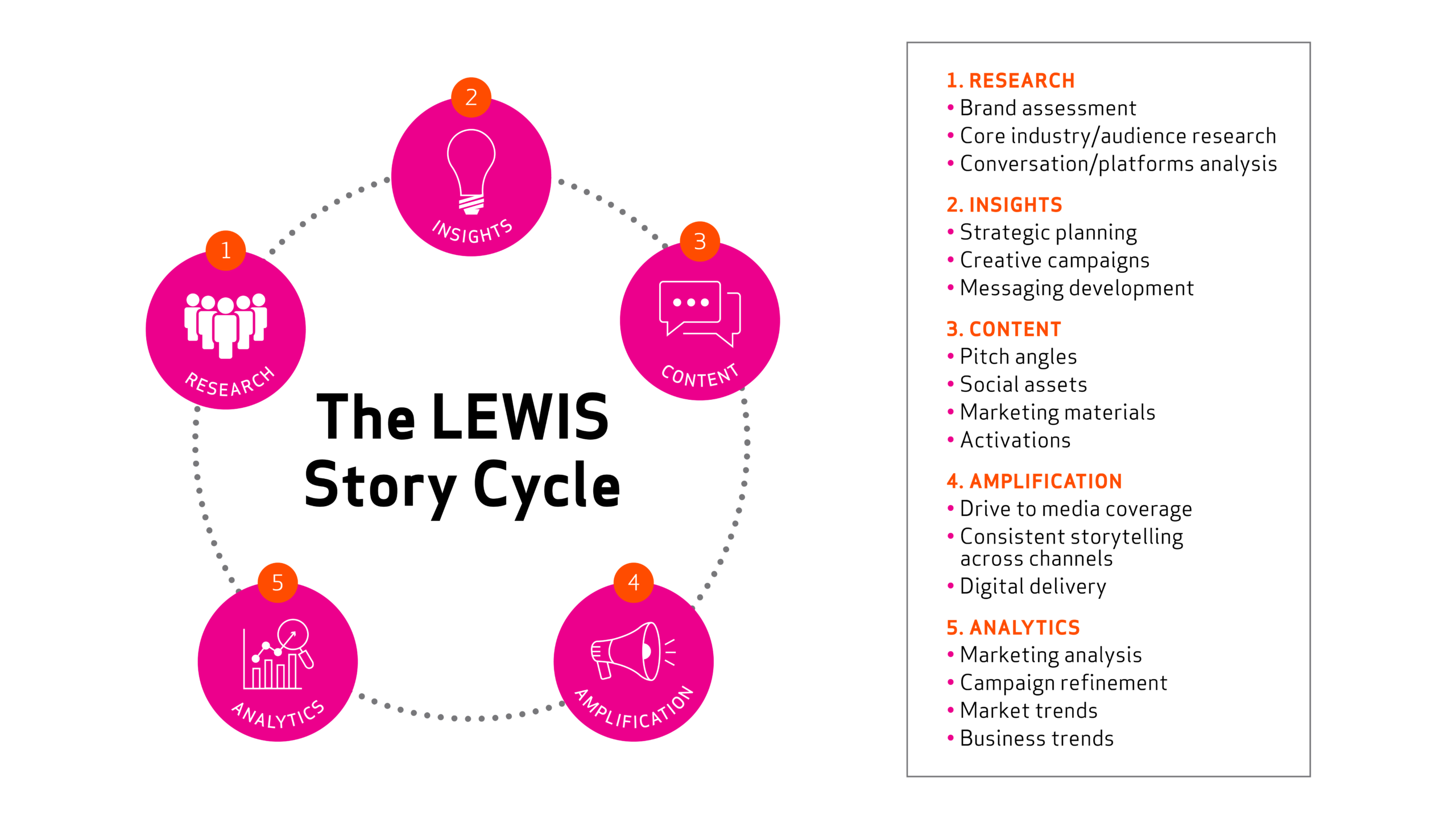 When we create campaigns that truly tell a brand's story, there needs to be a powerful genesis.  That begins with RESEARCH and looking at the brand itself. We have to know where they have already been in order to guide them to their next chapter. We really dig into data regarding the market, competitors and audiences, courtesy of a strategy our in-house LEWIS research team has perfected.
The account teams then go to work unearthing the INSIGHTS from the research. Finding the whitespaces that designate new places where a brand can play, steal share of voice and grow audiences. These insights help inform the subsequent strategic planning, creative campaigns and messaging we develop.
A good story needs to have accompanying illustrations as well. In marketing, that translates to great CONTENT. In addition to the account teams, our in-house team of writers and designers go to work creating everything from the pitch angles to eBooks to video content: all the critical accompanying elements needed before a campaign is launched.
Finally, the story comes to life in the AMPLIFICATION phase. Here the planning and content development is pushed out across Earned, Owned, Paid or Shared channels based on the rigorous campaigns developed. Our account teams optimize outreach, ensuring that media relations, paid and organic social media management and digital marketing efforts are executed with confidence, with the outreach rooted in proper, strategic planning.
No good story ends without proper reflection. In our case, this means a deep dive with our full-scale ANALYTICS team. Assessing the success of a campaign, message pull-through, trends and, most importantly, the best way to refine the story will make it more effective and impactful. Essentially, what we have is the beginning of a feedback loop of measurement and refinement of the messaging architecture as the market shifts and how the audiences react. All of these learnings then go back into the process as we kick-off planning for the next campaign.
The best part of the LEWIS Story Cycle is that we execute this effective process with speed to market in mind.
These are stories that need to be told and we want to help you tell them.
Let us kick start the cycle for you now!