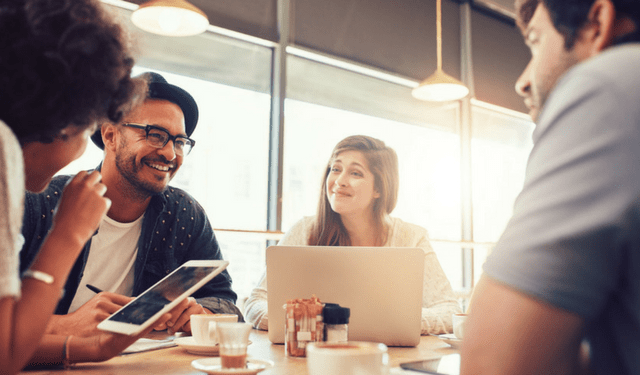 Too often our efforts are prescriptive and tactical, and don't enable us to truly connect with clients and build personal connections that help us collaborate and create a joint sense of accomplishment. Personally, I feel as though I do my best work when I know my client contacts. I understand what makes them tick, I know what drives them and I can put myself in their shoes to help the team figure out the best approach for helping them realize their own goals. In personal relationships that aren't on track, we often turn to therapy for help re-connecting. That's why if you get into a pickle, or are just trying to build satisfying relationships, its best to ask, "What Would the Therapist Say," (WWTS) such as:
1. Listen
What is the client really saying? Pay attention. You have to learn to read between the lines. Are they telling you that there are pressures or demands for action outside of their control? Are they telling you that they would like to see some more creative thinking, or are they communicating in a way that identifies an opportunity for the team to proactively take ownership of certain tasks or make meaningful recommendations? Try to hear what they are really saying and take appropriate action.
2. Be responsive
Courteous acknowledgement is key. You don't have to tackle the ask right away but acknowledge the request and communicate understanding of the task while setting a reasonable deadline for response, or the deliverable.
3. Be human
Be relatable. Try to engage in informal chats. Get to know each other. Don't be afraid to share information about yourself, what's going on in the world or swap stories. Sometimes it's nice to chat about things other than the weather.
4. Be repetitive
Don't be afraid to use email or conversations as an opportunity to summarize key points, or prioritize action items, deliverables and set ownership. This helps demonstrate your ability to do #1.
5. Be flexible
Understand the art of triage and how to set and communicate priorities. Its ok to discuss the readjustment of what is most urgent and ask questions about what's driving deadlines or requests to help get the most pressing and meaningful work done.
6. Be thoughtful
Learn how your clients like information to be shared – is it via email, synthesized, detailed, or bullets? Would they prefer to have a conversation, or receive a deliverable via Word documents, slides or Google Drive? Learn to work within the client's best practice and preferred tools.
7. Have a sense of humor
It's ok to laugh at yourself, make jokes and have a good chuckle together. Share a funny story or observation – think about #3 – be human.
8. Keep good records
Take notes. Keep lists. Track activities. Oftentimes we are asked to help keep our clients organized. By having the most up-to-date and accurate representation of action items and deliverables, we become an indispensable resource that can help our clients more effectively communicate in a timely manner.
9. Anticipate their needs
This comes with listening. Learn how to think like the client – what are they being asked to do, and by whom? Think about what type of information or materials they will need to do their own jobs and proactively discuss and deliver.
10. Don't be afraid of the phone
When in doubt, pick up the phone. Email is great but doesn't always convey what we need it to. And, keeping point #2 in mind – phone conversations help build relationships and establish longer-term connections. Not to mention it shows you aren't afraid to confront challenges or be creative on the fly!
The key to success in PR centers on the establishment of long-term relationships where trust, collaboration and creativity are established.  Building meaningful and constructive relationships with clients are not difficult if you just ask yourself, "WWTS?"
For more helpful PR tips, browse our blog archives!