America's favorite burger lands in Spain
---
Challenge
America's favorite burger lands in Spain
Back in 2016, Five Guys burgers & fries was already a place of pilgrimage for many hamburger fans, who would travel to the United Kingdom or the United States to get a taste. The company decided, following overwhelming success in the United Kingdom, to continue growing in Europe by opening its Spanish flagship in a place as iconic as Madrid's Gran Vía.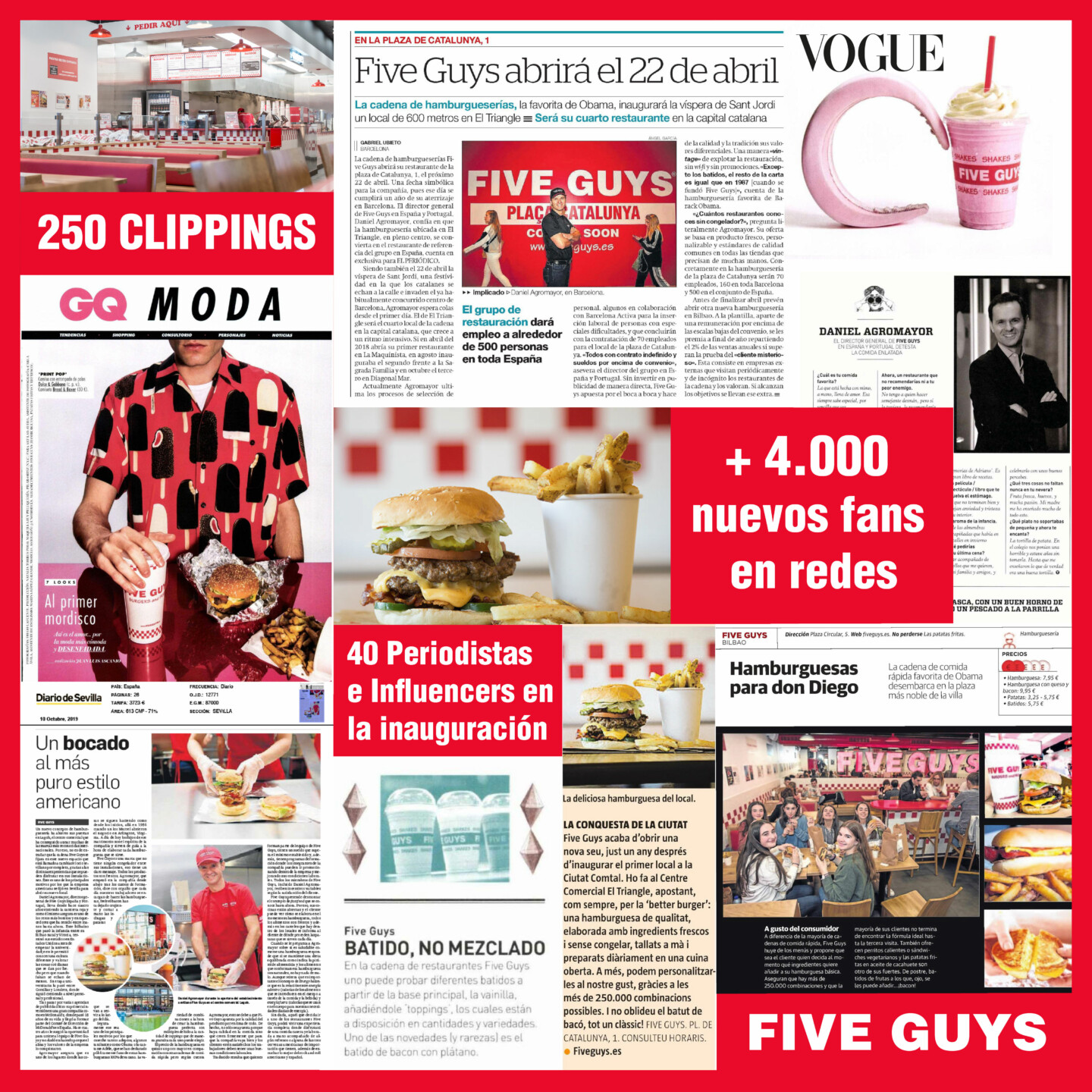 Approach
Under the leadership of Daniel Agromayor, Managing Director of Spain and Portugal, the company decided to partner with LEWIS to maximize the impact of its launch in Spain. In addition to the opening of its flagship restaurant, Five Guys and LEWIS aimed to create a new segment in a market dominated by 'commodity' burgers sector called "Better Burger".
A special concept requires a special communication campaign
Five Guys does not invest in advertising, marketing, or promotional products and does not believe in using discounts as a main tool to generate traffic. Instead, the company believes in the most basic marketing of all: product testing and word of mouth.
Media relations do not always require massive press releases, calls, and events etc. Sometimes less is more. So, inspired by how consumers enjoy their burgers in a personalized way, LEWIS worked on a special communication campaign. Speaking individually with the media that suited the company and only using interesting angles, like the Five Guys brand, the history of the company and of course its delicious burgers!
LEWIS also manages the Five Guys profiles on social networks (Instagram, Facebook and Twitter).
Results
• 250 articles published on TV, radio and press
• 20 journalists attending the inauguration event
• 20 gastronomy influencers attending the inauguration event
• + 1,000 new followers on Instagram & Twitter
• + 3,000 new fans on Facebook