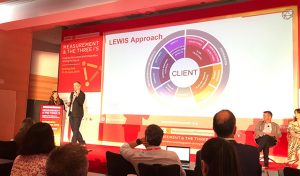 One of the goals of AMEC has been to reduce the use of AVEs. It has done a great job as the use of AVEs is now in low teens. However, that is in markets such as the US and UK. In Africa, Middle-East and Asia, it is still a major metric for many brands. This is really not helped when global brands, media monitoring and agencies have different mechanics for measurement by region. In fact, this disparity was illustrated  perfectly when Michael Blowers on Twitter (@michaelblowers) tweeted an article showing how one of the largest media monitoring firms in the world had used AVE as a measure of success of the Trump/Kim Summit to Singapore.
But the summit was more than a discussion about AVEs. Thankfully. Indeed, Jamin Spitzer, senior director of communications insights, at Microsoft provided some terrific points, especially about being wary to align PR to sales, as it could add a lot of value to intangible benefits. His analogy was one I quite liked: "PR puts us in a position to farm, marketing nurtures the field, sales folk harvest the crop."
That said, there is growing demand for clients to do more than just PR. So while the sentiment above rings true, when executing integrated programmes across paid, earned, shared and owned channels, then the metrics must balance awareness and advocacy, with adoption and demand.
So there is still a lot more we need to do to rally up the quality and sophistication of measurement. We have the framework (AMEC IEF), we have the tools from media monitoring to Trendkite, Sysomos, Traackr, Moz, and Google Analytics, and we have the expertise. We need to do it more consistently, at a faster pace, and globally. No doubt AI will help us on this journey, but we also must embrace it in terms of a mindset. The adage of 'Where there is a will, there is a way' has never rung truer. We have the way, now we must find the will.