We were fortunate to have as one of our guest speakers Jacqueline de Rojas CBE, president TechUK and leader of many top companies including Sage, McAfee, Citrix and CA. The other speaker was Sakina Najmi, global marketing director, Criteo. Both speakers shared personal experiences and advice on how to manage the battle for budget.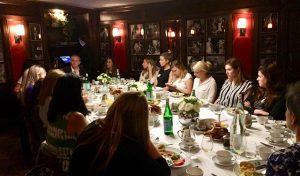 Conflicting priorities, internal politics, balancing corporate requirements with line of business, proving ROI and showcasing business impact were just some of the areas discussed. So, what were some of the top tips for marketers in battling for budget?
Ask questions –  ask lots of questions, but most importantly ask, why? Why are we doing this? Why do it that way? Use the 'Five Whys' technique in order to get to the root of the challenge you want to solve.
Ruthless focus on outcomes – knowing why you are doing something ensures you focus on the outcome. That is what executives want to know, and budgets will be opened if outcomes are clear.
Be a storyteller – if you know the destination, take them on the journey. Recognise the business priorities within your story, showing appreciation of the challenges, and building consensus that you are aligned to their goals and how your campaign will help them.
Use the right language – by talking to all stakeholders, you will build a picture of what drives them and the language they use. Take that insight and use it. It may not be your language but if the audience recognise their voice/language they will acknowledge that you are aligned.
Understand the macro-factors – context is key when persuading people, so don't forget the macro-factors that might be driving decision making. For example, the start-up division of a large business wants 50% of the entire budget not because of the revenue or margin in the short term, but the valuation to the business for IPO or trade-sale. So, if your focus is on the core business, frame your presentation about ensuring the core remains stable and therefore could do with more budget. So, look up and get a view across the landscape and join the dots, as much as the look down, analytical piece of the problem at hand.
Close the gap between sales and marketing – it's obvious, but conversations can still be Venus v Mars. This is why understanding the audience, using the right language, and presenting information in a way sales understands is so key.
Talk to everyone – when looking to secure budget, make sure you have spoken to everyone you are presenting to in advance. It should never be a judge and jury meeting, but by knowing how everyone thinks, as well as maybe neutralising any of the negatives, you should be confident in the outcome before the presentation.
The battle for budget will not go away, in good times or tough times. It's a way of life. Hopefully these key pieces of advice will help you to better navigate it.