The visual portrayal of politicians can make or break an election campaign. Positive images of candidates are vital in Presidential elections. Arguably they have more impact on the results than policy.
In an increasingly visual world, almost every campaign message is accompanied by an image. It might be an infographic, a flag – or, most often, a picture of the candidate's face. That face is next to every message on a candidate's Twitter account, further reinforcing that the person is the policy.
Remember Obama's Hope campaign? It would have been much less effective without the image.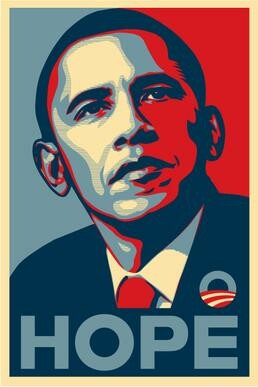 Few people vote for policy. Some might vote for slogans. Most often the public vote for people they like.
Pollsters and politicians examine every angle of a campaign to try and find something to push the election in their favor. Seemingly small things can make a huge difference. A well placed sign, for example, can inspire people to vote.
And some theories claim a single lawn sign translates to as many as 10 votes.
Did images of former Presidents matter that much?
We decided to apply some science to the subject and test our theory, using La Mem, an image memorability tool from MIT.
We put photos of the runners in the last four Presidential elections through the tool to get an average memorability score and the results were very interesting! La Mem correctly predicted three out of four of the last US elections.
Read more about how La Mem works, and how memorability is judged.
We compared offical senate portraits of George W Bush and his 2000 and 2004 opponents Gore and Kerry. Bush had an average memorability of 92%, while Gore and Kerry trailed with an average of 88% memorability.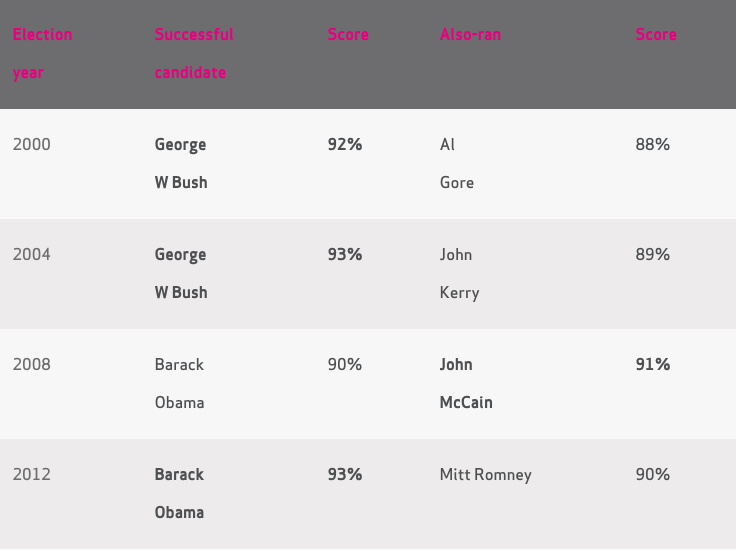 The 2008 election was an outlier in our statistics, with McCain's portrait 91% memorable compared to Obama's 90%. When we average the 2008 and 2012 elections, however, Obama's official portraits are 91.5% memorable compared to McCain and Romney's 90.5%.
Close – but in an election, every percent point counts!
A note on methodology: while the tool is scientific, our tests are less so. We tested official senate portraits of candidates – with the same poses and backgrounds, this removed a lot of variables. Other images were taken from the Wikipedia, and it's worth noting that images on the online encyclopedia are chosen by a team of editors who aggregate which image they think is the best, or most relevant.
The 2016 election is hotly contested, but according to La Mem, the winner is clear.
So after a (sort of) successful pilot test, we decided to see if La Mem could predict the next President of the United States based on their images. We tested the memorability of images of Clinton, Sanders and Trump. Also-rans Gary Johnson (Libertarian) and Jill Stein (Green) were excluded as we had difficulty sourcing enough images of them (sorry!).
We tested more than just one official Senate portraits. We averaged the memorability of four styles of image:
An official portrait
An image of the candidate giving a speech
A candid picture which you might see in a positive newspaper article
An unflattering candid image, which you might see shared on blogs or social media in an attempt to discredit the candidate
And the results were clear.
If image memorability has any effect on outcome, Hillary Clinton will win, with an average memorability of 88%.
As you can see from the results, Clinton was the resounding winner on every measure.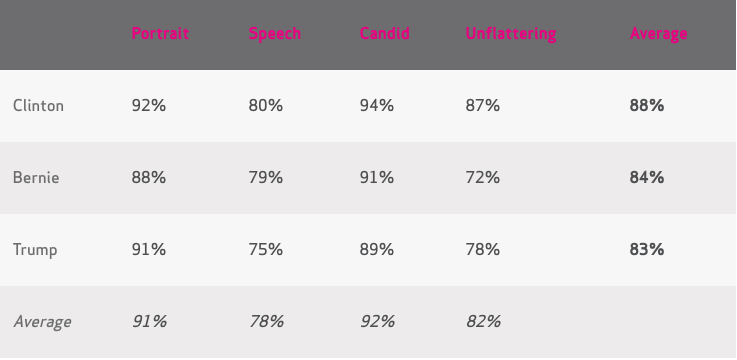 Bernie came in second, with Trump (amazing hair aside) a completely forgettable candidate.
Hillary will be remembered 5% better than Trump. Policies aside, will this be enough to swing 5% of the vote on election day?
Of course, we won't know the actual outcome until December, but in the meantime this was a fun test to see if images really do hold the answer!