Much to the delight of marketers everywhere, LinkedIn recently released their highly anticipated conversation ads, and they don't disappoint. According to the platform, conversation ads were introduced in response to the positive shift they have noticed toward more personal, one-to-one messages. Messages sent via the platform have quadrupled in the past 5 years.
But what are conversation ads and why should you be using them in your marketing campaigns?
The clue is in the title. Put simply, conversation ads aim to mimic real conversations; think of them as more advanced versions of LinkedIn InMails, with multiple calls to action creating a real-time "choose your own adventure" style experience. Users have multiple response options which guide them to the next stage of their journey, and marketers can create a more 'human' ad experience.
There's a choice of three call-to-action buttons: "open lead gen form", "send to a website" or "open new message". Marketers can add multiple new messages, each with a maximum of five call-to-action buttons. And the best bit is you can customise your call-to-action buttons however you like: "see case studies", "check it out", "find out more", and so on.
Currently, there are two potential objectives on LinkedIn for conversation ads: website visits or lead generation. When you choose website visits, you must include two CTA buttons lead to a landing page. It's worth noting that if you opt for the lead generation objective, you can only include one lead generation form.
LinkedIn have included various conversation ad templates if you have specific objectives in mind, for example driving registrations for a webinar, recruiting new hires or even using the call-to-action buttons to poll your audience.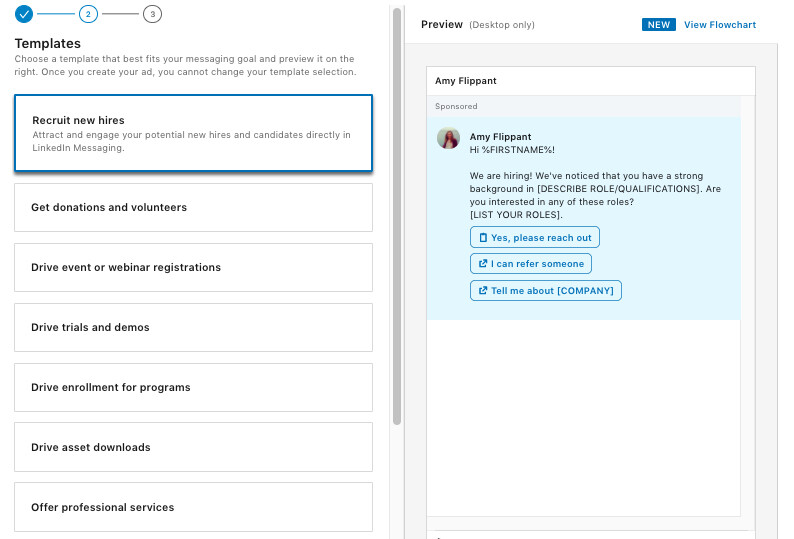 Why should you use conversation ads in your campaigns?
LinkedIn's new addition to its ad formats welcomes a new era of engaging with audiences, moving away from one-sided promotion to simulating a two-way dialogue. Users can be significantly more engaged, and not be restricted to either a click or a form fill. Think about it, if you reach out with a singular offer you might not connect with an individual user, but by offering that same user the chance to offer various responses, you're significantly expanding that user's opportunity to engage, and giving them the control to engage in the way they want to.
Unlike InMails, conversation ads are set up so that they are only sent (and therefore you are only charged) when a user that fits your targeted audience is online. This means that your messages are guaranteed to be sent to audiences that not only actively use LinkedIn but are also actually online at the time they receive the message, further increasing chances of engagement.
6 tips for setting up conversation ads
1. Establish target audience
Conversation ad campaigns, just like InMail campaigns, rely heavily on targeting the right audiences. It's worth carefully building out audiences based on key accounts you're trying to reach, as well as building lookalike audiences.
2. Pick your sender
Choosing the right sender for your conversation ads might not seem too important, but it's crucial to the success of your campaign. Think about the objective of your campaign and match your sender to it. For example, if you're trying to get people to sign up for a webinar, try choosing the speaker of the webinar as your sender.
3. Write a compelling intro message
Unlike InMails, there is no subject line for a conversation ad which means that your first sentence needs to create enough intrigue for the user to open the message. Make sure your opening line is engaging, informative, and has a human touch.
4. Personalise
LinkedIn recommends that senders should introduce themselves in conversation ads to mimic a real conversation as much as possible. It's also worth noting that you can use macros to personalise messages even further.
Macros pull in information about the recipient of the message from their LinkedIn profiles. The macros available for use are the following: %FIRSTNAME%, %INDUSTRY%, %JOBTITLE% and %COMPANY%.
5. Create funnel-based journeys
You can use the various messaging levels of conversation ads as a way to determine which stage of the purchasing funnel your prospects are in and/or which journey you want to send them on.
For example, if they express knowledge of your company already, you could send them via a route which puts them in front of product demos or case studies. However, if they suggest that they haven't heard of your solution before, send them to YouTube to watch a product video or to your solution overview webpage. Perhaps they are further down the funnel and are ready for a conversation, so you can give them the option to speak to you directly.
6. Measure & optimise
Alongside the launch of conversation ads, LinkedIn also included the option to export the data from these campaigns to help you determine where your clicks are coming from, and specifically which call-to-action buttons are getting the most clicks. This allows you to assess what is working and what isn't, and informs future tweaks and changes.
We would  love to show you how you can incorporate conversation ads into your campaigns to drive engagement and help to kick start those all-important conversations. Interested? Let's give it a whirl.