In a recent survey on creativity by LEWIS, 80 per cent of respondents reported they had become busier in the past five ​years. The amount of noise, distraction and stimulation in our lives only continues to increase. This can have a big impact on creativity, as ideas and innovations get crowded out by a never-ending stream of distractions.
To discover more about creativity in the world today, we asked 235 professionals to tell us how they experienced creativity, and what they thought of the creative process. Here's what they told us.
Methodology and demographics
We asked 235 professionals to fill out a short online questionnaire about creativity.
Two thirds (66 per cent) of respondents were female, while 48 per cent were aged 25-34. One third were aged 35-44, with the next largest group being aged 18-24 (9.5 per cent). Most respondents were from America (25.5 per cent), the UK and Ireland (14.5 per cent), Germany (14.5 per cent) and the Netherlands (12.7 per cent), with Italy, France, Belgium, Portugal, Singapore, Spain, Poland, India, China and Australia also represented.
A good idea can change the course of your career…
Almost three quarters (73 per cent) of people believe that having good ideas can advance their careers "a lot," while a quarter believe ideas will help their career only "somewhat". Just one per cent of respondents believe that having good ideas will not advance their career prospects at all.
Whether it's a disruptive start-up idea, or just a way to automate those TPS reports, good and innovative ideas can move you up the ladder.
…but you won't have that idea at work.
For most people, the best ideas don't come at work. In fact, 85 per cent of respondents reported getting their best ideas outside of their office space. What's more, over half (51 per cent) said ideas come to them when they're "not really trying." This means taking a walk or stepping away from your desk to grab a coffee might be what you need to spark inspiration.
Two thirds of people surveyed get their best ideas alone. The youngest demographic (aged 18-24) was the only group to admit getting their best ideas with others: 60 per cent of Generation Z respondents feel creatively inspired around other people.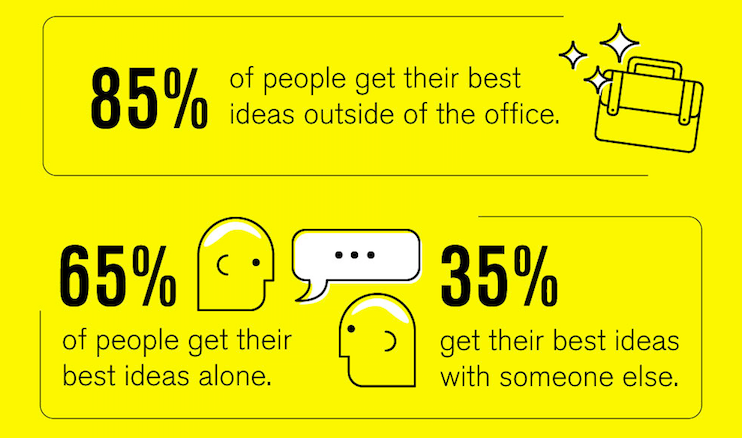 Interestingly, older respondents are more likely to be more creative outside of the office. Almost two-thirds (63 per cent) of 18-24 year olds believe their best ideas come outside of work. This jumps up to 85 per cent among 25-34 year olds, 87 per cent among 34-44 year olds and 93 per cent of 45-54 year olds.
Meanwhile, only 12 per cent of people report being able to force an idea out. Again, the youngest cohort stands out, with 36 per cent producing ideas on-demand. This means that planned group brainstorming sessions may only be worthwhile with Generation Z on board!
Creativity can be taught, even to "creative types".
While spontaneity is important, seven in 10 think that creativity can be taught. At odds with this, 85 per cent of people think that there is a "creative type" – someone who is naturally creative and can more easily produce creative ideas.
In his new book, Too Fast To Think, Chris Lewis argues that creativity can be taught, and that all of us have the potential to become more creative thinkers.
What does an idea look like?
When an idea does appear, the most common form for it to take is visual, with 73 per cent of people being able to picture the idea in their mind's eye. This is unsurprising, as academic studies suggest around two thirds of the general population are visual thinkers, seeing words as a series of pictures.
A further 12 per cent of ideas are sonic and 14 per cent of ideas are tactile. This means that people benefit from 'feeling' the concept before they create it.
Supporting the idea that everyone is a creative, two thirds of people reported a good idea has come to them in a dream. Whether the idea has been acted on is an entirely different story!
For more insights from the research, take a look at the infographic we produced below.