Although finding the time to balance school and work can be challenging, the reality is, having a degree no longer makes you special. With 62 per cent of Australians having gained a Certificate III and 31 per cent attaining a Bachelor's degree or higher, job competition is steep.
To graduate job hunters, this meme can feel like the story of your life.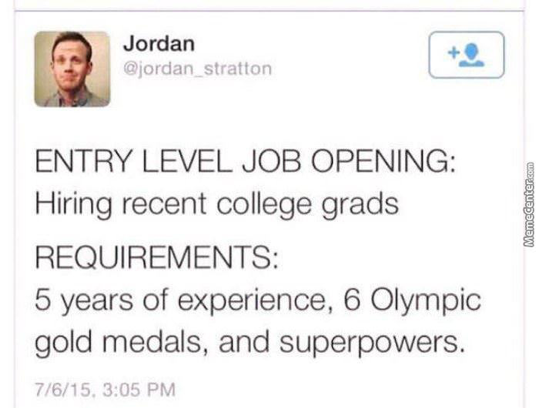 The truth is, it's really not all that bad! Real world experience is essential -university can only take you so far when it comes to learning. It can equip you with all the theory and concepts, but the application of this theory is unique to the agency or organisation you work with.
Throughout my first month with LEWIS  I've learnt a lot about the world of PR and marketing. Here, I've compiled my top 5 helpful hints for new starters:
1. Stay up-to-date with news
Reading up on world events and industry-specific news ensures you are able to keep clients informed of happenings that affect their businesses. The LEWIS blog is a great source for quick reads on PR, marketing, social and digital. I also find reading well-written features from notable publications helpful for on-going learning and development.
2. Do your research
Probably an obvious one but worth mentioning. As a new starter, you can never do too much research when it comes to learning about a client or industry. Familiarising yourself with clients' websites, blogs and social channels is key in helping you create meaningful content. When it comes to presenting new ideas, it is also important to know what strategies and initiatives they have adopted in the past and how they position themselves.
3.  Share your ideas 
Brainstorming campaign ideas is one of the best parts of working in PR and marketing. During these sessions, take the opportunity to share your ideas – there is no such thing as a bad idea! Even when ideas don't make the final cut, they often inspire other ideas or can be built on when other members contribute.
4. Stay active to keep creativity flowing
In PR and marketing, we often come up with creative and innovative solutions for clients. Every now and then we fall victim to the dreaded creative block. A study by Stanford researchers has shown that the best way to combat this is to get outside and walk around. In doing so, creativity increased by approximately 60 per cent while walking and creative juices continue to flow even after returning to the workspace. So be sure to get moving when you feel the brain drain!
5. Ask questions
Taking initiative and doing your own research when assigned a task is great. But as a new starter, it also helps to check in with your team or client to ensure you're on the right track. When embarking on a new task for the first time, be bold and ask questions – you may learn best practices and discover new resources and techniques in the process.
Have any other tips to share? Leave a comment below!