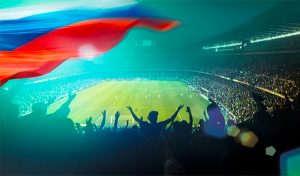 A lot has been said already about the event taking place in Russia and whether this is actually a risk for brands or a unique opportunity. Taking this into account, it is very unlikely that we will see campaigns that piggyback on the cultural features of Russia. Nevertheless, as with every major event, it offers a platform for brands to create awareness among consumers. As a study from GlobalWebIndex found out, the majority of fans (54 per cent) claim to be brand conscious. More than six out of ten (63 per cent) even say to be loyal to brands once they've engaged with them.
But how should brands engage with football enthusiasts in 2018? Is having your name featured on the billboards in the stadiums or broadcasting an advert during the break still doing the trick? Research from Snack-Media revealed that live TV will still be the main viewing destination for 85 per cent of the public. Of course, this makes sense as the Ofcom Code on Sports and Other Listed & Designated Events dictates that major sporting events should have live coverage made available to free-to-air channels in the UK. Undoubtedly then, broadcast coverage will always be there, though the same research also shows that the World Cup in Russia has the potential to be a game changer in the way fans engage across multiple channels. During the World Cup in Brazil in 2014, more likes, (re)tweets, and comments were shared than ever before and the 2018 edition is expected to be even more mobile focused.
TV vs. Twitter
The biggest challenger of the broadcast establishment during the event will be Twitter. The microblogging service is determined to show that it offers a great alternative to TV. In the US, Twitter closed a partnership with Fox Sports that includes access to exclusive video content, real-time highlights and a daily show called FIFA World Cup Now. Outside the US the microblogging service has partnerships with countries including the UK, France, Spain, Brazil and Australia. But also, Snapchat appeals to football fans: according to a 2017 research by Snapchat, almost six in ten (58%) utilize the app.
After several US focused sports leagues made the move from broadcast to social for live viewing, the World Cup has the potential to be the first big worldwide tournament that combines audience engagement and broadcast on a platform that is not TV. What does that mean for brands? Several bigger brands already launched their TV ads in the run up to the tournament and they will undoubtedly be seen by millions of people. But, smaller brands that do not have the deep pockets to develop these multi-million pound campaigns, should benefit from the movement towards viewing and engaging on social media. In an era where sports and online go hand in hand, they can now appeal to their audiences with tailored and much more targeted messages on social media at prime time. Consumers follow the channels they feel related to, and are therefore more receptive for the messages – whether it is an influencer video, gif or targeted ad.
Will the World Cup in the future not be a TV event anymore? No. But it will see fierce competition from social media channels and brands need to think about how this influences their marketing content and budget. The brands that will find a way to engage with their audience and create an experience, rather than drown them with sponsored content, will be more successful. TV might still be the place for the main event, but the small screens are the locations where brands will be able to make a difference.