A few weeks ago, I joined the audio-based platform of the year, Clubhouse, to understand what all the hype has been about. I hoped I would learn some tips and tricks and have spent my time trying to grasp how the platform could be helpful for brands. While high numbers of small businesses are already using Clubhouse to build connections with partners and customers there, we can foresee how larger companies might make the most of Clubhouse as the application develops and improves.
After spending a few weeks on Clubhouse, I would define my experience so far as time well-spent.
Clubhouse is not just another social media platform. The app is all about exchanging ideas and opinions on a topic, learning, and getting inspired on themes that matter to you. It's really at the intersection of several hot trends – audio, live and social – and fills a gap. It feels much more intimate and "live" than text-based social media.
But be careful, it can become addictive and your goal must be clear.
Joining Clubhouse at first feels a bit like going to a party where you don't know anyone. New joiners actually have a celebration emoji ? on their profile photo in the first seven days by default. You will notice that the platform is intuitive and that features are kept simple deliberately.
Although it's invite-only, it's pretty easy to find someone who is an existing Clubhouse member and get them to send you an invite. Once you're there, you can easily find your way around. Anyone can join and any opinion is welcome as long as it follows the community guidelines in terms of respect and transparency.
What you need to master
Clubhouse is made of basic features: Clubs, Rooms, and People's profiles, and you should master them to make the most of the platform.
Clubs: you can follow existing clubs around your interests (e.g. arts, tech, knowledge, wellness, sports, etc.) or create your own club. By following clubs, you'll be notified when there's a room happening as part of that club. As a business, you might want to create a club with your company name or business topic and add a description of the kind of information you will provide in rooms you organise. Then invite your network (employees, partners, bloggers, etc.) to join the club.
Rooms: you will be able to join rooms that can be linked to these clubs, allowing the room organiser to reach everyone from that club and increasing the potential number of joiners. In a room, you will see various levels of people. At the top are the moderators/presenters – they're the ones on stage by default and leading the conversation. In the middle are people that are followed by the moderators/presenters. And at the bottom is anyone else – the audience if you will. The latter categories can raise their hand to come on stage (providing approval from the moderators) to speak and share their thoughts on the room topic.
People's profiles: while in a room, you could and should check the profile of people speaking or attending and follow those you share interests and values with. If you miss following them while on the room, you may not come across them again and might lose the chance. You should not only follow them but also activate notifications for when this contact talks (through the bell on the profile).
How to get started?
Once you have an invitation, you can begin creating your profile, searching for people and clubs, and joining rooms. I came across a room where people were welcoming newbies to help them get up to speed with Clubhouse, which was very handy. While I'm sure their intentions to help were genuine, those people also want you to follow them on Clubhouse and by helping you they are encouraging you to follow them right away. This is one of the ways to build your follower base – by helping people and providing a service.
However, the best way to increase your follower base and your voice is to create clubs and organise rooms and be the moderator (or one of the moderators) of your own conversations. Likewise, you can begin joining rooms organised by others and raise your hand to speak.
How can you benefit as a brand?
Even if you are not ready to talk in the rooms, you can definitely expect to learn and get inspired. You can come across experts in rooms talking about how to help brands generate leads or increase their SEO. What struck me most is the quality of some conversations and the professionalism of some of the speakers/moderators. That's because a high majority of them are well-established or recurring events moderated by professional speakers (journalists, marketing professionals, coaches, trainers, etc.). But there are of course lots of non-professional speakers moderating too, and you could become one of them.
Remember, Clubhouse is a place for casual, drop-in audio conversations. If you're a marketer or business owner, the temptation to use the platform to promote products or services is high. However, your audience will not always be receptive to this as they're looking for conversations and mutual help.
The platform is an opportunity to do social listening, understand trends, be highly relevant and to engage with the audience. Through your voice and expertise, you can establish trust and share your views, which will contribute to building your follower base and business reputation. What's important is the story itself: the brand message and the narrative that clearly articulates your purpose.

Best practices on Clubhouse:
Use a real name (first name, last name) like you would on LinkedIn.
Write a bio using LOTS of emojis, including languages you speak, and keywords (e.g., tech, AI, digital transformation, marketing, personal development, politics, philosophy, music, diversity, etc.) so that people can find you more easily.
When on stage in a room, always stay on mute and un-mute when you are speaking, the same way you would do this on a Zoom or Teams call.
When talking, be nice and respectful, genuine, and stay on topic.
 When in a room, to show you approve or like something, you can mute and unmute a few times in a row as if you were clapping your hands.
You can leave a 'room' quietly and don't have to talk to do so.
Opportunities with Clubhouse:
Give your brand a voice.
Discuss anything you're interested in – tech, science, sports, arts, etc. – and find people with common interests, any time of the day and night.
Build or extend your network for private or professional purposes.
Find business opportunities and build reputations.
Engage with people/influencers you would never get a chance to speak to otherwise.
Obtain insights from industry and company leaders.
Challenges with Clubhouse:
Access to your data – not only the data available in your profile but the data linked to your profile (e.g. links to other social media platforms you put in your bio) and the audio data from the Clubhouse conversations (unless muted)
Connections with people that are not well-intentioned who are discussing illegal topics (e.g. racism, anti-Semitism, sexism)
Spam – it works like on every other platform or email box, just be aware that you might come across spammers and people trying to sell you something (e.g. dodgy crypto money, etc.)
Statistics and growth
Clubhouse has six million registered users globally and is also the fifth most downloaded app in the "Social Media Network" category of the App Store, just behind the likes of Facebook, Messenger, WhatsApp, and Discord. It is growing internationally at speed.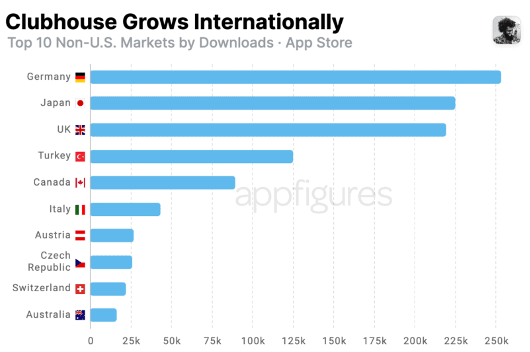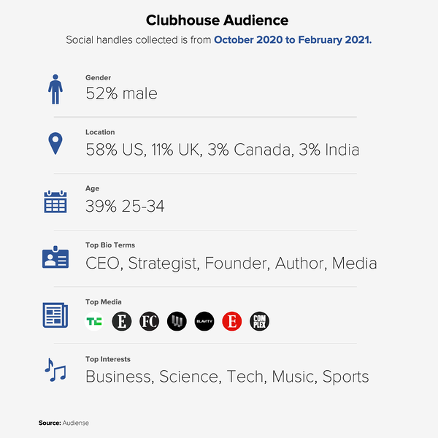 Clubhouse is only available on iOS for now, but the app has announced that it is actively working on an Android version. So, we can expect that the platform will go mainstream as it develops further but will it have a monopoly? LinkedIn, Spotify, Discord (which Microsoft is looking at buying), Facebook, and Instagram are also starting to embrace and develop social audio on their platforms, and Twitter just launched a copycat style of audio-sharing, Spaces. We will probably see high adoption of audio-based social media channels over the next months.
Clubhouse is so valuable to learn and make connections. Let's see how the platform helps businesses generate leads and clients in the future and what it involves (e.g., paid activities).
If you want to explore further how Clubhouse could be on your marketing and business radar, read my colleague's recent blog post here. If you would like to learn more about LEWIS' social media marketing services, click here.
Feel free to share your experience so far and follow me on Clubhouse @yascan.