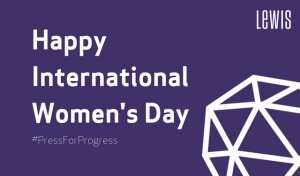 This year's campaign theme,#PressforProgress, highlights the seismic cultural shift that is happening today – from #MeToo to #TimesUp, women's equality and gender parity are suddenly at the forefront of society. The world is ready for change.
Working in PR – with bylines to write, clients to impress, and campaigns to run – you'd be forgiven for missing 'fighting for gender equality' off your ever-growing priority list. What's more, most research suggests that around 2/3 of PR professionals globally are female. If there are two women to every one man in this industry, some might ask, then what's the problem? A study from the GWPR showed that over 75% of CEOs in the top 30 global PR agencies are men, and that men hold 62% of seats on PR boardroom tables. The problem is that industry-wide, as in so many professions, there aren't enough women at the top. #PressforProgress and International Women's Day aim to change this.
While at university, I was part of the founding of a new organisation created by female student journalists at the University of Manchester –Women in Media. We noticed that even in student media, men outweighed women in top positions across the student newspaper, radio station, and political societies. We set out to change this by creating a non-profit organisation that aims to inspire and empower women of all ages and backgrounds to have the confidence to go for their dream media job – be that in journalism, TV or radio production, blogging, marketing, presenting or, indeed, PR.
This past weekend we held our third annual conference, which saw hundreds of like-minded, inspirational women come together to listen and learn from successful women at the top of their game. While Women in Media caters for students, freelancers, and professional women still striving for the 'dream job', some of the key things I took from the conference also apply to those, like me, who already have a job they love.
There were several recurring themes:
The struggle to create and maintain a work/life balance
The fight to speak out against issues such as harassment, belittlement, and unequal pay
'Imposter syndrome' and the search for self-confidence
So how can we make a difference? All companies should offer more flexible working conditions for their employees, to make that elusive work/life balance easier to manage for women and men at all stages of their lives and careers. Employers should also have robust guidelines in place for dealing with harassment and belittlement in the workplace, as well as a knowledge and understanding of their own gender pay gap and how to tackle it.
The final point is perhaps the hardest to fix – and is an experience that appears to disproportionately affect women. 'Imposter syndrome' can be defined as general feelings of inadequacy and chronic under-confidence, self-doubt, and intellectual fraudulence, despite evident signs of success and proof of competence. It's known to affect high-achieving people and perfectionists, so thrives in industries such as PR and the media. With so many men at the top, it's easy to see why 'imposter syndrome' was revealed as an almost universal feeling among young women. The issue requires careful thought with regards to training, leadership, mentorship, and how to instil a stronger sense of self-confidence in women – from the classroom to the professional world.
These experiences are by no means unique to women. Nobody is calling solely on women, nor solely on men, to put equality at the top of the political, social, and cultural agenda – just like PR, it's a team effort. With that in mind, there is an overwhelming sense on International Women's Day 2018 that we can build on the current momentum behind gender equality to truly effect change.
What's clear is this: now is the time to #PressforProgress, to improve the lives of women and girls in future generations.
"The story of women's struggle for equality belongs to no single feminist nor to any one organisation but to the collective efforts of all who care about human rights." – Gloria Steinem