Thanks for joining us today Alex. Let's kick off with your view on the big trends facing the media, communications, and advertising industries.
In the last few years the global marketing industry has seen revenue growth rates of between three and five per cent, but this hides a much bigger underlying transformation. We've seen growth in traditional marketing flatline or even decrease, while digital (and social) has grown very strongly at around 10 per cent a year. The UK in particular has very quickly evolved a significant social media advertising market, which already comprises around 15% of the market.
We can expect 2019 to be a tricky year for the UK with Brexit uncertainty. However, we must remember that it's the US market that really powers global marketing. The sector is around five or six times bigger, and it continues to enjoy strong growth of around four to five per cent.
What does this shift to digital and social mean for the future of the agency?
We've seen profit warnings and negative growth at many of the larger agencies, and this shift is certainly related to the difficulty in adapting to the changing landscape. I feel that the future of the agency is moving away from traditional creative and instead becoming much more data-oriented. This also means agencies will sit more directly within the client's workflow than before.
The role of the CMO has been upscaled on many corporate boards, largely reflecting the rapid rise of digital. Today, the CMO of any given corporation will take a dashboard approach to many of their metrics such as sales, conversions and go-to-market strategy. It's natural that they want an agency partner that can meet or even exceed this data-driven capability. So, there's immense pressure on bigger agencies to grasp the nettle and reorient around their services and workflows around analytics and data. Smaller, more agile agencies are better placed to navigate this fast-changing landscape. In my opinion, we need to get out of the nineties and noughties mindset that the big creative is king.
What other shifts have you seen that is changing the industry?
The other issue is that the large agency groups got big on the back of their large FMCG clients. Companies like P&G and Unilever have seen heavy pressure on their own performance and rationalised their agency relationships as a consequence. Success depends on many things, but the key elements for a successful agency today are data, analytics, and insight.
If we look at the Nielsen data for UK ad spend last year, we can see really major cutbacks by many high-profile advertisers, such as Sky and Unilever. This reflects fundamental shifts in marketing spend by influential corporates.
It's interesting you say that as we have put a lot of time and resources into visual analytics and dashboards, industry leading measurement and new methodologies for measuring engagement. Is this a short-term fad or a genuine shift in the way marketing and comms agencies need to think?
I think you're pushing on an open door! With dashboards, a data-led approach and a strong focus on conversions, you'll be solving many of the pressures that clients face, especially when it comes to demonstrating ROI marketing and the effective adoption of new marketing methodologies. CMOs and senior decision makers want to see alignment of all activity to demand. Many marketing disciplines have been a dark art in terms of measurement but now it's more attributable and easier to present this data quickly.
Let's move onto the impact of FAANG (Facebook, Apple, Amazon, Netflix and Google) on the media world. What do you foresee happening here?
The received wisdom is that we're all a bit fed up with these corporate behemoths that defy legislation and misuse our data. The current call is to regulate and tax them. I think that this is wishful thinking. My view, which won't endear me to traditional media, is that FAANG is an unstoppable force. The reach they have in Asian and global markets puts them in an incredibly strong position when it comes to EU / US attempts at regulation.
When we think about social media in 2019, we have to acknowledge the sheer scale of the global user bases of Facebook (including Instagram), Twitter and Snapchat. This cannot be ignored.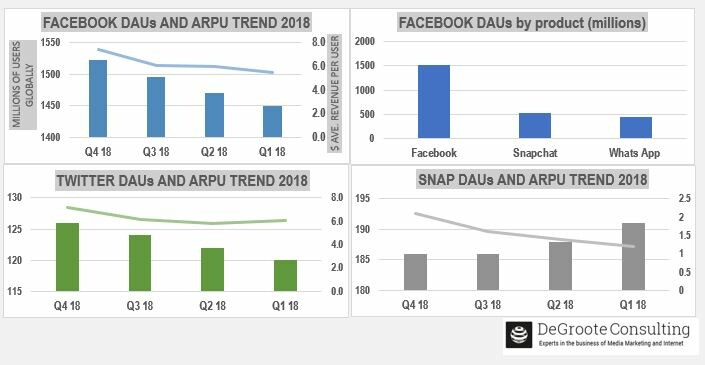 Looking at them individually, Amazon continues to go from strength-to-strength; Apple is diversifying into media content and has a strong balance sheet; Facebook continues to have the market's confidence (largely thanks to the success of its ancillary services); and Alphabet (Google's parent company) is continuing to develop revenue across its massive range of services. Netflix is different as I would expect them to be bought in the coming year or two.
Amazon is a particularly interesting example because of the way it's hoovering up retail advertising spend, enabling vendors to market at the microlevel on the Amazon platform. In the last 12 to 18 months, their advertising platform is much more coherent, especially as they now have a real DSP in place. Their $10bn current advertising revenue could skyrocket, in my view.

And then there's Microsoft, maybe not the most fashionable tech firm out there, but one that's executing its strategy really well. Without any real fanfare, they've worked themselves into a very strong position especially now with LinkedIn and its ability to target huge numbers of C-levels.
When it comes to regulating Big Tech, we have to be realistic. Much as people like Tom Watson (deputy leader of the UK Labour Party) want to legislate and tax unilaterally, the only approach that will work in our view will be a pan-European or global one. So far, we're seeing more rhetoric and posturing than any real solutions.
With all the change in marketing, what are brands doing with their budgets?
Traditionally creative was around 30 to 40 per cent of marketing budgets, but this is now being squeezed in favour of enterprise data and much more focus on social channels and influencer marketing. As clients demand greater value for money, but also a lot more content, they are moving towards low-cost production for their content, digital assets, website and video. Stories formats – across social platforms – are also growing rapidly and work very well on smartphones. They are also putting more budgets on analytics, insights and data, and looking for ways to optimise and show impact on conversion.
It's interesting you say that, because McDonald's developed a new agency model based on huge amounts of content. Is this part of a wider industry trend towards cost-cutting?
Yes, absolutely – although there's a long way to go. Historically, the standard budget split was 20% on production, 80% on media. Media was then expensive and production has always been very expensive. Media is now much cheaper, and there is big pressure to bring down the cost of production. We can expect to see much more in-housing, and more use of video marketplaces where corporates and channel partners can get cost-effective video-based solutions for marketing. That's probably the biggest growth area I've seen since founding DeGroote. Content doesn't have a long shelf-life, so making video at scale and cost-effectively will be one of the defining trends in the next couple of years.
A slight tangent but you shared a piece of insights recently on local media ownership falling into private equity hands, which seemed quite counter-intuitive. Why are they buying into something that's perceived to be heading to obscurity?
Remember that these investors aren't VCs or angels – they are vulture capitalists looking to squeeze value out of a moribund but still profitable industry. A lot of local news providers in the EU, US and elsewhere generate around +20 per cent profit margins with good cash flow. These investment funds know that they can buy assets for a cheap multiple, extract what they can without any investment. It a sad and rather bizarre reality that half of UK regional press is owned by US hedge funds. We will have to see what – if anything – the Cairncross Committee can do for this industry.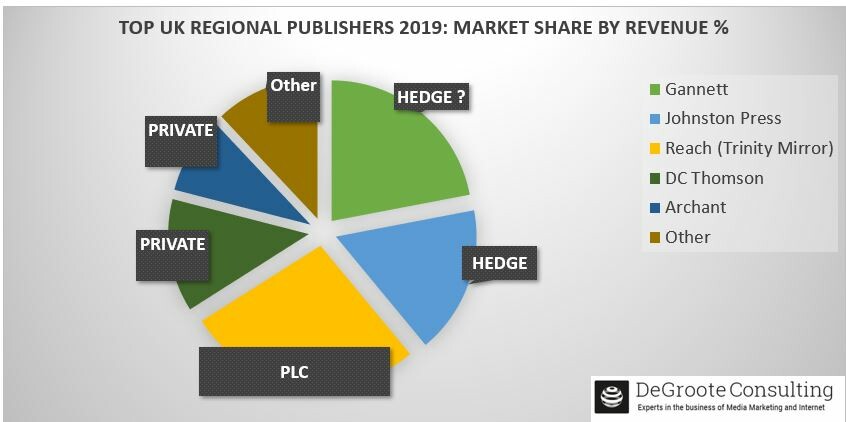 Finally, can you give me your top five tips for CMOs today.
First, get totally on top of digital. Even if you think you're hot, refresh your understanding and all its capabilities – even if that means bringing in external advice. It's changing so fast.
Second, don't fight data: embrace it.
Third, you need to work out how to make data relevant to you: sales, conversions, ROI and other metrics that you want to understand. Get good at measurement and insights.
Fourth, don't be afraid to look at market leaders who seem to be streets ahead; don't be shy about imitating success.
Finally, work on your relationship with the CEO. The CMO isn't tier two in the C-Suite anymore: they're right up there with the CFO. Don't be afraid to push for parity.