Some weeks ago, I decided to write a blog post about a topic that we deal with regularly in our daily work for tech clients; the Gartner hype cycle. This is a theory that we bring to the table regularly during strategic planning meetings. The reason why: most vendors and consultants are often inclined to choose more than one campaign topic – which is perfectly understandable in a way, simply because they usually have much more than one specialism within their organisation.
'Next quarter, our thought leadership campaign should focus on the topics AI, IoT, blockchain and AR', they might say.
Our response is usually twofold: first, let's choose. Your audience will not be able to associate four topics with your brand. Once you have chosen, let's look at how mature the market for this technology is. The Gartner hype cycle offers a great framework for this. Technologies that are in the early stages of the hype cycle require a different PR and content strategy than technologies that have more or less matured.
So, as it often goes, I decided to put this idea to paper after having applied it in practice on a regular basis. Initially, the post was published on the influential Dutch blog platform Frankwatching. Later, we repurposed the post on our website. After publication the traffic numbers told us that this was a topic that struck a chord with our audience so we decided to turn it into a webinar. This triggered the idea to organise a breakfast session with a panel discussion in our London office as well.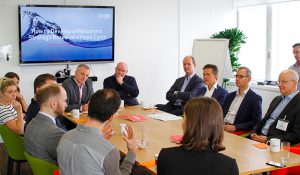 So in two months' time, a story evolved from something we tell our clients, to a highlight PR piece, a blog post, a webinar (including a SlideShare deck) and a live event. Call it the Rule of 5; if you have a popular topic, try to repurpose it five times in different ways, at different times and in different formats.
But the most valuable part of this journey is not that it has taken multiple forms, but the fact that other people started adding to the idea. Being in a room with 25 experts discussing a topic that started as a blog post just a few weeks ago, was an amazing experience; especially since the contributions from the session will help us to fine-tune our own strategy.
For example, the point about focusing on one or two topics fuelled the debate on how to make that selection. Can a marketing director still rely on their gut feeling at all, or is it all a matter of gathering and interpreting data?
Sometimes conversations you have with clients can inspire you to write about a certain topic, but then the data will demonstrate whether there is an actual demand for that topic amongst your target audience.
Gut feeling and data go hand in hand, as the journey of this topic (from blog post to panel discussion) demonstrates once again.