Myth 1: PR is easy, I can do it myself
Truth: PR is not about just appearing in magazines and on TV. There is much more that goes on behind the scenes – developing strategy and key messages for your company, media management, idea generation, audience identification and smart targeting. These are just some of the basic blocks of PR, so, while you may want to do it yourself and get the glory of yelling 'coverage!' in the office, you may want to give up your day job to do it justice.
It's a full-time job, and it pays to have someone who knows what they are doing and how to deliver the best results for your company. The media is constantly changing and if you're juggling a multitude of job roles and take your finger off the pulse, believe me when I say that your competitors' public relations teams will have pipped you to the post (most likely in the literal sense with a byline.)
Myth 2: "There is no such thing as bad publicity"
Truth: We have the 19th Century American showman and circus owner, Phineas T. Barnum, to thank for the well-known phrase "there is no such thing as bad publicity." Brendan Behan, an Irish Republican, often associated with his boisterous lifestyle, then adapted it to "there is no such thing as bad publicity except your own obituary" the rationality behind these phrases however is far from accurate.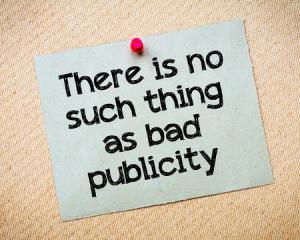 There certainly is such a thing as 'bad publicity.' A company's reputation can take a lot of time to build up, and it only takes just one little mistake to destroy it. Whatever your company's goals are, be it raising awareness, generating sales or promoting a new campaign, bad publicity can and does exist. Let's say a food manufacturer gets splashed across the front pages for unsanitary practises. That's bad publicity. Not all coverage is good coverage. A good PR consultant however, will have the experience and tools to mediate this media crisis by advising the client on the best course of actions to take.
Myth 3: I only need the services of a PR agency in times of trouble
"The Rule of Seven": the idea that people need to see your marketing message seven times before they take any action. Customers need to know, trust, and believe in your product or service before buying and research shows that a customer has to see an ad a minimum of seven times to even remember it.
With the media constantly evolving, as a brand it's important to make sure your story remains a constant drumbeat in the media. A constant presence helps build consumers trust, which eventually leads to them believing in your brand enough to incorporate it into their daily lives, as opposed to one of your competitors. If you are only reaching out at those difficult times of crisis, you won't have the customer loyalty and brand reputation to keep afloat. Building a strong brand and customer alliance takes time – so if a tough time does rear its ugly head, your brand will be ready to come at it swinging.
PR and sales are two completely separate business areas that sure may influence one another, but are certainly far from the same thing.
Myth 4: PR and sales are the same thing… aren't they?
The primary objective of PR is to build awareness, improve reputation management, engage potential clients, drive loyalty, and ultimately develop trust between a company and the consumer. Whilst such a strategy may influence and lead to an increase in sales, it's not the number one objective.
Myth 5: PR professionals are paid to party
Truth: While it may seem like a glamorous lifestyle, it's not all about parties. A common misconception is that all you need to generate good coverage is the right contacts and an active social life. However, many PR professionals would argue otherwise. Hosting the perfect media event is hard work, and there's a lot of planning, content creation, phone pitching and rejections that go on in the background to make sure the overall desired results are achieved.
Early mornings, late nights, last minute changes and long hours are all part of the 'glamour' and what many fail to notice is that it's all done with a professional, positive, and solution-oriented attitude, at all times.