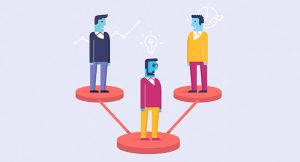 When times are good, more freedom is given from the centre to make independent marketing decisions. When times are tough, as they are now, policy is imposed from the centre or 'The Blob'. This creates pressures in how marketing communications budgets are spent. LoB managers, whether by vertical, product/service line, require agencies to focus less on strategy and more on tactics. This often requires more urgency and more understanding of the personality and problems of the go-to-market approach.
This is where it helps if agencies see things from the LoB point of view. They need to understand activity to lead rates, conversion, time to sale and competitor pricing and position. They don't always have (or need) perfect research to make things happen. Effective agencies will anticipate this. LoB leaders should also know that 'squeaky hinges get the oil'. When it comes to agency time, there's always more priority given to the 'squeakers'.
Today, brands need to work faster, more creatively, more digitally and in a more joined up fashion. There is less time for internal politics. Think of this like the change in rugby union. In it's amateur days, it was slow and low scoring  and often littered by undisciplined brawls. Today is it disciplined, professional, fast and high scoring. The fights are usually engineered and deliberate.
In a report by McKinsey from January 2018, Organizing for the Age of Urgency, the paper cites lines from Jeff Bezos, in a letter to Amazon shareholders, highlighting not just "high-quality" decisions but "high-velocity" decisions. They go hand in hand. "Most decisions," he said, "should be made with somewhere around 70 percent of the information you wish you had. If you wait for 90 percent, in most cases you're probably being slow."
So today it's about blending the creative and the imperative. Infighting and waiting for all the information has no place because it slows things down. As McKinsey and Amazon point out, marketers need high-velocity decision making and high-quality decision making. 'The Blob' does not help with this. The LoB needs the agency to understand they have different needs. They need faster access to data, faster time to insights and an ability to deliver creative at speed.
Remember that all marketing spend is not always decided by people with marketing job titles. Agencies ignore Line of Business managers at their cost.