We've all heard a well-publicised saying: "Half the money I spend on advertising is wasted; the trouble is I don't know which half" attributed to half a dozen people.
With the 'golden quarter' of Christmas 2019 approaching, UK retailers have unleashed an estimated record £6.8 billion on advertising and window displays. As 2019 marked a quarter of a century anniversary of the first online ad, it was also the first Christmas period that spending online outweighed that on TV, in a total spend of £6.8bn in the final quarter of 2019 in the UK – up nearly 5% on last year, according to the Advertising Association.
As Blue Monday, allegedly the most depressing day of the year hits, it is the time to reflect how effective those campaigns were – especially in light of rather disappointing UK sales. And was it really necessary to splash out on Christmas promotions at the time of economic uncertainty spelling a troubling year for the British retail industry? Another important question on everyone's minds is how to engage the public ahead of Christmas without it costing the world.
Now that sales numbers are in, we can reflect on the effectiveness of festive campaigns and how they may evolve in the next decade.
1. Successfully capturing the mood of the public and capitalising on it becomes tougher
Eagerly awaited and seen as iconic, John Lewis Partnership's ad this year was seen and commented on by 9 million people on YouTube within the first two weeks of being released, according to the Drum. Ranked the nation's third favourite according to a global data science company 4C, it largely failed to translate into sales with revenues taking a major hit of 28.4% during the first full week of trading since Excitable Edgar was released -which could suggest that Christmas adverts don't necessarily translate to sales.
The partnership attributed the plunge to tough comparisons to 2018, when Black Friday fell on an earlier date.
By comparison, Aldi has run the same character campaign for the last three years, which based on sales seemed to be a more successful approach. In its advert, Aldi made an effort to showcase a range of low-priced foods in a luxury setting, which is not only alighted with the retailers branding and positioning, but also reflects the frugal mood of the public this year, showcasing that magic can happen no matter how much one is able or willing to spend. Aldi's Amazing Christmas Show was the most powerful ad of Christmas 2019, according to Kantar's annual research into which festive TV advertising campaigns work best with viewers. Christmas sales at Aldi topped £1bn for the first time in 2019 as a result.
'Calculated' and flexible experimentation seems to be like the right way forward as retailers start planning for the 2020 festive season and beyond.
2. Could TV ads be the 'half of the advertising budget that is lost', while experiential activations promising more value for money?
Well established retailers continued pouring money into TV ads in the run up to Christmas. But are they better off investing in experiential and retail campaigns instead? Some have even argued that the fear of missing out (FOMO) has been largely responsible for TV ad spending this year. With four in ten UK viewers now using online video services as their main way of watching television, they are able to skip Christmas ads all together.
Arguably, investing into online and in-app digital adverts can yield more benefits as they are easier to updated and that's exactly where consumers will be looking for gift ideas. If investment in TV is seen as a prime opportunity to stand out and be seen, there are retailers that, due to a unique offering, don't need them.
Fortnum & Mason emerged as a clear winner of Christmas 'window dressing', transforming its iconic façade into an advent calendar. Not only did it get snapped and shared countless times by the onlookers, it has also promoted a series of extravagant crackers filled with prizes that includes well-stocked hampers, elegant china, afternoon tea, fine dining and an experiential tea masterclass that the store was offering.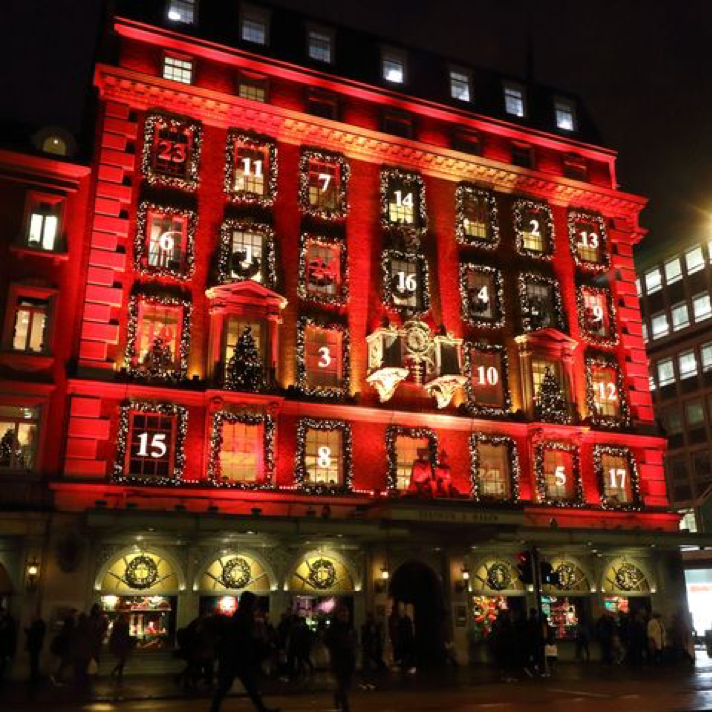 Fortnum & Mason reported like-for-like sales growth of 13% over the 2019 Christmas period. Which could be a reflection of clever Christmas campaigning combined with an increased interest in higher-quality products, marking a turn away from "profligate" spending.
Either way, what becomes increasingly clear, is that retailers need to be smarter going forward and really ensure that their Christmas message stays true to the brand and doesn't become a detached "must have" FOMO campaign that either fails to reach that right audiences or fails to translate into sales.
3. When human creativity fails, AI comes to the rescue
The 2019 Holiday Shopping Report from Adobe Analytics revealed that a mixture of good old-fashioned discounting and high-tech AI helped drive sales. It suggested that AI-powered search and product recommendations drove additional revenue for retailers this holiday season, as 10% of digital orders and 5% of digital revenue came from AI-powered recommendations.
Not surprisingly, with the rise of conversational commerce and the availability of historic data marketeers can effectively utilise the power of data and AI to offer personalised ads, offers and recommendations.
Once marketers are able to gain a deeper understanding of consumer behaviour and needs, they would increasingly be able to set predetermined rules to map past searches complemented by deep learning capabilities – to increasingly ensure 'half' of the promotional budget is not waster.
As we are over all the festivities, and back into campaign planning mode, 2020 and the next decade look optimistic. A combination of technology enabling brands to make advertising and marketing more personal, as well as an increasing emphasis on creativity will help brands cut through the digital noise and better emphasise their brand value through the art of storytelling.
If you'd like to know more about planning for 2020, take a look at our PR & Marketing predictions blog and contact us to discover how LEWIS can help your business.