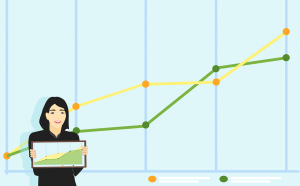 In most cases, you've been involved with the project from the very start. You've spent weeks, sometimes even months, working with the client to fine-tune the questions, analyse the content, and proofread the report. Now it's time to create the press release, prepare the pitch, and consider the winning strategy that will generate top-tier coverage. With so much of the client's time and money invested in the campaign, you need to be sure to hit those KPIs. So how can you turn those stats into stories that will resonate with the media?
Back to Basics
First, it's important to understand the overall value of the research.
More often than not, when you've been dealing with the same piece of research day-in, day-out for weeks, Excel fatigue is bound to set in. The spreadsheets stop making sense and key insights can be overlooked as a result. Sometimes the opposite can also be true, with teams diving head-first into the data, rushing to reveal the key finding that will be snapped up by every publication known to man. But how can you possibly find hidden treasure when you've been digging in that same spot for the past few weeks, or months?
Take a step back.
Before trying to uncover the value the research provides for journalists, you first need to remember why this project is important to your client.
Start at the beginning by reminding yourself the sole purpose of this research. What was the client looking to find? And why were they looking to find this? Then evaluate if they found what they were looking for. If so, great. If not, why not? Only after asking yourself these questions can you begin to look at the findings with fresh eyes, helping to uncover the true hidden gems.
Going Against the Grain
In an ideal world, all client research will be the pièce de résistance that voices findings contrary to current conversations. This type of research provides optimum opportunity to position your client as a thought-leader, going against the grain of what every other business is currently saying, and hitting those coverage KPIs as a result. However, sometimes the findings just aren't as newsworthy as you were hoping, and you're struggling to find that golden nugget which will set your client's research apart from the rest. Don't give up.
In every single piece of research, there will be hidden gems which will pique the interest of journalists in one way or another. Again, go back to basics and break the data down.
If you find that the research isn't exactly 'going against the grain', think about different ways of approaching the information. Yes, the overall report might be in agreement with current attitudes, but dig a little deeper and you might find another angle.
By breaking the information down into verticals (i.e. banking, insurance, retail, technology etc.), you're turning a single piece of research into multiple angles, expanding the boundaries for opportunities.
Hooking onto the news agenda is another way of uncovering angles for research projects. What are your target publications currently covering? Are there any upcoming feature opportunities that will tie in with the findings? By understanding the value of the research, you will be in a better position to identify where it can sit within the current news agenda.
Further still, understanding a journalist's beat and what they are currently working on will not only position the client as a useful source of information for any upcoming stories, but also demonstrate that you've thought carefully about making the story relevant to that journalist or publication. On such small considerations are great media relationships built.
Rather than simply mass-distributing to anyone and everyone, set your client's research apart from the rest by understanding its value and artfully incorporating this into upcoming stories. Only then, will you generate coverage and truly nail the news.