COVID-19 has thrown a curve ball at even the most seasoned of marketers, and many consumer brands are left feeling unsure about what they should do. Do all campaigns need to be paused? Do consumers even want to hear from brands? How can businesses get through the pandemic without coming off as greedy or insensitive?
To help answer those questions, we joined forces with experts across the field. Recently, LEWIS Creative Director Leila Mountford hosted a webinar to put consumers under the microscope and to get to grips with changes in behaviour over the last two months. We were joined by three panellists; Paul Quigley, data lover and the CEO of NewsWhip, Harley Johnson, Head of Client Partnerships at Jungle Creations and Mathew Lewis-Carter, presenter and influencer.
During the session, we discussed four key topics, combining our respective knowledge and experience, and providing useful guidance for brands and marketers moving forward. Learn more about what we discussed below.
1. How are people are spending their time online during lock down and what does this mean for marketers?
As soon as lockdown was announced, we knew that brands and businesses were going to have to shift their strategy to really nail all things digital. Both LEWIS and our fellow panellists have noticed certain sectors being quicker off the mark than others, and some businesses have tragically been feeling the strain from having previously neglected the UX on their websites or having ignored social as a channel to engage customers. A digital transformation was needed quickly, and not everyone was ready.
Nevertheless, we know that consumers have been devouring more content than ever before over multiple platforms and experimenting with new digital platforms such as House Party and TikTok. Pretty sure your mum has both these apps downloaded, right? But do we think this trend of heightened time online will continue or are people starting to get digital screen fatigue?
"The news has become much more immediate and that's been reflected on engagement across social networks", explains Paul Quigley.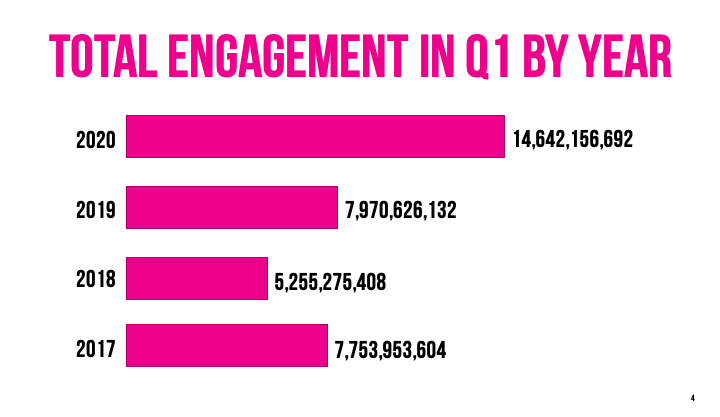 This graph that NewsWhip shared looks at the last four year (2017-2020), and specifically total engagement online in Q1 across each of those years. Paul explained each year and what was going on at that time: "2018 was a bit of a challenging year for media's relationship with Facebook as had the Cambridge Analytica revelations", but we can see that as COVID-19 hit earlier this year, this drove margin to the highest engagement with Facebook and news content ever. There has been an almost doubling in engagement, compared to previous highs from 2017-2019.
Overall, there has been a huge uplift in engagement on social too, particularly across Instagram – not just in feeds, but also Stories.
2. Consumer sentiment towards advertising right now: what's working and what isn't
According to Global Web Index global data from end of April, the top three actions consumers believe brands should take are:
Providing practical tips
Pledging money/aid/supplies to help
Running promotions/offers or perks for customers
From an influencer and content creation point of view, it is clear that there is a need to be more mindful in the types of brands people are working with. Mat has been very diligent in ensuring he is always creating engaging content, but also making sure that it varies from being inspiring or informative to just a bit of light-hearted fun!
"People are taking the time to think about what content they are putting out there, although the landscape is constantly changing", Mat explains. "I recently worked with Fiverr, and thought it was a good opportunity (I did get the short straw as I am ginger and diabetic!), to make a children's e-book on Type 1 diabetes", as this is something Mat has always dreamed of being able to do, is relevant to his audience and the current climate.
"Influencers are more than just a billboard and if you take the time to really engage and understand who their audience is, you can get a good return on investment", Mathew Lewis-Carter
So, once the brand has found the right platform to tell their story, whether that be through working with influencers or a publisher, there are also a lot of questions on how to then produce that content correctly, thinking about visuals and language at such a sensitive time. Consumers aren't wanting to see overly produced content, instead they are happy with more User Generated style content that can be quickly turned around, at home.
Consumers are real people, they know and don't expect content to be perfect right now, it just needs to answer a need and to have a good intention…like Stanley Tucci trying to show us all how to make a perfect Negroni! Although there will always be trolls online who focus on him shaking the cocktail, rather than stirring.
3. Changes in activities and behaviours online that your brand could tap into
Google Analytics from the last 30 days show us that people are still searching for inspiration alongside positive news stories. The big question is which of these behaviour changes might be more long-term?
Let's look at the numbers, shall we? "Since lock-down we have seen dwell time on Facebook increase by about 28%, 19% on our website, 27% increase in users on Snapchat and 17% daily increase in users on YouTube" Harley, explains.
He continues with uncovering how, "the most important thing for [Jungle Creations] right now is to find a way to bring value back to that audience. [They] have been using data, marketing and editorial teams to push out content that [they] feel answers consumer's needs."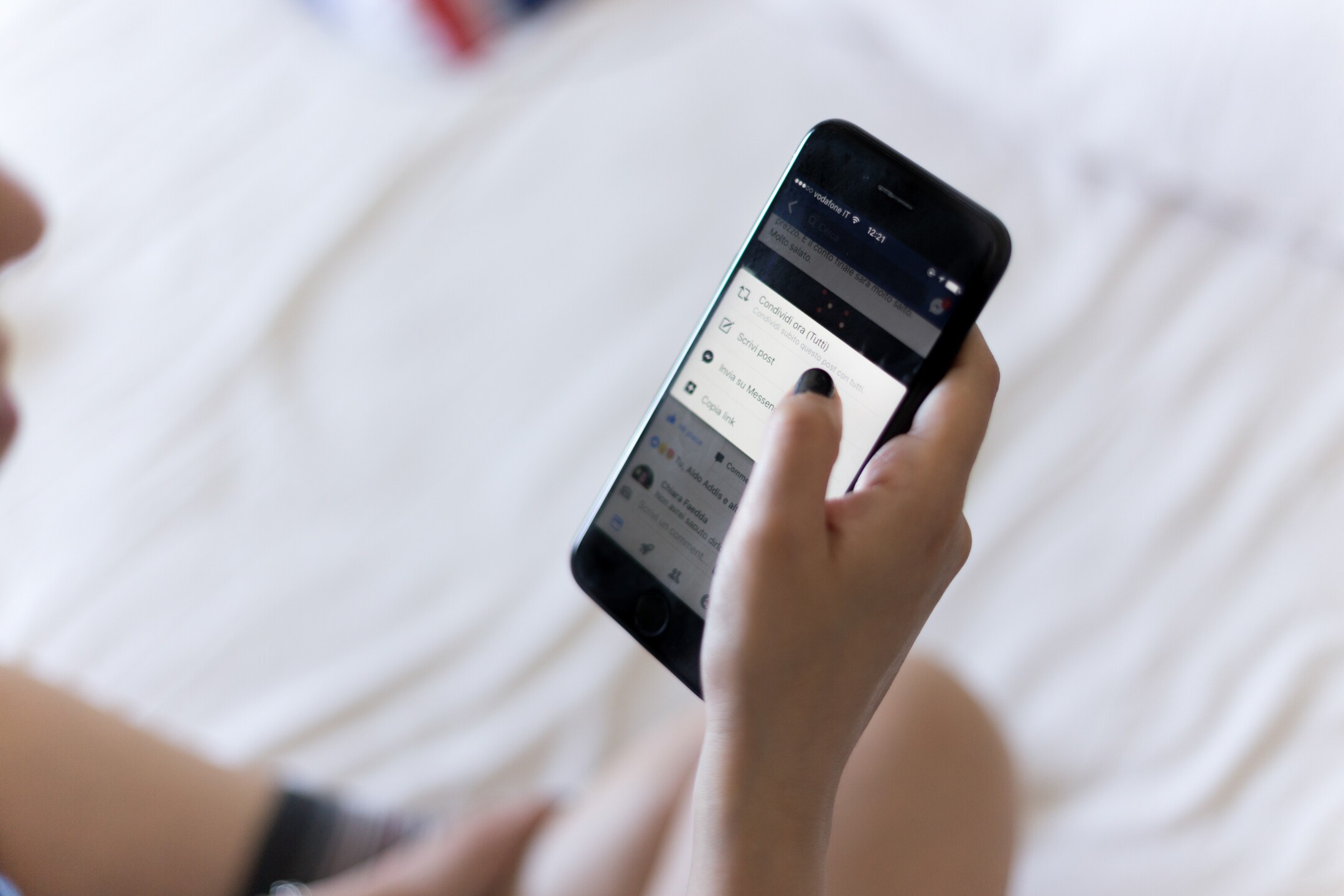 Then from a media point of view, the articles that are gaining traction online are broadening since the initial mania when the pandemic broke out. We are now seeing stories about climate issues, our favourite TV shows, as well as COVID updates.
4. The information and content that people are actively searching for
Paul explains how there's, "an ongoing trend in content related to Coronavirus, with more bias towards positive stories, such as potential vaccinations" but in parallel there is a big expansion in content around the environment and the health.
This landscape is constantly changing, and it means that we can no longer plan months in advance, but instead brands and marketers have to quickly respond to the consumers' needs that week, or that day. With that, Jungle's production time has had to drastically reduce, with the turnaround being approximately five days from ideation to execution.
The key here is to plan mini and short-term campaigns at speed, by using data that is the most relevant to inform ideas and creative executions.
Closing thoughts
Leila Mountford, LEWIS
"The brands that have managed to adapt to the crisis have been those who have had robust digital and social strategies in place and fostered meaningful dialogue with their customers online."
Paul Quigley, NewsWhip
"All of our data suggests a huge support and engagement with companies across social and in the media, so even if you can't produce hand sanitiser, a really good starting point for brands is to think 'how can we help?' and that might be as simple as making use of the leftovers in your fridge!"
Harley Johnson, Jungle Creations
"Now more than ever, it's time to turn all the insight you have as a brand or an agency on your target audiences – into something which works the other way around; positively for them. Look to add value, give back or inspire them through this, and once we come out the other side, they will remember you for helping them through the crisis. That's how you build long-term brand affinity.
Mathew Lewis-Carter
"Content doesn't need to be glossy or polished, it needs to be rough around the edges and relatable- that's what's getting engagement. The question should be how and who can I help? not just in the short term but long-term strategy as well"
If you'd like to learn more about what we discussed during the webinar, get in touch for a virtual coffee (or maybe a negroni – your choice!)