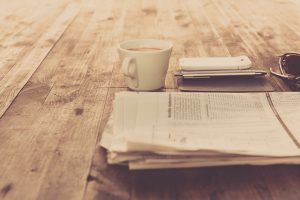 I've included the five reasons why I fell in love with PR as a career below:
1. The companies you work with
From consumer to B2B tech to B2C tech, the companies you work with will vary in size. Whether it be a huge company or a small start-up, the work itself will vary every day.  Specifically, public relations allows people to focus on an industry they really love. For some it might be consumer or health, for me it's tech PR.  Learning about our client's new technologies and solutions that are helping increase security measures during my first few weeks at LEWIS was incredibly interesting. Even when they announce new technologies today, I get excited.
2. Always learning
As someone who loves to learn, PR has allowed me to learn at least one new thing (if not more) a day. Be it the do's and don'ts of interviews or how to best handle a crisis, there is always something to learn. While the list of things I've learned during my time at LEWIS is way too extensive, it continuously reminds me that there is always more to learn, and in turn, there is always room to grow. Given my curiosity in other aspects of life, PR continues to throw always interesting information my way.
3. Creativity matters
For me, creativity is one of the key components to being successful in public relations. Between writing blogs, bylines, social media posts and media pitches, there always needs to be a creative aspect to any of the above to make it interesting to reporters. Being able to express some form of creativity throughout the day, is one of my favorite parts of working in PR. Specifically, crafting up any sort of content with a creative twist is one of the best parts of my day.
4. Storytelling
Another great aspect of working in PR is having the ability to tell the story your clients have been working so hard to do. Most storytelling us PR professionals do, is through pitches to reporters or contributed content. From content, to titles, to social media posts, a story is always being told in PR. Granted some are harder to tell than others, but this is where creativity and storytelling work together.
5. No two-days are alike
While some jobs entail a monotonous schedule, you will never have this in PR. You can definitely count on never having the same two days in a row. One day can go just as you planned for yourself, while others will completely shift your intended schedule for the day. While there is a bit of consistency in some of your day to day task, for the most part, this will probably be the only consistency you will see in your day. Given account needs and other priorities, you have to be OK with your intended plan for the day completely going out the window if needed.