2019 was the year of content and consumption diversity. Opportunities for marketers to experiment on diverse channels such as podcasts, and further expand formats such as video, user-generated content and bespoke illustration were aplenty.
We begin the new decade by asking senior marketers from 30 brands across Asia-Pacific from a variety of industries what their priorities for 2020 were, the areas they were most confident and which elements of marketing had room for growth.
The result – our Marketing in 2020: From Good to Great handbook.
While the priorities outlined for 2020 are clear, the more pressing challenges lie in the areas where marketers need the most help are areas with the largest gaps.
In this e-book, we discuss:
How brands can accelerate progress in areas of missed opportunities in the last year to drive up results in 2020
The four key focus areas for your marketing planning this year
How to tackle internal and external pressures and challenges in 2020
//To find out more about the report, read our blog here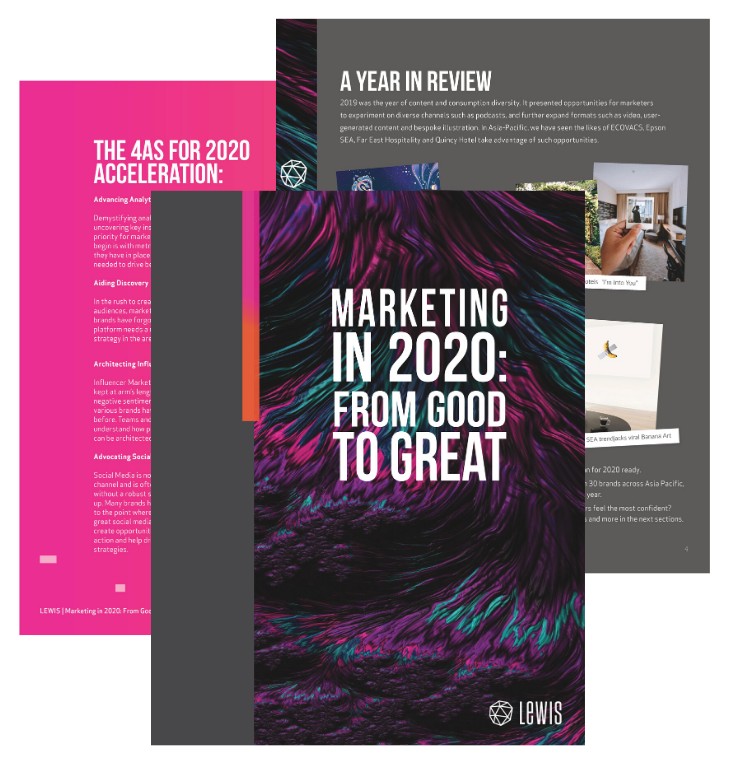 Download the guide



Got a burning question?
Whether you're curious about getting started on data and analytics, or you want a fresh perspective on building your marketing programs, our team of experts across marketing, digital and PR has got you covered.
// Get in touch with us today!