We dubbed 2019 the year of  content and consumption diversity. Brands everywhere were dabbling in formats like video, user-generated content and even bespoke illustration. The popularity and enthusiasm for podcasts was fast-growing (we even started our own series).
In fact, when we polled senior marketers from various industries across Asia-Pacific,  83%  of them indicated content marketing as one of their top five priorities for 2020. More interestingly, when we asked what areas they believed they performed best, content marketing also topped the list.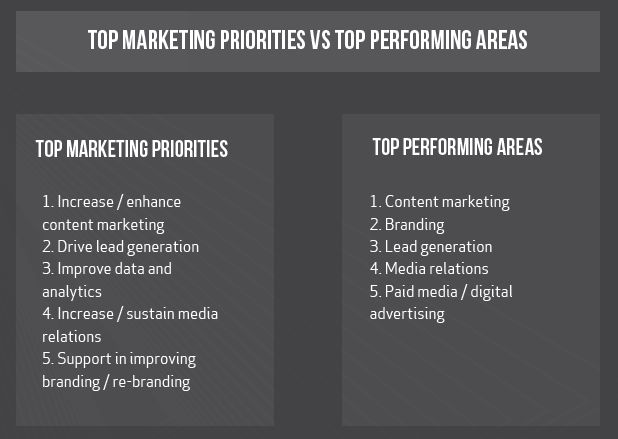 As we reviewed the results of our survey, we noticed a glaring problem with these priorities. The majority of  marketers were already confident in four of the five areas within their top five. But there were clearly struggling in areas they ranked low on priority.
What's the big deal with this?
These low-priority areas and areas they struggle with fall under the first and last mile. In other  words, there is a lack in experience and emphasis in the initial touchpoints or the final conversions.
This year, we've opted to take a different perspective when it comes to planning marketing programs in 2020.
Forget about blindly jumping on the bandwagon of marketing trends
Shift the focus away from traditional priorities
Start closing the gaps across your marketing mix.
With the insights derived from our survey, we developed a guide to help you get your marketing in shape for the new year. The guide will cover:
How brands can accelerate progress in areas of missed opportunities in the last year to drive up results in 2020
The four key focus areas for your marketing planning this year
How to tackle internal and external pressures and challenges in 2020
Whether it's implementing a new SEO and SEM strategy, influencer marketing programs, social media strategy or wrapping your head around data and analytics, we got you covered. Get in touch with us if you'd like to find out how we can help you.
Download the guide