Advocating for the Future of the American Workforce
---
Challenge
As the Chamber Foundation arm of the world's largest business organization representing the interest of more than 3 million businesses, the U.S. Chamber of Commerce Foundation is dedicated to strengthening America's long-term competitiveness through diverse public education and outreach initiatives. The Chamber Foundation turned to LEWIS to help build awareness for two vital yet complicated programs: the T3 Innovation Network, a network of more than 400 organizations working to improve the access and use of educational and workforce data with advanced technologies, and the Job Data Exchange (JDX), an open data tool for employers to leverage standardized skills-based hiring.
Approach
To guide the best approach to elevating the Chamber Foundation's initiatives, LEWIS first conducted market research, an extensive audit to assess how other organizations were positioning similar programs and studied the media conversation around upskilling, competencies and the future of work. Based on the findings, LEWIS crafted a strategic media relations and thought leadership strategy designed to reinforce the Chamber Foundation's expertise. To gather meaningful data points that would resonate with media as well as workforce and education stakeholders, the Chamber Foundation commissioned a survey of 500 U.S. HR hiring decision makers.
The enlightening findings on the current hiring landscape were adapted into a comprehensive report, "Hiring in the Modern Talent Marketplace," that LEWIS helped launch in February to coincide with the State of the Union address and February 2020 jobs report. Prepared with a wide range of survey data, Chamber Foundation experts on hand, and close monitoring of trending conversations, LEWIS conducted well-targeted media outreach and developed social content to secure and help amplify earned media coverage and demonstrate the Chamber Foundation's unique expertise in the broader and ongoing discussion.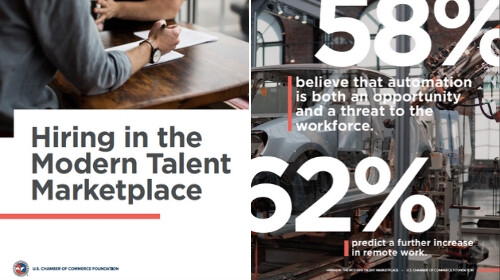 Results
As a result of the campaign, LEWIS secured coverage in and helped the Chamber Foundation build valuable relationships with an array of national and trade publications, including Fast Company, Business Insider, U.S. News & World Report, HR Dive, HR Technologist, TechRepublic, TechTarget and The Hechinger Report. Most importantly, the efforts helped the Chamber Foundation simplify its messaging around the T3 Network and JDX; clearly demonstrate the societal need and value proposition of its programs; and insert the Chamber Foundation into the dialogue around workforce development and the rapidly changing hiring landscape. By reinforcing such terms as "upskilling", "competencies", "talent pipeline" and "data exchange" in the media lexicon, LEWIS has helped the Chamber Foundation accelerate its mission to educate the public, engage key voices in the workforce and education conversation, and support the organization's broader mission of strengthening American businesses.