The tides of marketing are ever changing. To sustain your audience's attention, marketers need to adapt and pinpoint new trends to stand out. This is where a marketing agency like ours can help you get ahead of the competition.
Contact Us
Growth & Acceleration Creative Content
In-house expertise
As businesses face volatility and uncertainty, the pressure is on for marketing teams to anticipate, react to challenges and create areas for growth. We know that the battle is for audiences – to hold their attention, stay relevant, gain loyalty and trust. The winning formula to accomplish this requires a perfect concoction of skill, creativity and delivery. That's where our in-house specialists from our centres of excellence, or LEWIS Hub teams, come in.
Our specialist services
Branding & Creative

Content Marketing

Insights & Intelligence

Demand Generation

SEO

Social

Paid Search
Our Centres of Excellence
1
Growth & Acceleration
Today's business landscapes are as competitive as they are complex. Our specialist team of business growth and acceleration professionals are ready to help brands solve the big issues through targeted custom experiences backed by data and insights.
2
Creative
Creativity is the lifeblood of any successful campaign. From conceptualisation to execution, we combine left and right brain thinking to deliver consistent quality across all marketing assets. Our team comprises of digital creators, designers and editors, deployable across any campaign, large or small, to help brands make a lasting impression.
3
Content
Content in the digital age is constantly shapeshifting. With so many content marketing formats and styles, how well do you know what your audience responds to the most? Led by content strategists and copywriters, we aim to elevate your brand's content whilst keeping up with onging trends and connecting with audiences.
Send us a message
Fuelling Business Growth
Comprised of experts in the fields of business growth & acceleration, creative and content, our Hub teams are an extension of our core offerings. We work hand-in-hand with your local LEWIS team to combine local market knowledge with dedicated specialist skills. For everything mission-critical; we've got the right people, the right skills and the right tools.
Whether it's making sense of the latest trends, finding the sweet spot between purpose-driven content and creativity or matching ROI to your marketing investment, we can solve any marketing mystery.
Contact Our Specialist Hub Teams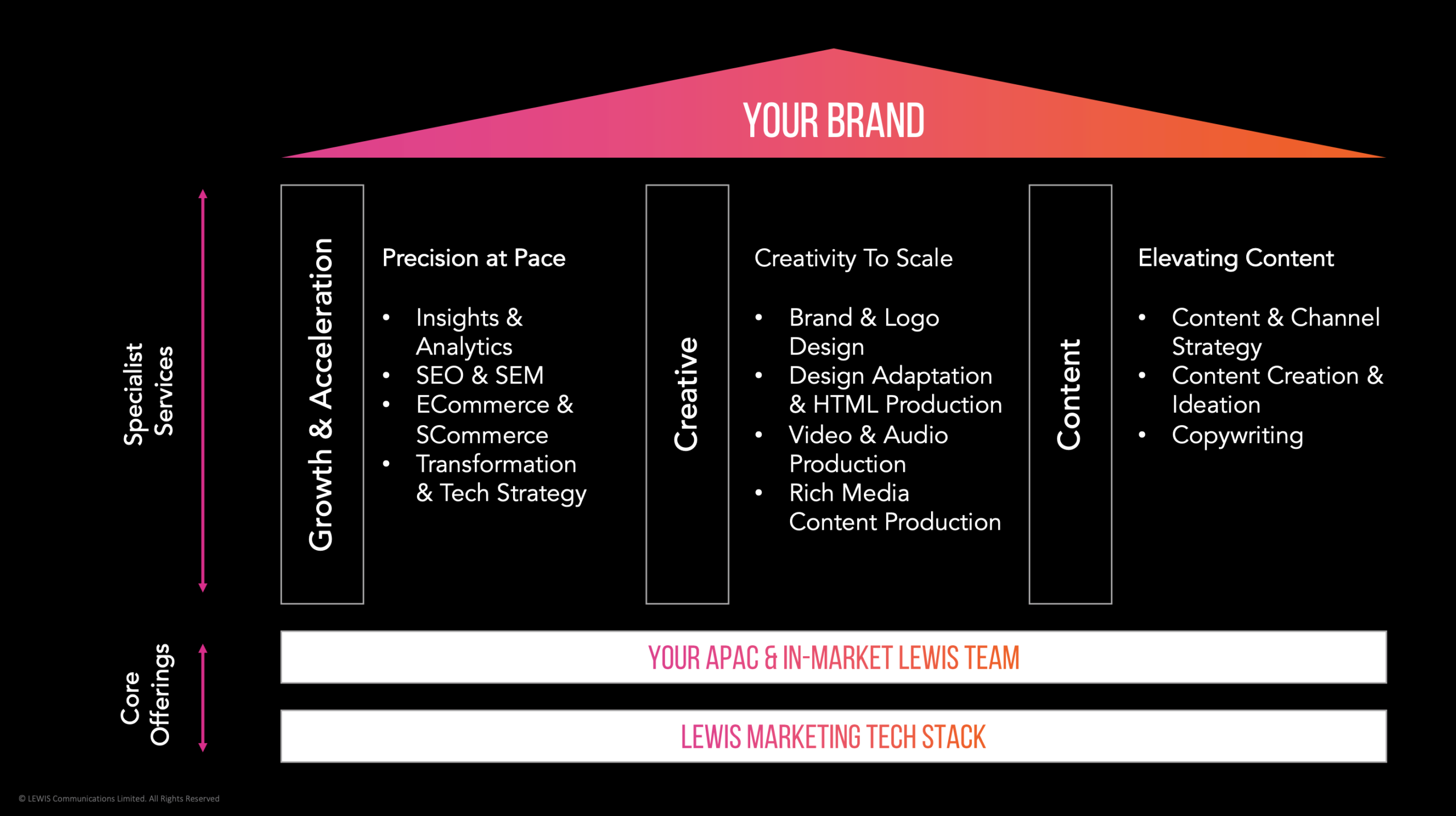 The Growth & Acceleration, Content and Creative Hubs in Asia Pacific are unsiloed and unrestricted by geography covering the complete marketing spectrum.