The full impact of COVID-19 is still unknown. However, as we shift globally in response, there are a few tools your company can employ to be more efficient and effective during these uncertain times. As teams are operating at full capacity, yet still require effective and personalized messaging, one natural shift within B2B marketing is the trend towards account-based marketing (ABM).
What is ABM?
Account-based marketing (ABM) is a marketing tactic based on the idea of starting your marketing strategy by identifying and targeting best-fit accounts that have the biggest revenue potential for your business. This goes against the traditional marketing approach where you develop campaigns across channels to generate leads and then work to qualify and convert these leads down the funnel.
Sometimes when talking about your ABM strategy, you'll hear the phrase 'Flip the Funnel.' In this graphic, you can see the way the approach to marketing changes from traditional marketing to ABM. Account based marketing is a great way to focus efforts, personalize messaging, and convert accounts to deals faster. However, it is meant to supplement inbound methods. In an ideal world, a company will continue using inbound in its marketing strategy to attract leads, but leverage ABM to target its top targets.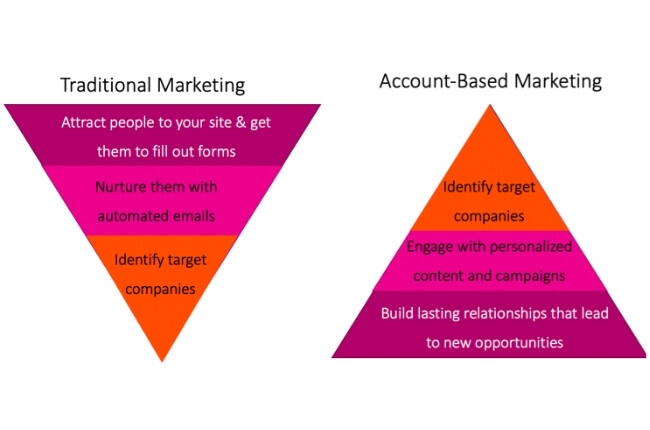 ABM is highly personalized. Since you are targeting specific accounts that are a firmographic fit, treat each key account as its own market. In an ABM program, this marketing outreach is supplemented by personalized, one-to-one sales outreach to the same list of target accounts. Marketers can use marketing technology to serve personalized messaging, like Marketo, Hubspot, or Pardot, to target decision-makers at these accounts on the channels they are actively using. This is why building a martech stack is so crucial to the success of your marketing strategy.
Instead of casting a wide net with their lead-generation efforts, marketers executing an ABM program work closely with sales to identify key prospects and then tailor customized programs and messages to the buying team within target accounts. ABM is used to build better, stronger relationships with target accounts.

Why is now the perfect time to implement ABM?
Most marketing and sales teams are operating at full capacity as they adjust to furloughs and layoffs and increased demands from clients, all while trying to stay afloat during the uncertainty of a global pandemic. With more people online during quarantine, we've also seen an uptick in advertising costs and volume, so personalization is essential to break through the clutter and reach your target audience.
One way to combat these challenges is through implementing ABM strategies. ABM can help teams scale and work more efficiently. It's also more cost-effective, and ABM tends to lead to shorter sales cycles and increases funnel velocity.
For teams who now have fewer teammates, launching an ABM campaign is a way to align goals between your sales and marketing team. Additionally, with focused efforts on specific target accounts, it is possible to implement ABM within small teams and still have a big impact. Lastly, through marketing automation tools, this approach can help smaller teams scale marketing efforts through workflows and automating basic tasks.
According to research by Trust Radius, many in the tech industry are bracing for the broader economic impact of this pandemic. Yet, 66% of respondents expect unchanged or increased spending on software in the coming months.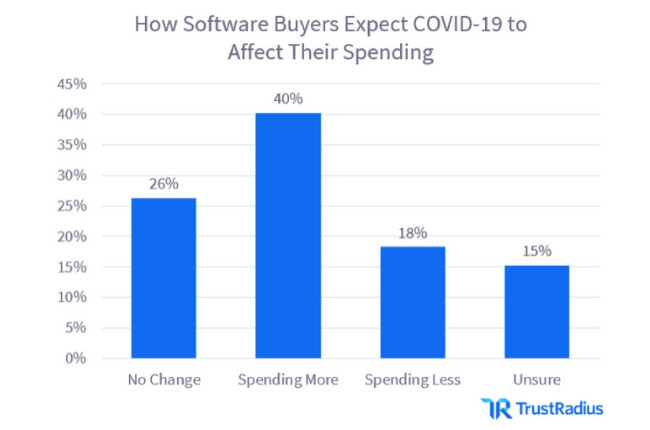 Within these companies who are still spending on software, ABM is a great way to solidify deals through personalization and coordination between marketing and sales teams. By targeting the entire buying team, ABM works to get internal buy-in early. In doing so, ABM tends to lead to shorter sales cycles and increases funnel velocity. Lastly, increased targeting and engagement within target accounts increases the likelihood of a closed/won opportunity. As companies are looking at ways to save, having stronger relationships, especially with a decision maker, is going to be key in closing deals.
How do you implement ABM?
ABM looks different for each company. Your approach will depend on what types of multi-channel campaigns you are running, and your target company list or ideal company profile. Most campaigns incorporate a mix of paid advertising, organic campaigns, ABM platforms and automation.
Identify your list of target accounts
Research your accounts (company news Owler, save leads on SalesNavigator, etc.)
Create personalized, targeted content
Pick channels: ABM platforms (Integrate, MRP, DemandBase), email, LinkedIn, Facebook, Twitter, Google search/display, events, Reddit, etc.
Tailor content to selected channels
Launch your campaign
Optimize
Measure
How do you measure success for ABM?
The KPIs we look to when implementing and optimizing an ABM campaign differ from traditional marketing metrics. Here are a few we recommend tracking against:
Account Coverage
Are we growing our list of known individuals within the target account?
How complete is your data (contacts and company intel)?
Engagement
Web traffic by target account
Have there been any changes to the way these accounts are engaging with our brand and its content?
Account reach (how many decision-makers are engaged with your content)
Number of MQA, SQA, and opportunities in each specific account
Revenue
([Total Opportunities x Average Deal Size x Conversion Rate]/Sales Cycle Length) = Deal Velocity
Average Contract Value (instead of CLV)
How much revenue have we generated from these target accounts?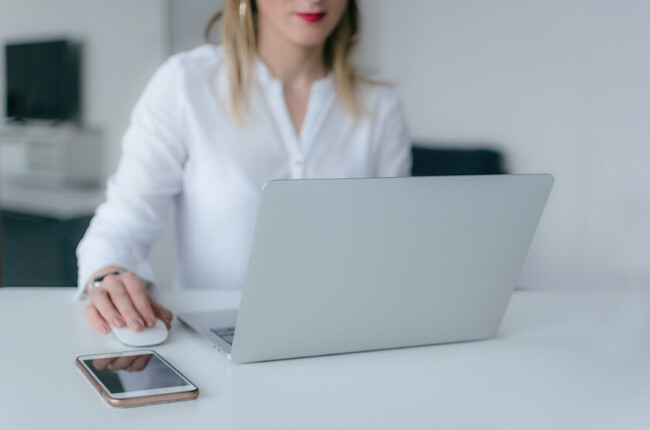 Why should your company implement account-based marketing?
The ABM approach is personalized and effective.
ABM is personalized and optimized. Personalization ensures that your content and messaging resonate with your target audiences. By giving users what they need and when they need it based on where they are in the buyers' journey, you can create an environment where prospects are more likely to engage since it is relevant to them.
Who is your potential customer? It's more cost-effective to determine which accounts are the best fit for your product before you target them, and then spend your money reaching them.
With hyper-targeted campaigns, you can spend money just on the specific channels where your accounts are active.
With focused campaigns, your marketing and sales team can also focus their efforts instead of trying to build out a content marketing strategy for the entire market.
Account-based marketing can help align your sales and marketing teams.
ABM aligns sales and marketing. This requires both teams to agree on which accounts and which types of companies to focus on, but reinforces the same goals across both teams.
Through ABM and targeted advertising, leads will have already heard of your company or product by the time sales is following up. No more cold calling!
When a lead at a target company converts, sales has already agreed to work it, so there are no rejected leads.
ABM can help increase ROI.
By targeting the entire buying team, ABM works to get internal buy-in early. In doing so, ABM tends to lead to shorter sales cycles and increases funnel velocity.
Increased targeting and engagement with accounts increases the likelihood of close.
It's easier to see ROI and can be more confident about attribution models (first touch or multi-touch attribution). With ABM, you can cut spend on campaigns that are not converting.
ABM success leads to higher quality engagements, faster sales cycles and increased revenue. Given COVID-19 implications on the world, marketers need to adapt quickly. ABM is one way to adjust to changing industries, work-from-home transitions and economic impacts. Marketers and companies who lead with empathy, compassion, and understanding when approaching buyers will help drive responsiveness in these uncertain times.
Need help launching your next marketing campaign? We'd love to show you how ABM can be an integral part of your digital marketing strategy. Let's get connected.