Er zijn meerdere doelstellingen om een paid campagne te ontwikkelen. Bijvoorbeeld als je een boodschap wilt overbrengen naar een nieuw publiek, een nieuw nieuw product of dienst wil lanceren, nieuwe leads wil genereren of wanneer je het aantal volgers op social media wil vergroten.
In de Paid Media Guide delen we hoe deze vorm van digitale campagnes van toegevoegde waarde kunnen zijn voor je merk, en welke social media platformen relevant kunnen zijn, zodat jij klaar bent om je volgende paid media campagne op te zetten.
Download de Paid Media Guide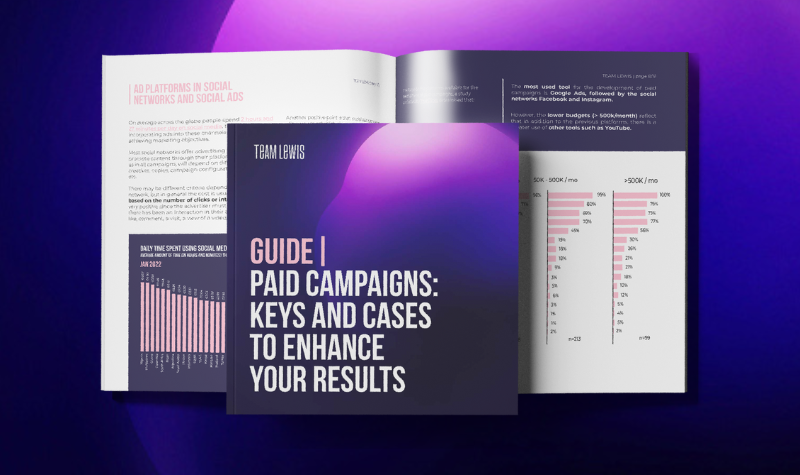 Wat vind je in de guide?
Paid campagnes

Wat zijn paid campagnes?
Paid campagnestatistieken
Evolutie van investeringen in betaalde campagnes
Trends in paid campagnes

Waarom paid campagnes belangrijk zijn
Paid ecosysteem

Advertentieplatformen voor zoekmachines

Google-advertenties
Bing advertenties

Advertentieplatformen voor social media

Facebook advertenties
Instagram advertenties
Twitter advertenties
LinkedIn advertenties
TikTok advertenties
Twitch advertenties
Pinterest advertenties

Programmatische platformen

Wat is programmatisch adverteren?
Grote spelers van programmatisch kopen
Programmatische advertentieplatformen

LiquidM
StackAdapt
Oniade
Smarty Ads

Native advertentieplatforms

Taboola
Outbrain
TripleLift

Audio-advertentieplatformen

Spotify advertenties
Ivoox voor merken

Advertentieplatformen in Marktplaatsen

Amazon advertenties
eBay advertenties

Best Practices
Case Studies

OMRON
Adobe
SIEMENS
KPMG
Good Move