A new social media app has broken ground and made it into the mainstream, one invite at a time. Clubhouse, the invite-only audio platform, has gathered some big names in media, music, entertainment and tech — including Drake, Tiffany Haddish, Jared Leto, Elon Musk and, most recently, Facebook CEO, Mark Zuckerberg. With some major celebrity endorsement, people are rushing to tune in to this buzzy new app with 2.3 million downloads in January alone and a total of 6 million users to date. How does this new social media experience stack up to the tech giants? What does this mean for your brand and the average social media marketer? Here's everything you need to know about Clubhouse and how to leverage the platform for your marketing strategy.
Listening to Mark Zuckerberg chat on Clubhouse, it's impossible not to wonder how long before Facebook releases its own version of this product

— Sal Rodriguez ? (@sal19) February 5, 2021
What is Clubhouse?
Clubhouse is a social media app replacing Instagram-worthy pictures, shareable social videos or text posts with live conversation. Clubhouse describes itself as "a new type of network based on voice" where people can "meet with friends and with new people around the world—to tell stories, ask questions, debate, learn, and have impromptu conversations on thousands of different topics." Think of it as a house full of always-on, live, unfiltered podcasts where users can jump in and out of various chat rooms to discuss anything or just listen in.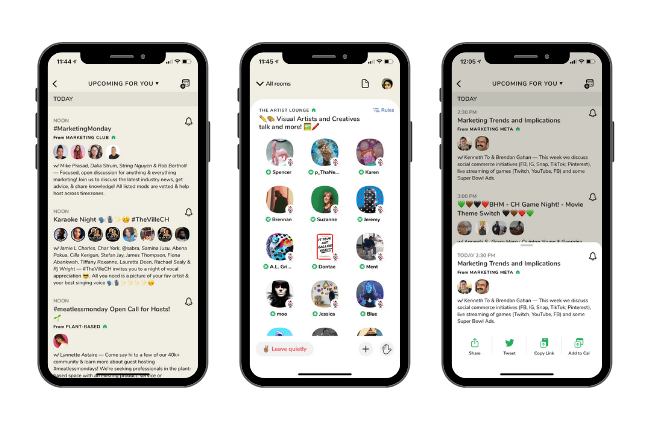 Developed by Paul Davison and Rohan Seth, the audio-based startup debuted last year to a select pool of users — mostly other entrepreneurs, investors and Silicon Valley insiders. The app soon gained popularity beyond the tech crowd, now backed by venture capitalist firm Andreessen Horowitz (a16z) and newly valued at $1 billion.
With a seemingly endless amount of conversation between friends and strangers, from marketing trends to entrepreneur tips and a debate on Best Fictional Restaurant: Krusty Krab vs. Bob's Burgers, the audio app attempts to mimic a form of engagement and interaction we once shared before a global pandemic. With its exclusivity and fast-paced rooms, Clubhouse creates a place of social gathering unlike its counterparts — a global house party with a full audience, interesting conversation and networking opportunities with potentially a famous face in the crowd. Hence why everyone's asking for an invite.
? Some news:
I've led a16z's new investment in Clubhouse and have joined the board. Essay below that covers:

– how I know founders @pdavison @rohanseth
– why we're excited to invest
– how we think Clubhouse is unique – particularly for creators!https://t.co/2t1Uzj2uJ4

— Andrew Chen (@andrewchen) January 24, 2021
How Does The Clubhouse App Work?
The Clubhouse structure is similar to a Zoom call or talk show. Conversations are created by hosts as a virtual room where users gather to discuss a topic. The creator of the room acts as a moderator in determining who can enter a room, who can talk and who else can join as a moderator. The rooms can be scheduled or spontaneous. All interaction in the rooms are voice-based, without the need for a camera, and nothing is recorded permanently. Chats disappear as soon as they finish.
With a Clubhouse invitation, you'll immediately have access to all the existing conversations under different rooms. When a user enters a Clubhouse room, the audio chat will turn on and an interested user can raise their hand to be invited to join the panel discussion. You'll also have the ability to host your own room or create a club. A club allows you to have Clubhouse members host rooms with a similar topic under a club name. You'll only need three rooms to create a club.
The people you follow dictates the content that appears in your feed, as well as the topics you select under "Interests." The Clubhouse algorithm will suggest people who follow the same interests and have similar keywords in their bio.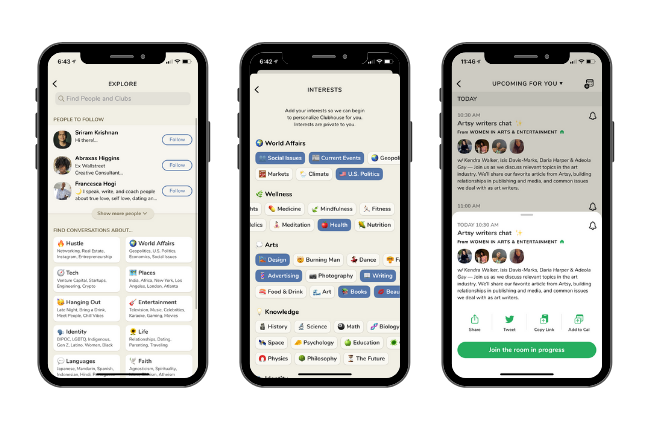 How Do I Get a Clubhouse Invite?
The new app is currently in beta and only available on iOS. iPhone users can download the app, reserve a username and join the waitlist. Although it's unclear when the list will open up, Clubhouse states that the platform is "for everyone" and they're "working to make it available to the world as quickly as possible." The only way to access Clubhouse now is with an invite from an existing Clubhouse member. The easiest way to get a Clubhouse invite? Ask your network. Whether on LinkedIn or on Snapchat, you're bound to know someone.
The invite-only club is part of the appeal of the new social platform, at least for now.
How Can I Use Clubhouse for My Brand?
If you're already on all the major social media platforms, extending your brand to another might seem like a hassle. However, as a trending topic with unique community features, Clubhouse offers a world of potential for your brand.
Engage Your Audience
Establish your brand as a thought leader and industry expert by creating your own room. Discuss relevant topics, host panel discussions and collaborate with other experts to share your insight and show your value to your followers. Drive organic engagement by opening up the floor for questions and comments. Start building a community by connecting your Instagram and Twitter to your Clubhouse account. If your base is moving to this audio platform, don't miss out on those conversations!
Follow Industry Trends and News
The audio format of Clubhouse makes it especially useful for social listening. Are your competitors joining the club? Follow industry leaders, hop in their room and see what they're up to. Leverage the multitude of topics hosted on Clubhouse and listen in on what your audience is talking about. With a keen ear and a curated feed of industry news and consumer trends, you can build up an engaging content strategy to use across all your channels.
Build Hype
Real-time social media activity has been an up and coming social trend, accelerated by stay-at-home restrictions. With an audience on Clubhouse, you can start utilising the platform to build excitement within your community for upcoming launches and brand news. For your next marketing campaign, consider dedicating a room as a Q&A session to help educate your audience and get them engaged. Drop key announcements in Clubhouse's unique disappearing rooms as a "can't-miss" event and direct your followers to visit your site for more info!
Test New Ideas
You'll see a few rooms on the app with the sole purpose of getting feedback, even those hosted by the Clubhouse developers themselves. With the platform's real-time format, there's a great opportunity to try new content ideas and get valuable feedback from your audience. Test out webinar ideas, sample some podcast topics and ask the crowd what they think. You can also spark conversation with industry peers to find creative solutions to common problems your brand might be facing.
Build Your Network
Without the need for a camera, introductions are as simple as "Hello" on Clubhouse. The voice format makes the platform an ample ground for networking. Rooms have ended with a handful of connections and exchanges. Start building your following by simply asking questions and participating in conversations. Room members will take notice and check out your profile. Dedicated rooms for networking are available for small business owners, freelancers and small agencies. A Clubhouse member reported getting over 20 clients during his time on the app. Those networking conversations are happening out of conference halls and now, on Clubhouse.
Since its early days in Silicon Valley, the platform has accrued a large crowd of venture capitalists interested in all the buzz. This presents a major opportunity for startups looking to mingle on Clubhouse. Getting in front of a key investor can happen in your own room with you presenting your idea to get feedback or in other rooms hosted by people with a problem your brand can solve.
Whatever your niche is, Clubhouse has it. You might just find the right crowd and the right person to invest in it.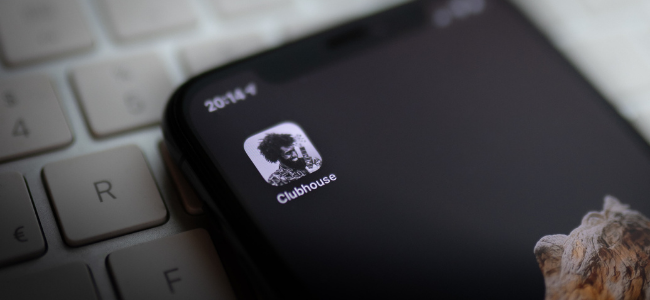 Will the Clubhouse Hype Last?
We all know the highs and lows of the social media game. It's a boom-or-bust business where success depends on the user's ability to draw in more people. You can win the game like Facebook or become a passing trend like Yik Yak, the anonymous forum app for college students that notoriously failed after raising over $70 million. So, with exclusivity driving its growth, what will happen when Clubhouse becomes available for everyone? Can the app sustain the craze and keep its trending spot?
The Pros:
A Level Playing Field
Unlike popular platforms, Clubhouse has the potential for true virality. Followers on the app are no longer a vanity metric or a prerequisite for certain app features. Anyone you follow appears on your notification whenever they're speaking in a room. Just click on the notification and you'll be able to join in. This allows for a larger crowd every time you interact with the platform and enter a discussion.
It's not just about followers. The app is built around voice — everyone's voice, not just those with a huge following. While the celebrity names drew us in, the majority of the platform consists of everyday discussions. The value you add doesn't come from your name, but rather your voice.
No Visual Barrier
Clubhouse has taken out the visual aspect of social media and has reintroduced the basics of sharing a story in its voice-only design:
"[W]e think voice is a very special medium. With no camera on, you don't have to worry about eye contact, what you're wearing, or where you are. You can talk on Clubhouse while you're folding laundry, breastfeeding, commuting, working on your couch in the basement, or going for a run. Instead of typing something and hitting Send, you're engaged in a back-and-forth dialogue with others."
This return to dialogue is unique in its industry, mitigating the stress of looking camera-ready and allowing for a newfound mobility when consuming content. As with an audiobook or a podcast, users can listen passively, whether they're in their car or on their Peloton — but on Clubhouse, the difference is that they can still be fully engaged in an interactive discussion.
From our social media app check-ins to Zoom calls, Clubhouse offers a break from the digital fatigue of our screens. With remote work still in play, the exclusive audio format removes the friction of face-to-face video and introduces a sense of flexibility in its attempt for a return to normal.
The Cons:
Moderation
The trending newcomer has faced numerous complaints on their lack of moderation. Anyone can make a room about anything and draw a crowd. Like with other platforms, scammers have taken advantage of this feature with a multitude of "Make Quick Money" clubs with packed rooms of unaware users. The app also relies on the individual user to moderate their disappearing chat rooms, leaving ample room for trolls, harassment and hate speech. Clubhouse attempts to mitigate this problem with the addition of a real-time incident reporting feature inside rooms to hold users accountable.
Accessibility
With its audio format, the invite-only app becomes exclusive in more ways than one. The Clubhouse community is not accessible to those who are deaf or hard of hearing. Fellow social media platforms have made efforts for inclusivity such as with alt-text, TikTok's manual closed captions or even Instagram Threads for stories. Without transcribed audio, the app lacks accessibility and excludes a large group of people from their community.
The Takeaway
The Clubhouse success seems fitting for the social pandemic era — with real-time conversations that feel intimate enough to share ideas with a global reach to spur creativity, all while celebrating the serendipity of human interaction.
Along with the popularity of podcasts and streaming platforms like Discord, the trend to audio has certainly not gone unnoticed. Is this the end for traditional visual platforms? With over 50 million daily TikTok users in the US, definitely not. Instead, Clubhouse aligns itself in the intersection of organic social connection and interactive thought through the medium of voice. The new network encourages human connection through genuine and often challenging conversation.
While the new audio platform had an explosive start to the year, it might not be for every brand in the long run. A post-pandemic life could leave social audio apps like Clubhouse obsolete. In the meantime, the demand for social gathering and the appeal for this newcomer has not died down. Join the craze, reserve your handle and you might see your brand and community grow. Clubhouse will definitely be an app to watch out for in the next few months.
Looking to boost your brand with your social strategy? Check out our social media services and let's talk!