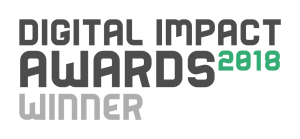 LEWIS Communications received five awards across a range of categories at last night's Digital Impact Awards for recent work with Linklaters and Numis.
The wins include one silver award, one bronze award, and one highly commended for work with Numis, as well as two bronze awards for work with Linkaters. This achievement at the ninth annual awards recognises the hard work and excellence in communication strategies from the LEWIS team.
The Digital Impact Awards benchmarks digital communications in the corporate space, an area that continues to innovate year on year. Held at the London Hilton on Park Lane, the 2018 event welcomed attendees from a variety of companies and agencies, all vying for the coveted prizes on offer.
Comedian, Ed Gamble, was on-hand to present the evening's proceedings. Ed kept the audience entertained, while a variety of guest presenters announced the winners of 36 categories. LEWIS scooped awards for Best corporate website, Best corporate app, Best use of mobile and portable devices, Best use of digital from the financial services sector, and Best use of digital from the professional services sector.
Andrew Thomas, publishing editor of Communicate magazine and founder of the Digital Impact Awards, says, "Last year was one of the most competitive of years in the history of the awards programme. Yet this year's awards signified the leaps and bounds that digital communications are continuing to make across the professional plateau. The sheer quality and character of the evening's winners exemplifies not only the homogeneity of today's digital communications, but equally its importance."
Simon Billington, Executive Creative & Digital Director at LEWIS, says "Taking home five awards, with two clients at this year's Digital Impact Awards is an amazing achievement. It speaks volumes about the successful relationships with have collaborating with our clients, encompassing the full parenthesis of digital marketing. I'd like to congratulate everyone involved, and look forward to more shared success in the future."