Getting closer to gaming media
---
Since HyperX joined the gaming market in 2014, the gaming industry has changed tremendously. If you want your brand to stand out, you need to have the right contacts and building lasting relationships with key journalists is crucial. It requires a certain level of finesse and dedication. Especially if you want to go beyond the gaming and hardware media that usually feature the brand. In order to get HyperX noticed with the tech journalists at some top tier UK nationals, TEAM LEWIS decided to get creative with a unique desk drop.
Strategy
Any gamer worth their salt will get excited about limited edition or custom designed hardware. It gives them a unique asset to show off with during for example a Twitch streaming session. From this, the idea of a hyper-personalised desk drop was born. TEAM LEWIS came up with the idea to create a bespoke, customised HyperX headset for each selected journalist. The goal was to strengthen relationships between HyperX and key media.
Each personalised headset design came from intense research. TEAM LEWIS analysed the journalists' social media profiles, researched their hobbies and interests and made sure that each headset referenced something very personal. TEAM LEWIS and HyperX customised the headsets' ear cups and added a personal note in the box to each journalist. Examples include a Peaky Blinders reference on the earcup for a contact who loves the series, a journalist who can eat ramen all day has been sent a headset with a graphic of a bowl of ramen on the cup and one journalist saw his Apex Legends referenced, which make him claim that he was so glad his achievement was immortalised that he'll never take the headset off!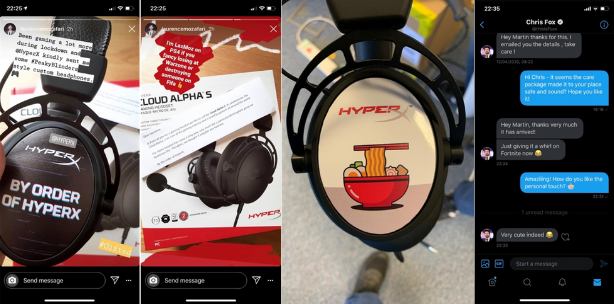 Results
The responses from the selected journalists were overwhelmingly positive. The desk drop resulted in (social) coverage and, crucially, a memorable experience for journalists.
5 headsets sent out
5 pieces of (social) coverage
Increase in interaction between the media contacts and TEAM LEWIS afterwards (including bonding by playing games online)