You may be familiar with the older generations including Millennials (Gen Y), Generation X (Gen X), Baby Boomers and the Traditionalists, but have you heard of Generation Z?
Generation Z is a younger generation, also known as Gen Z or zoomers, which includes those born from 1996 to 2010 (currently age 11 to 25).  According to the Pew Research Center, members of Gen Z are more racially and ethnically diverse than previous generations and are on track to be the most well-educated generation yet. Among the generational differences is Gen Z's sole upbringing in a world with digital technology, including social media.  Characteristics of these young adults are like those in the youngest generation, Generation Alpha (born in 2010 or after).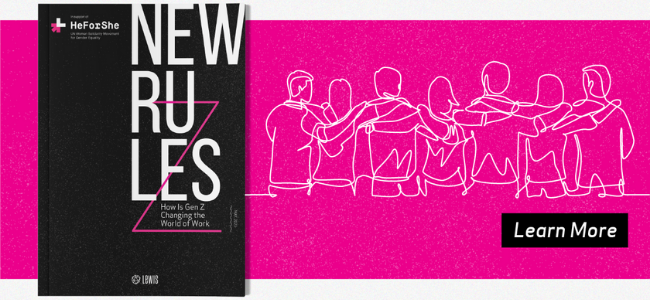 New Rules: How Is Gen Z Changing the World of Work
With hopes to find answers about how current leadership must evolve to meet the views and expectations of this rising generation, the market research team at LEWIS conducted quantitative research through an online survey which targeted Gen Z respondents who are eligible to work in their country. This Gen Z study surveyed respondents from Europe, the United States, South America and Asia in order to capture findings from a diverse population.
This Gen Z research was conducted in support of the HeForShe Foundation, a United Nations global solidarity movement for gender equality. The results and key findings of the survey were intended to provide further knowledge about the expectations that Gen Z has for companies and their leadership teams.
How Will These Findings Shape Businesses Moving Forward?
Defining Diversity, Equity & Inclusion
As previously stated, members of Gen Z are the most racially and ethnically diverse, compared to older generations, but what exactly does the word "diversity" mean to them?
According to respondents, diversity means race and gender. One in four (24%) of Gen Z'ers say that they would not work for a company that is not diverse, and nearly half (46%) are in favor of a company hiring a diverse candidate over a non-diverse candidate, if they both have the same qualifications. Gen Z'ers in China feel especially strong about this idea, as 64% of them support hiring a diverse candidate over a non-diverse candidate. This shows that diversity throughout a workplace is an important aspect to Gen Z across all surveyed countries, that will either draw Gen Z towards or away from a company. Through our key findings, we have seen that diversity is something that is very important to this rising generation, as they take pride in standing up for their beliefs and making a change, knowing that they represent the future.
Gender Equality in the Workplace
Gender inequality and diversity are very prominent social issues that are currently being grappled with in many aspects of society. In another recent LEWIS study conducted for the HeForShe Foundation, there were additional findings relating to gender inequality. The survey focused on progressing gender equality and the impact the COVID-19 pandemic has had on women in the workplace. We found that men were more likely to say gender inequality is not a serious issue anymore, as compared to women. Gender equality is most definitely still a serious issue, and when Gen Z participants were told that female CEO's only represent 7.4% of the Fortune 500 list, they mostly felt disappointed, surprised and motivated to change this statistic.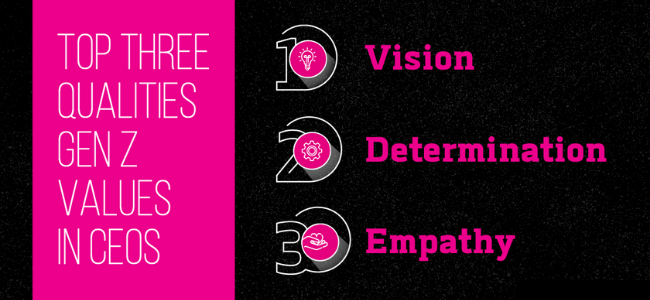 Looking to Leadership
Gen Z's expectation for company leaders overall is to drive for change. Participants believe CEOs should possess qualities like being innovative, determined and empathetic, which are characteristics they believe a successful and progressive leader embodies. Females are more likely to look for empathy in a CEO, while males are more likely to look for innovation. Aside from the CEO, Gen Z'ers expect the Human Resources and Senior Management employees to lead and drive diversity in a company.
Another quality Gen Z looks for in a company is a CEO who is committed to a societal cause or issue, problems that influence many citizens of a society. Healthcare is the most prominent social issue according to Gen Z, followed closely by climate change, safety and gender equality. The largest generation, Millennials, find climate change to be an important social issue as well. Gen Z also believes it is valuable (66%) for the CEO to be committed to a societal cause, however they believe the company's values matter more than the CEO or leader of the organization. Only 19% of Gen Z respondents would work for a company that does not share their same values, but 41% say they would only if the company has a strong diversity, equity and inclusion (DE&I) or CSR program.
After pulling the key findings together from this research, I hope it has provided you with additional insight regarding the potential of Gen Z's influence on your workplace and the importance our views have on the future of work.
Read the full report here. If you want to commit to the HeForShe movement, helping us progress gender equality, join millions and sign up today!