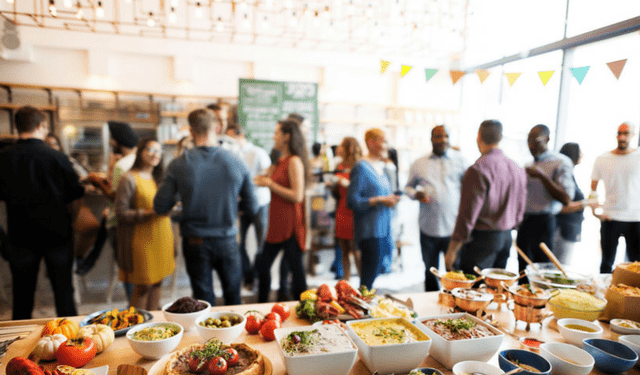 Here are seven tips that will help you get the most from your next corporate event:
1. Set a goal
The goals you are trying to achieve will help you determine the format of the event and the audience to target. An intimate dinner event for C-level prospects is a great setting for more in depth, one-to-one discussions whereas a large cocktail reception with hundreds of guests is a more ideal format for networking, brand exposure, and lead generation.
2. Stay within budget
Once you have established your goal and the type of event you want to host make sure you have the budget to cover it. Costs to consider when building your budget include: venue rental, food and beverage, audio visual equipment, displays/signage, printed handouts, parking, guest speaker/facilitator fees, and of course don't forget about the taxes, gratuities, and other associated service fees.
3. Timing is everything
Before you schedule your event take into account holidays, seasons, local activities, as well as industry events. For example, if you are targeting a specific industry, such as healthcare, finance, or retail, you may want to plan your event around a well-known tradeshow or conference targeting the same industry. If you are interested in a specific region like the Northeast, you may want to avoid the brutal winter months. And most importantly, make sure your staff and guest presenters are available before you lock in a date.
4. Create a project plan
Your goal is set, your budget is approved, your venue and date are secured. Now work backwards to build out a weekly timeline leading up to the date of the event. Allow yourself at least 6-8 weeks for proper planning and recruitment time. Outline each task with an assigned owner and due date and schedule weekly cadences to discuss progress. You'll want to include all logistical deadlines, the communications schedule, presentation rehearsals, etc.
5. Your invite list is key
Once your event invitation and registration page is ready to go, it's time to get the word out! I cannot emphasize this enough – the success of any event is dependent on the quality of your contact list. Emails, phone calls, and snail mail invites are all important but will not amount to anything if you are working off an outdated contact list. Make sure the contacts in your database are up to date and encourage your sales reps to conduct personal outreach to their current prospects. If you are hosting a large event, promoting it on your corporate website and social channels will help expand awareness and interest.
6. Always expect the unexpected
Game on – the big day is finally here! You've crossed all the t's and dotted all the i's during the planning process. Your registration numbers are through the roof and you're well within budget. What can possibly go wrong?  With nearly two decades of event planning experience, I've learned that anything can go wrong – absolutely anything. It's a live event so be prepared for hiccups and last-minute emergencies. Some will be manageable and some may need more creative, on the spot problem solving but remember to stay calm and keep on smiling.
7. Don't forget about the follow up
The event has concluded and it was a complete success! The attendees enjoyed the presentation topic and the signature cocktail, and your sales reps and executives were pleased with the conversations they had. Now it's time to keep the positive momentum going. Distribute follow up thank you emails to all of the attendees within a week. Include a survey in the email for feedback on the event and take the opportunity to ask what they'd like to hear more about. Include attendees in future marketing campaigns and have the appropriate sales rep reach out to all potential prospects. Keep track of the progress of these contacts over the next 3-6 months to apply ROI and metrics around this and future events.
Planning a big event? Learn more about our event services here.