Is SEO Worth It? Understanding the Value of SEO Is 👇
With so many marketing budgets being reduced, CMOs and digital marketers alike are looking to ramp up their SEO efforts. If you're like me and you're curious as to why, keep reading.
A survey by Conductor revealed 65% of marketers anticipate decreases to their marketing budget, but over half say search engine optimization is more important to focus on during this time.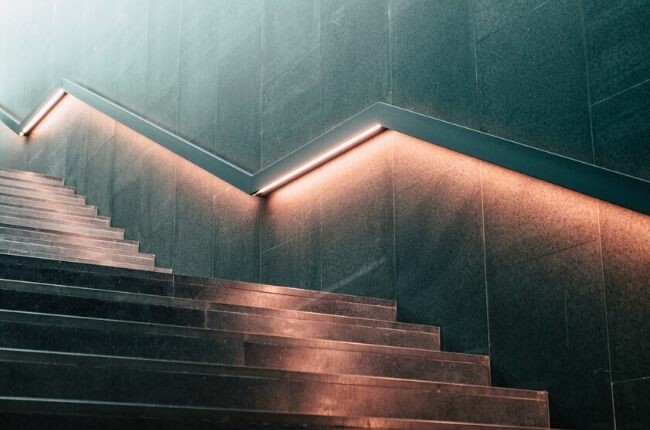 Because SEO tends to be a lower-cost channel with a higher ROI in the long run. The same study found 66% of marketers reported SEO as a top-performing channel the previous year.
So why haven't marketers been investing more budget in SEO services to strengthen their SEO strategy?
A survey conducted by Search Engine Land uncovered that even though marketers claimed they had "expert knowledge" of SEO, they still identified major knowledge gaps in understanding SEO and keeping up with the fast-paced industry.
Even more impressive are the following statistics:
77% said SEO has increased the amount of leads
79% felt SEO has improved their brand awareness
48% said SEO has decreased their cost of customer acquisition
It's safe to say that marketers think they know what SEO is and they know it's important, but aren't familiar with a deeper understanding of how it works in their overall marketing strategy. If this looks and sounds familiar, you're not alone.
TEAM LEWIS takes an educational approach to SEO – think of us as your SEO partner in crime. Our goal is to empower you so when you're making decisions to increase your SEO efforts, you feel confident in making that decision. We simplify the SEO strategy to rid the digital marketing world of those overwhelming, oftentimes "deer in the headlights," looks that SEOers are no stranger to seeing.
Understanding the Fundamentals of SEO
To simplify the different SEO services out there, we break it down into four quadrants: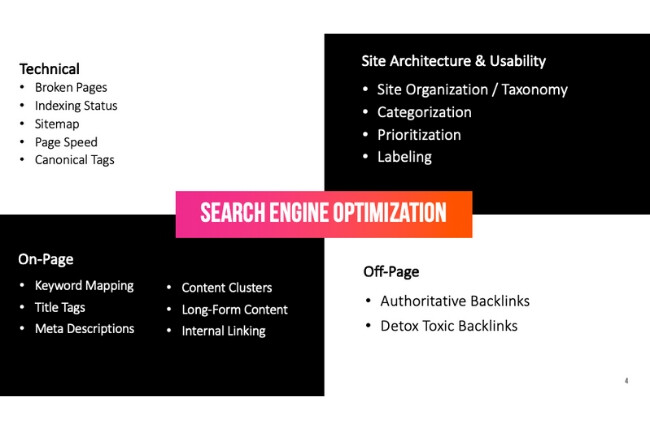 Technical SEO
Indexing strategy
Page speed
Broken pages
Site Architecture
UX
Click depth (making sure your most important pages are easy to find)
On-page SEO
Keyword research
Title tag & meta description optimizations
Semantic search optimizations
SEO focused on evergreen content creation
Internal linking strategies
Off-Page SEO
Strategic backlink acquisition
Toxic backlink removal campaigns
We think of a website like a car and technical SEO is the engine. When conducting a technical SEO analysis, we are "checking under the hood" so to speak. We want to make sure you have a clean engine that is working so we're not just putting lipstick on a pig. If technical SEO is the engine, then the content is the gasoline that drives the engine. We must keep pumping content to really get mileage out of our website. Mileage, meaning more keyword rankings and more organic search traffic. To keep website traffic steady, assign your teams to write a blog post for your brand's site, create an e-book showcasing thought leadership, or even film a video explaining your brand's offerings. The end-goal remains the same…keep creating consistent, data-driven content so your brand can grow rankings in SERPs.
TEAM LEWIS' Approach to the SEO Process
We then take these four quadrants and put together an SEO process that is easy to follow and yields results. We consult with your team every step of the way in order to demystify the SEO process and empower your in-house digital marketing team.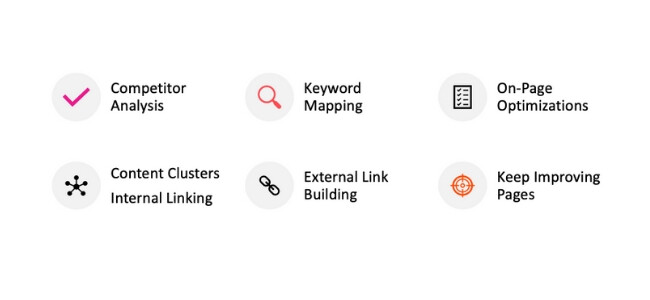 1. Competitor Keyword Ranking Analysis
2. Keyword Mapping
3. On-Page Optimizations
4. Content Cluster Creation and Internal Linking
5. External Link Building
6. On-going Analysis and Optimizations
Calculating the ROI of SEO
To put it simply, ranking for organic keywords is free money. Do you like free money? Me too!
Ok so it's not exactly free money because you are paying to have someone run your SEO campaigns, but on average, investing in your website's SEO yields more ROI. In some cases, you'll receive 10x your ROI.
How so? Drum roll, please….
Every keyword has a value to it. Every keyword would cost money if your website isn't organically appearing on page one of Google.
We can calculate the value of SEO by understanding the average click-through rates based on rank position, average monthly search volume, and the average cost per click of that keyword.
The formula to calculate ROI of SEO looks like this:
Keyword Search Volume x CTR = Estimated Organic Traffic x Average CPC = Keyword Value
The CTR chart, based on rank position, provided by AWR gives us the CTR percentages of a keyword based on the rank position on page one of Google's SERP.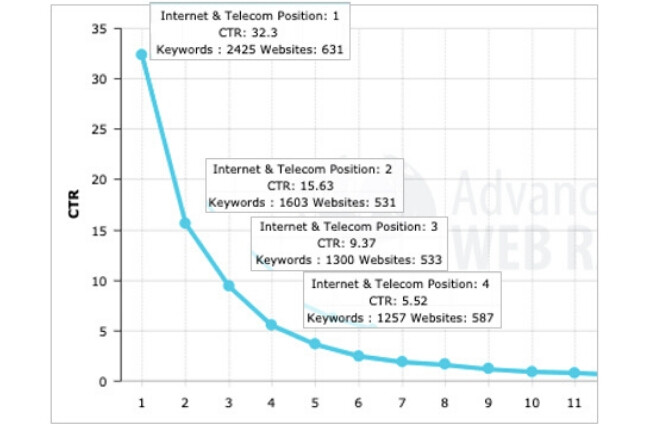 Take your target keyword and enter it into the formula. You will get something like this:
Keyword: "Virus Protection" (40,500 – Average Monthly Search Volume)
Search Volume x CTR = Estimated Organic Sessions per month
• Position #1 = 40,500 x 32.3% = 13,081
• Position #2 = 40,500 x 15.63% = 6,330
• Position #3 = 40,500 x 9.37% = 3,794
• Position #4 = 40,500 x 5.52% = 2,235
Average Monthly Savings CPC:
Search Volume x CTR = Estimated Traffic x Average CPC
• Position #1 = 40,500 x 32.3% = 13,081 x $8.32 = $108,833
• Position #2 = 40,500 x 15.63% = 6,330 x $8.32 = $52,665
• Position #3 = 40,500 x 9.37% = 3,794 x $8.32 = $31,566
• Position #4 = 40,500 0 x 5.52% = 2,235 x $8.32 = $18,595
As you can see, the search term "virus protection" is a very valuable keyword when ranking in a top position. If you were to pay for this keyword it would cost you over 100k a month for position one. And this is for just one keyword. Imagine if you increased page one positions by 50-100 new keywords? That's a huge return on investment!
Measuring SEO Results
There are many KPIs and ways to measure SEO, but for a high-level image of how your SEO campaign is working, look at an overall trend line of rankings. You'll want an obvious up and to the right graph as demonstrated below.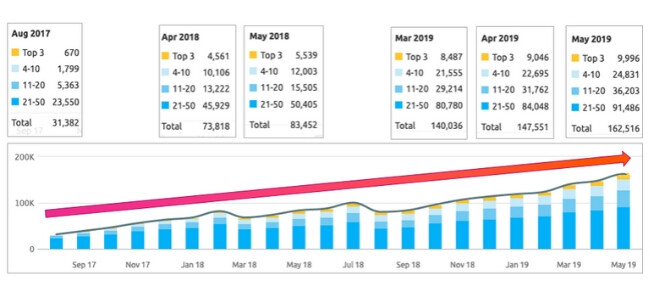 As you can see, this website increased keywords in the top 1-3 positions by over 9k keywords. That's some impressive growth that yielded an increase in traffic and revenue.
SEO seems like a moving target sometimes, and it sort of is, but that's why it's so fun. Every day is a challenge and there are a lot of nuances to keep track of, but that shouldn't keep marketers from tackling SEO head-on. In the long run, you'll be the hero by increasing brand awareness and increasing leads on a budget. All you have to do is understand all the different ranking factors, continue to create data-driven content, make a few optimizations, and track the increase in organic traffic via Google Analytics.
At TEAM LEWIS, we simplify all your SEO work and walk you through each step and each deliverable so when your boss asks you how SEO is going, you will sound like an SEO expert and they will probably get that glazed-over impressed look in their eyes and say "keep up the good work."
Get started with your SEO education and start talking the talk by studying our SEO Glossary. Let's be honest, speaking SEO is like speaking another language.