It doesn't come as a surprise to us marketers that visuals are our best friends, especially on our favourite social media platforms. But our chosen imagery really does no justice for us when logos, sentences or graphics are cut off on Twitter because we didn't choose the correct dimensions. Work smarter, not harder, and avoid these mistakes by following these image guidelines as a part of your 2020 social strategy.
Twitter
Looking for increased engagement on your Twitter channel? Then images are your way to go. It's no secret that any form of social post performs best with visuals, and this has never been truer for this fast-paced platform. Win the race of the quickest feed there is with these insights on image size:
Header Photo: 1500 pixels by 500 pixels
Profile Photo: 400 pixels by 400 pixels
Shared Images: 440 pixels by 220 pixels (minimum), 1024 pixels by 512 pixels (maximum)
Related: Tapping into the Twitterverse: Building Social Media Relationships
Instagram
Gone are the days of downloading square ready resizing apps to make sure your images fit perfectly in Instagram's 1:1 aspect ratio. While it was a bit easier to only have to remember one size, (that still doesn't really fit all…) over the last couple of years, IG has now granted us permission to post images of all sizes, well…kind of. Fall in line with the 'gram's image guidelines with these sizing recommendations:
Square Image: 1080 pixels by 1080 pixels
Vertical Image: 1080 pixels by 1350 pixels
Horizontal Image: 1080 pixels by 566 pixels
With Instagram Stories becoming more important for engagement and e-commerce, they will be your brand's BFF in 2020. Be sure to keep visuals for Stories:
1080 pixels by 1920 pixels
9:16 Aspect Ratio
Max 4gb File Size
Of course, we can't forget about our latest source of entertainment, IGTV. Keep your videos vertical and follow these rules:
1080 pixels by 1920 pixels
Aspect Ratio: 9:16
File Size: Under 650 MB
Length: 15 seconds – 10 minutes OR up to one hour long for you bigger accounts
Lastly, is the good ol' profile pic. For your brand's sake, keep it simple and recognisable with your logo. So, what's the perfect profile picture size? 110 px by 110 px with that original 1:1 aspect ratio.
Related: B2B Companies Belong on Instagram, Don't @ Me
Facebook
For Facebook photo uploads, the rule of thumb is you can generally upload any size. However, for us marketers out there, there is actually quite a few guidelines we need to be following. Whether it's creative for ads, event promos or hopping on the FB Stories train, make sure your images or social cards stand out in your target audience's feed with these recommended image sizes:
1200 pixels by 630 pixels – Shared Image
1200 pixels by 628 pixels – Images with Shared Links
1920 pixels by 1080 pixels – Event Cover Photo
180 pixels by 180 pixels – Profile Picture
1080 pixels by 1920 pixels – Facebook Stories
Next up, we have Facebook Ad image sizing. With so many different advertising capabilities on FB, it's important to note the sizing and best practices behind your chosen creatives.
News Feed Ads, Marketplace Ads and Messenger Ads – 1200px by 628px
Collection Ads: 400px by 150px
Carousel Ads – 1080px by 1080px
Video Ads – Ratio: 16:9 or 9:16, 4GB Max
Related: Slay Social: Mistakes to Avoid on Your Social Channels
LinkedIn
LinkedIn is a great space to really highlight the best parts of your brand, therefore your images should be up to par. Lucky for you, we have all the insights. Follow these image guidelines to elevate your business' presence on our favourite networking site:
Business Profile Photo: 400px by 400px
Cover Photo: 1536px by 768px
Post Images: 1200px by 628px
Related: The Ultimate Guide to Social Media Targeting
YouTube
You may think of pure video when it comes to YouTube, but your YouTube profile is a great space to highlight your brand via static imagery.
Profile Picture: 800px by 800px
Cover Photo: 2560px by 1440px
Video Thumbnail: 1280px by 720px, with a recommended ratio of 16:9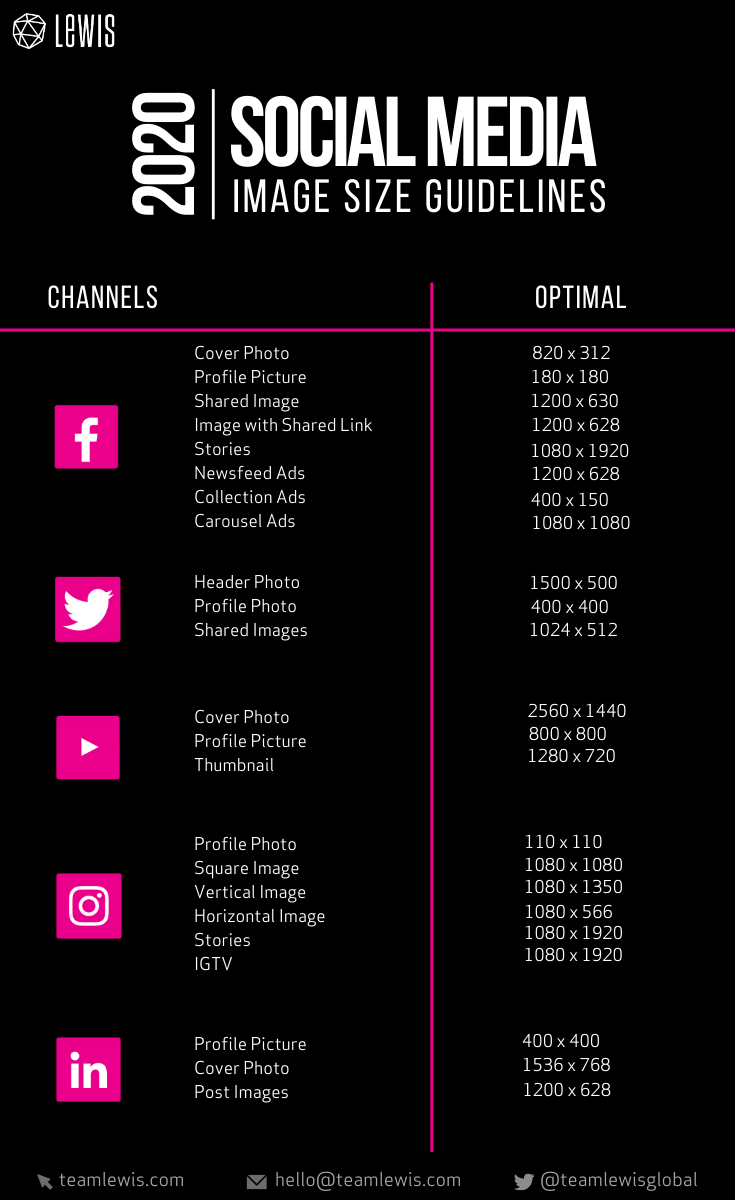 Interested in our Social Media Services? Let's chat