Very often, brands proudly communicate their products and services, but they very rarely put themselves in the customers' shoes. To be relevant, we need to bear in mind where the customer is within the buyer journey, the customer diversity and the fast-changing context. None of these should be minimised any longer.
We need to think of the customer as 'in-market' or 'out-market' and adapt the message and approach accordingly. The in-market audiences are those who are actively researching or comparing the types of products that your brand sells. They are ready to buy and will likely be receptive to a rational message that gives them information about your company or products.
In contrast, the out-market audiences are those who have not expressed interest in the product or service and the only way to get attention from them would be to use emotional messages. This is widely used in TV advertising and increasingly on social media. Whilst messages don't necessarily need to make sense, they need to be memorable. Emotion is key in making them remember your brand when they're ready to buy.
We also need to bear in mind the diversity of customers – whether it's country of residence, age, gender, ethnicity, education, interests or sensitivities. Whilst having an overall message for all targets would be easy, it would also be counterproductive. The proportion of millennials – a generation that cares deeply about diversity – is rising in the global workplace. Millennials will be in charge of making important business decisions in the future, but brand messages need to be adapted to this audience group now.
And last but not least, context is key. The global pandemic is a key example of this. According to a recent Deloitte survey, 60% of people say they plan to buy more products and services from large businesses that have taken care of their workforces and positively affected society during the pandemic. Incorporating empathy in messaging allows brands to humanize their message and be closer to their audience.
6 steps to creating or updating brand messaging
1. Get the insights first
It's important you assess your brand before you create your message framework. The analysis should include the following:
Brand awareness analysis: run a share of voice analysis looking at your brand versus your top competitors, understand when your brand is more popular (you may notice peaks around certain days or months of the year), and analyse topics that drive interest.
Message analysis: is your brand message clear? Does it need to be explained further or simplified? Do you have messages for each of our audiences (internal, external)? Use the opportunity to review whether your branding reflects your message and overall narrative.
Country analysis: if your brand operates in one local market only, then it's an easier task as you'll just need to reflect the local context and talking points in your messages. If your company has regional, international or global operations, you will also need to research the varying market trends to ensure a high relevance of your message. For the latter, you can still develop a global message framework but ensure you have local messages and proof points available.
2. Define or re-define your target audiences
People from the same organisation don't always agree on what's important to communicate to the target audiences. That's because they each have a different role in the company and different relationships with customers. Try nominating a small group of employees across sales, marketing and product teams and put them together in a room or a virtual workshop. Ask them to list all the core audiences of the organisation (both internal and external), then discuss, align and define audience needs. Typically, we recommend identifying three to seven groups).
Here's an example of what your audience analysis could look like: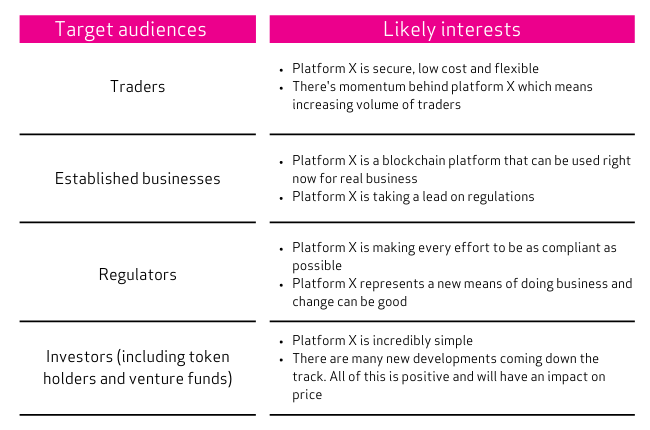 Once you've done this exercise, cross-check the narrative against the above to ensure that it's designed to create the desired perceptions amongst your target audiences.
3. Analyse perceptions
Once your audience groups and personas have been defined, list the current perceptions and desired perceptions for each of them. In some cases, the perception will be in line with expectations but in others, you will need to implement strategies to change the perception over time.
Example of analysis that can be done for each audience group/persona: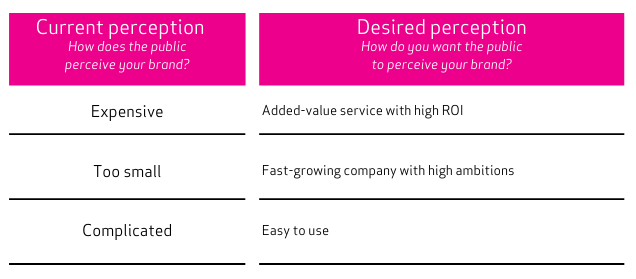 4. Craft an overall narrative
Once you've outlined how you'd like to be perceived by your target audiences, write a short narrative, also known as an elevator pitch, which will serve as an anchor for all communications.
The narrative begins by talking about the external context. This approach allows you to display empathy and demonstrate you understand what matters to your target audiences. It enables you to open eyes to the opportunities that can be grasped.
Often it can be challenging for employees to explain the external context and what problem their company is solving. This can soon lead to irrelevant messaging and confusing inconsistencies – why should customers care if brands don't help them understand why they should care?
5. Define your key messages and proof points
Messages should include believable, meaningful information that creates a sense of urgency and stimulates action. There are different ways of creating your company messages. But in order to be highly relevant to each audience group and persona, aim to develop tailored messages for each of them.
Each message also needs to be supported by proof points – a set of facts or stats that provide evidence to the message. Without a proof point, your audience may question the validity of your message. Also, remember what we said earlier – people reading your messages can be 'in-market' or 'out-market'. Make sure messages are useful, relevant and both logically and emotionally appealing.
6. Adapt/update messages as you go
We live in a fast-paced world, so brand messages can quickly become obsolete if not updated regularly. In an ideal world, messages should be updated twice a year and reflect evolving economic and business trends. The core messages might remain the same, but the tone of voice and style may need to change.
Market insights will be key in this process. Test what messages resonate and adjust accordingly. Keep competitors in mind, and always differentiate from them to help customers understand why they should come to you first.
As you can see, messaging is a process that requires structure. It requires work, but the results are worth it. Going through these steps will help you shape a strong company narrative and messages that can dramatically impact brand perception, adoption and sales. Messaging is therefore not simply a 'nice-to-have' but a business imperative.
Check out our white paper to help you find your core message and get in touch if you have questions or need support.