In contrast to other awards of the evening, the Suzy Spirit Award seeks to recognise the unsung heroes of the industry, acknowledging individuals who show exceptional character, determination and spirit.
This year, the award went to Andy Garner, Creative at Mischief PR. Andy was nominated by his CEO, Frankie Cory, "It's testament to the fact that everybody at every level wants Andy on their side. He'll step in to solve a problem, join a pitch team in distress or help a grad learn the ropes. He inspires by example – always full of energy to deliver great work for clients, never put off by the daily trials and tribulations of our industry. If he's under the cosh, he never shows it."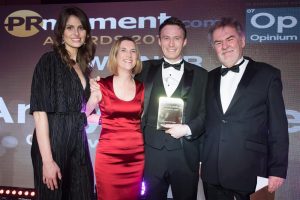 Andy was praised by the judges for his humble nature and genuine desire to help and inspire others, as well as his dedication and commitment to helping good causes outside of work, ensuring he makes a difference to others.
"All our finalists are wonderful, inspiring people who display the ethos, the commitment, the values, the team work, the mentoring and supportive attitude, and kindness that the judges were looking for," said John Carter, Suzy's father and one of the judges. "Andy is our chosen winner because he's self-effacing, quietly supportive, someone of integrity, described by colleagues as a 'creative mentor' and someone whom we found truly inspiring when we met him."
The other four finalists shortlisted for the Suzy Spirit Award 2018 were: Caroline Kinsey, Chairman at Cirkle; Emma Lloyd, PR & Marketing Manager at TLC Marketing; Sadie Groom, Managing Director at Bubble and Sarah Pinch, Managing Director at Pinch Point Communications. Find out more about why they were shortlisted here:
Last year's winners were Emma Tweedie, Director at Teacake Tuesday, who became the first recipient of the Suzy Spirit Inspiration Award, and Euan Steedman, now International Press Officer at CNN, who received the Rising Star Award.
The award was launched by LEWIS in 2013 to honour a former employee, Suzy Ferguson, who passed away from bowel cancer, aged 31, in 2012. Each year in support of the award a donation is made to Bowel Cancer UK to help fund their vital work and research.