'Bit hot today isn't it?'. Whether you were rejoicing, moaning, stressing or relaxing…there was no getting away from the general chat and posts on social media this week about the #hottestdayoftheyear. While the UK was experiencing some of the warmest temperatures on record, many flooded to Twitter to share thoughts and opinions on how to cope in this heat. This resulted in many of the top trending topics being related to the hot weather throughout the day on Thursday.
Clever brands picked up on this and used the fact it is a key part of British culture to love talking about the weather, in order to help promote their products. Here's some of our favourites we spotted: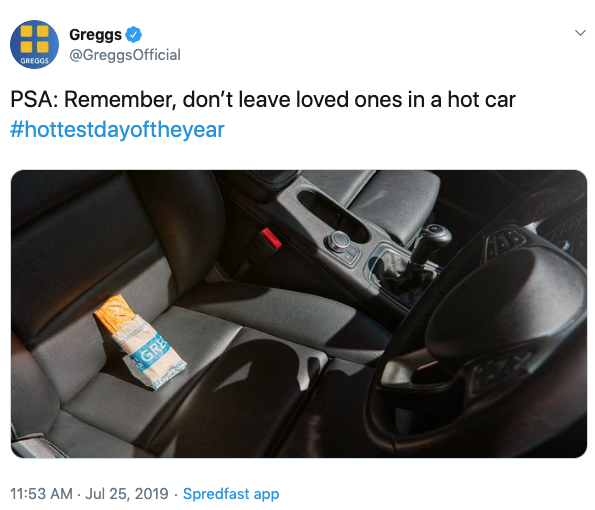 The team at Greggs have a real talent in speeding to put one of their sausage rolls in an unusual position in order to join in on a social media trend. And the warm weather was no exception, with Greggs making a humorous plea to not leave their sausage rolls in hot cars that generated over 1,000 likes on Twitter.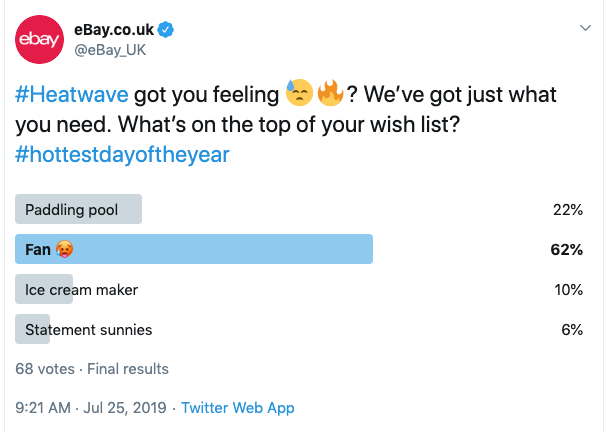 eBay's social listening skills were on point this week. They heard us all complaining about needing a fan or an ice cream to help cope with the heat, and so ran a poll to encourage engagement which asked followers to vote on what they need most.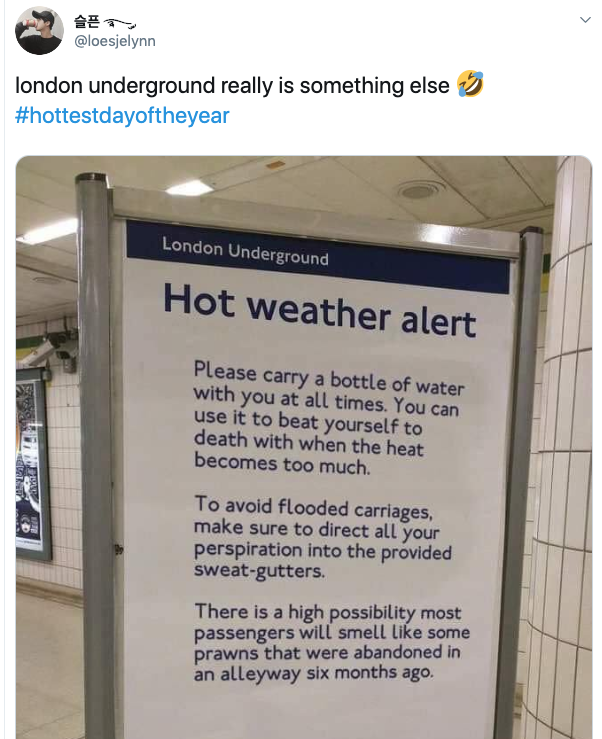 Knowing that commuters would likely be struggling with the heat on busy trains, TFL created a poster to try and evoke a giggle. This poster was shared on Twitter and generated a huge buzz, with one post receiving over 15,000 likes. In a time where they knew they were bound to get a lot of moans on social, this helped to soften the brand image of TFL.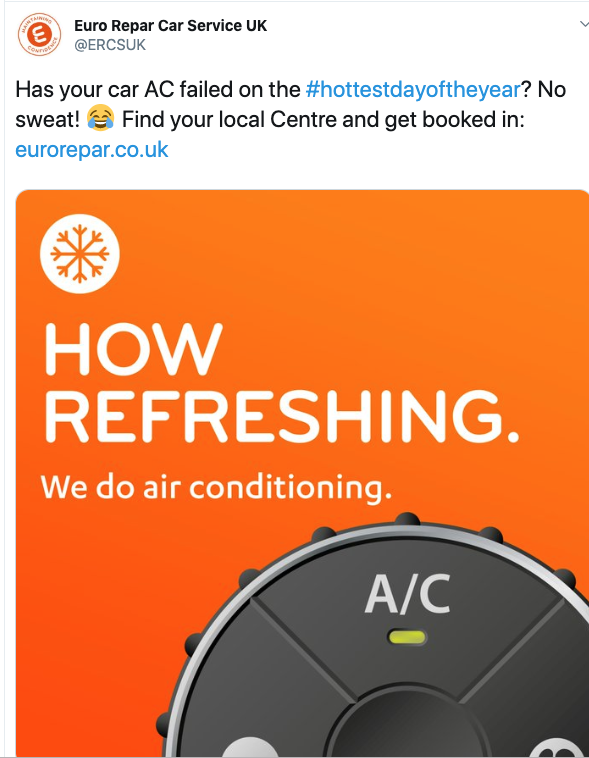 Even a small car repair company has been quick on the mark to create a social card to use with the #hottestdayoftheyear hashtag which caught our eye. The large text 'How Refreshing' showed that the company knew exactly what the nation wanted – cooling down. Simple and easy to make, yet very effective, if your team can generate a quick graphic to fit in with a trending topic, you'll be more likely to grab attention.
This week's top social stories: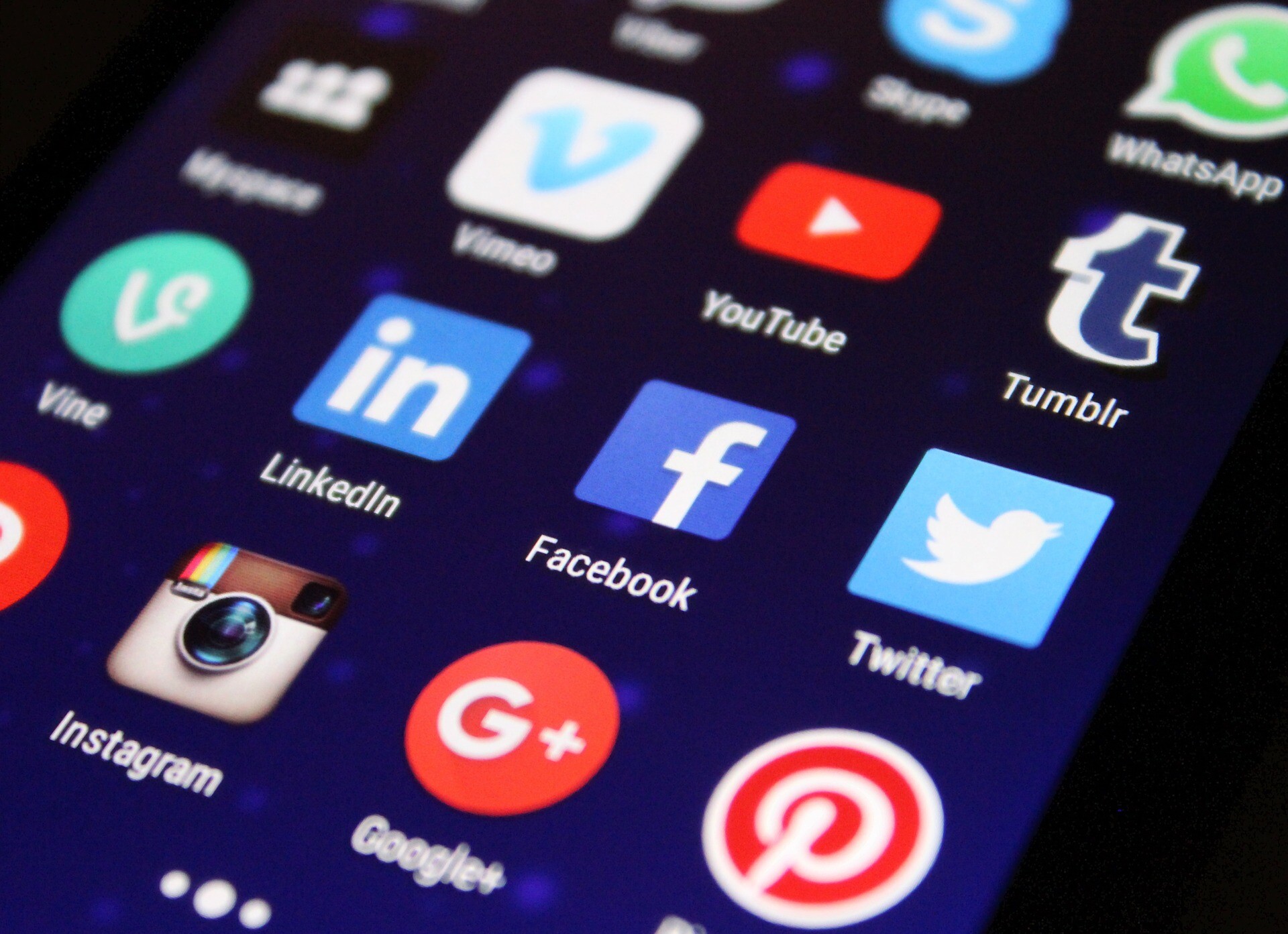 Love Islanders are given social media advert guide. Read more:
Snapchat users are up 8% in a year. Read more:
A Rihanna lookalike has Instagram users shook. Read more:
This is how much influencers get paid per post. Read more:
Facebook will shell out $5bn to settle privacy concerns. Read more:
WINNER:
Instagram influencers have their take on THAT dress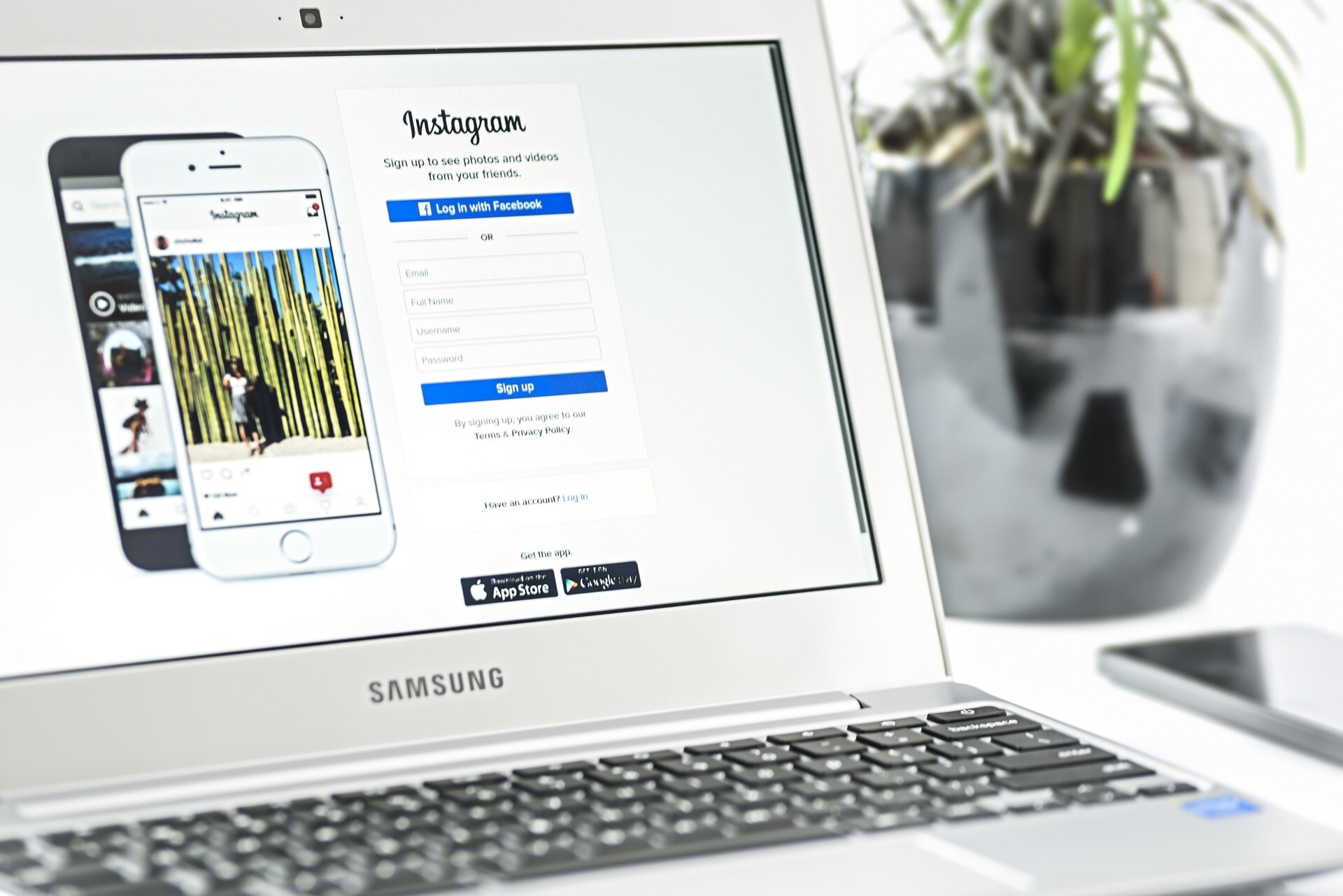 A popular Zara dress seems to have got a bit TOO popular for influencers, who have now taken the dress and died, cut or altered it to put a different twist on the design. Increasing buzz around the dress, and also showing how fashion can be made sustainable by using creativity, this trend is being embraced on Instagram.
LOSER:
Ivanka Trump's 'Oops' Twitter moment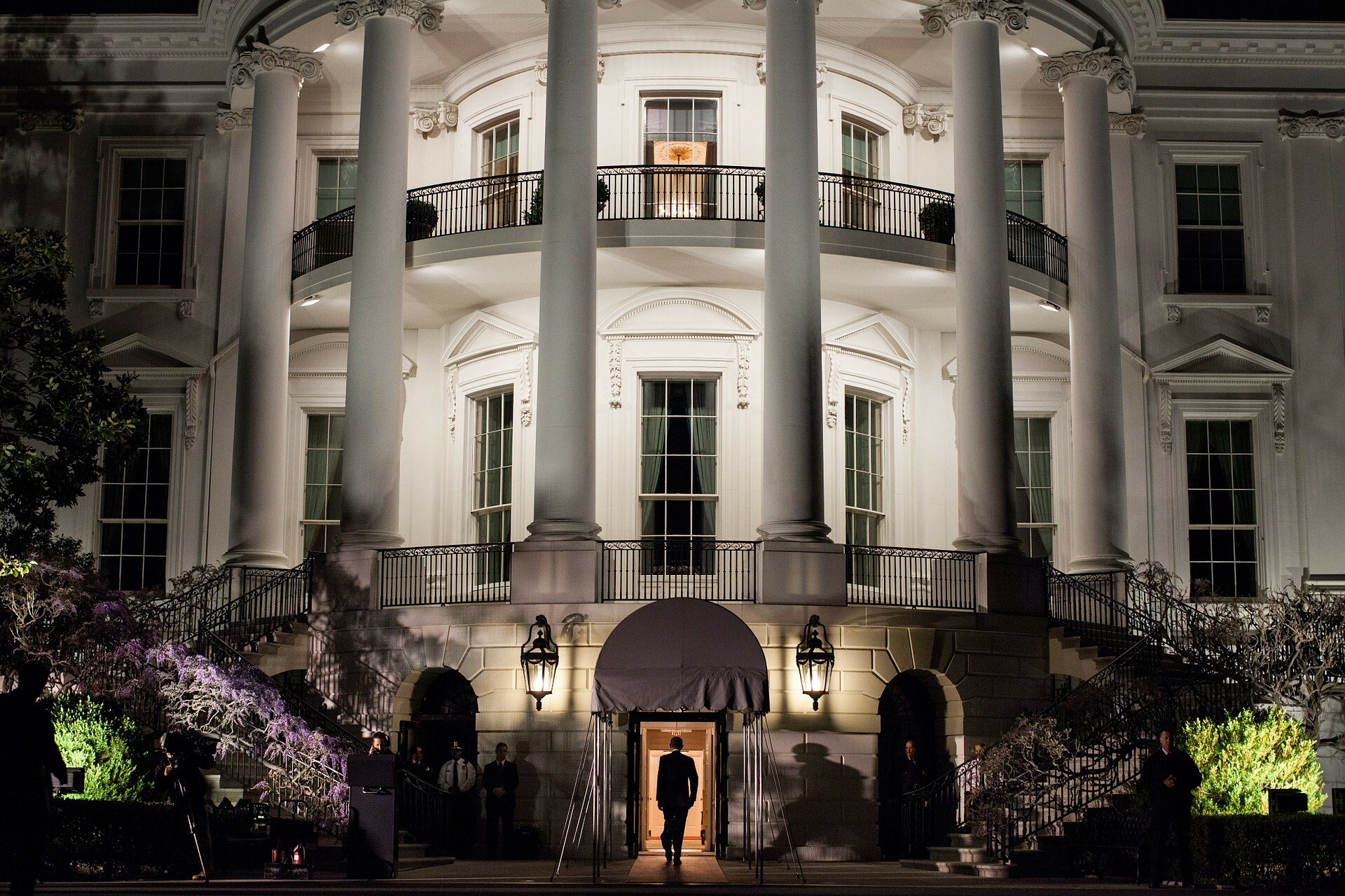 Following Boris Johnson's Prime Minister win this week, U.S President Donald Trump's wife posted on Twitter 'Congratulations @BorisJohnson on becoming the next Prime Minister of the United Kingston', resulting in a lot of mocking online.
CREATIVE:
McDonalds vs Burger King war continues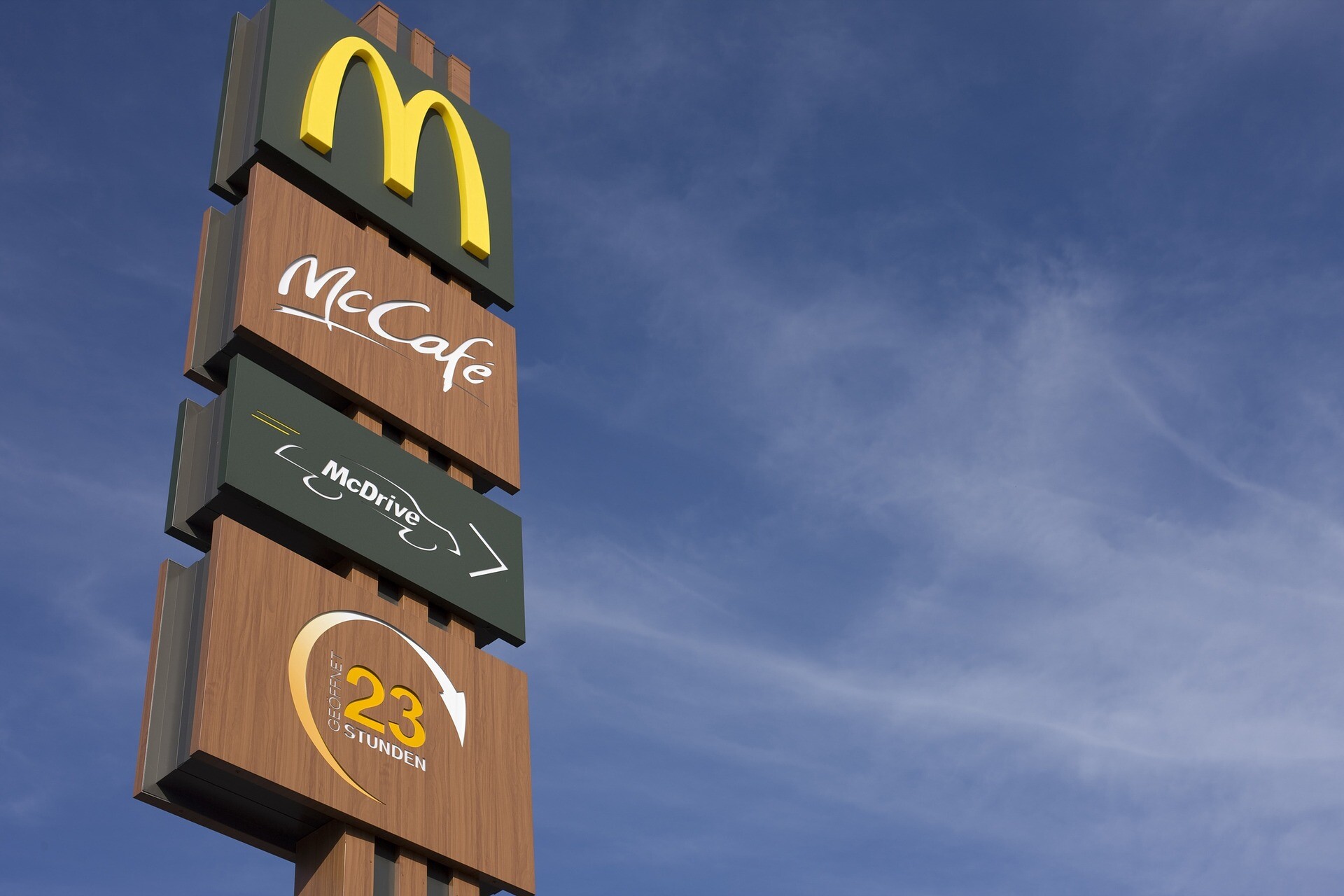 In an attempt to distract potential diners, McDonald's in Belgium have put up a huge billboard asking if you'd rather be 'Served by a king or served as a king?' to promote their at-seat dining service and troll Burger King.