So you've read and solidified your Instagram feed strategy with the help of our blog, B2B Companies Belong On Instagram, Don't @ Me — now it's time to learn how to use Instagram Stories for your B2B brand.
Now, I know what you're thinking, the Instagram Stories feature might be intimidating territory for B2B tech. It may seem challenging to include very specific information in bite-sized, conversational, and informal content to a highly niche audience. But we like a challenge, and we like providing you with the insights to level up your social media presence. ?
So, read on to learn how to explain every technical detail in your latest software update in just ONE 9:16 frame! (JK, I won't go that far, but I will still hold your hand with this blog while you do it!)
First Things FIRST
Is your Instagram account set up as a business account? NO?! I'll wait …
Okay, now that you've got your B2B company's Instagram profile set up as a business account, you now have access to a plethora of insightful Instagram marketing features like:
Instagram Stories Analytics (helpful in learning which content your followers are loving)
Instagram Stories Ads (self-explanatory)
Shopping features like the coveted product sticker (sell that computer software!)
And MUCH MORE!
Leverage Stories for EDUCATION! ?
The assumption that B2B tech communities are only for those well-versed in tech or its respective products offerings is not true. Instagram opens your brand to a whole wide world of people looking for learnings, career advice, communities to share their passions with and more.
TLDR; it is highly likely that people who don't know what the heck your product does will be following you. They're curious creatures! 
And in today's digital world, having an offering that's more than something physical (like your product) creates an authentic brand leading to trust and increased awareness. So, what exactly does leveraging Stories for learning look like?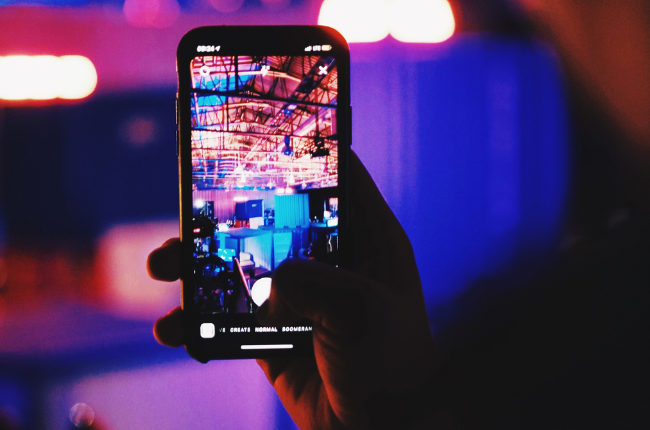 Related: Social Media Image Guidelines
Is your tech product comprised of many moving parts? Can it be used with additional technologies? FAQs that your community managers cannot stand to answer one more time before their keyboards implode? There's a Story for that!
One of my favorite ways to use IG Stories is to take complex technologies, break down their many moving parts and create an Instagram Story series. #TechTuesdays, #ModernizationMondays … music to my ears! Creating a weekly series educating Instagram followers on different topics is a great way to creatively inform your target audience on what your product offers, how it helps or, quite literally, what it does through digestible content. Here are some of my top tips for using Stories for education:
Keep it short – Challenge yourself to no more than 3 Stories per topic. Your audience does not want to tap through 10 slides on computer software, trust me!
Keep it simple – Use everyday language where applicable. As mentioned earlier, not everyone following you may be well-versed in tech lingo. Make your Instagram Story accessible by simplifying language where you can.
Keep it sweet – Emojis, stickers & GIFs are always a "yes" in my book and make your brand more human!
See how Salesforce leverages Stories for education below — they keep insights short while linking to further educational resources.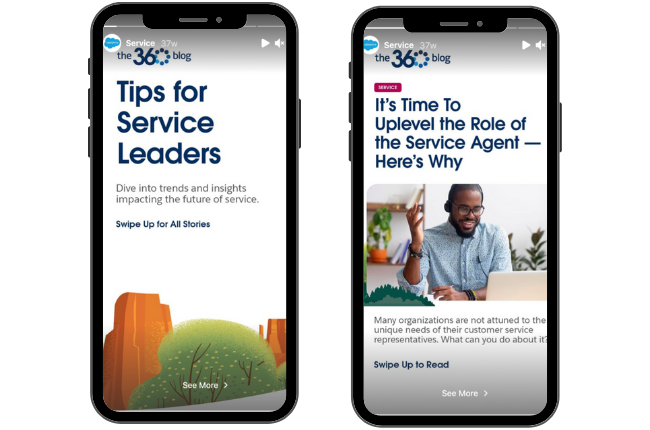 Related: How to Launch a Podcast for B2B
Be Sure to Use Native Platform Capabilities
Leveraging native platform capabilities in your IG Story is a great way to garner engagement and promote content. The link features, countdown sticker, face filters, the sticker icon, and emoji slider are just some of the native platform capabilities that make engagement a breeze while Instagram users tap through Stories. It is extra important to use these capabilities for B2B brands to keep your target Instagram audience in tune with sometimes complex topics.
Take, for example, Cisco's use of the poll sticker to promote the contents of a new whitepaper on security threats to files.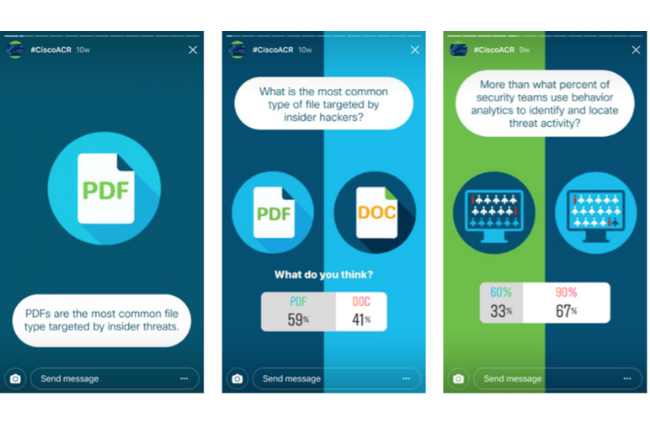 Similar to Oracle's post below, another fun way to engage your target audience is utilizing the question sticker by asking followers about their knowledge of product offerings or around the contents of a new blog.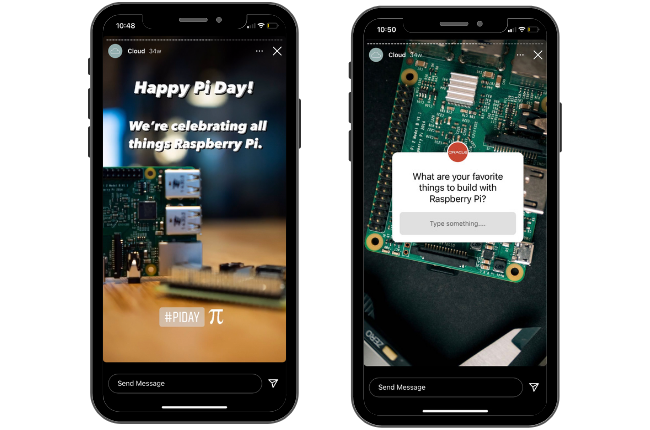 As you accumulate Stories — whether they are for educational purposes, new releases, virtual events, initiatives, etc. — saving them to Instagram Stories Highlight will make them accessible to anyone who may have missed your content or new followers checking out your page. See how IBM uses the Instagram Story Highlight feature below.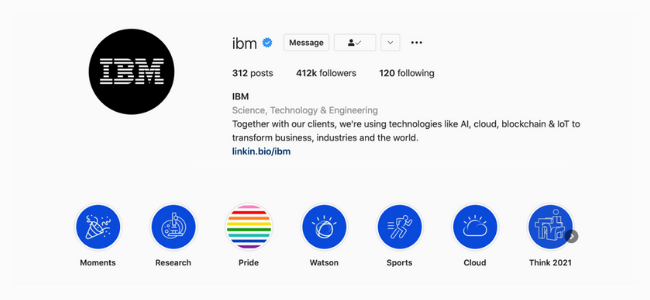 Yes – You Can Use Influencers Too!
Instagram influencers aren't solely reserved for consumer brands — they can be yours too! Like other social media sites, the beauty of the Instagram app are the communities created within. Many tech influencers on Instagram have built a platform on education, product reviews and more. This creates ample opportunity for your brand to work with influencers. For example, host an Instagram Live on your Story with the influencer discussing your product or have the influencer "take over" your Stories. Make it extra exclusive by hosting a contest and selecting a few lucky followers to interact with the influencer using the Close Friends Story option. Your influencer marketing options are truly endless! 
Stories Ads  ? B2B Tech
Did you know over 500M people use IG Stories EVERY DAY and 1/3 of Insta Story views come from businesses? Sounds like the perfect place to run some ads if you ask me!
IG Story ads are perfectly intertwined into a user's Story feed as they're tapping through. Set up through Facebook Ads Manager, IG Story ads can be optimized for reach, video views and conversions. Additionally, unlike organic Stories, these can be set up for a length of your liking. Story Ads also include the capability to link URLs, add the shop feature and more. Nothing but good news here!
I hope this blog made IG Stories for your B2B tech company a little less intimidating and a little more fun! Searching for additional insights to flesh out your social media strategy? No worries – we got you! Contact us today.