From me, on behalf of the entire world, we're so glad to meet you.
To welcome the new year, it's time to chat about display size and specs to fit 2023's social media image guidelines. Keep reading for these channel specifications and download our infographic!
From virtual event countdowns to live online shopping, it's no surprise that the world wide web of social media marketing keeps evolving. Images and videos continue to be the driver for brand identity and engagement. With this comes a continuous shift in the way marketers and consumers alike form relationships with social media. Evolving community guidelines, new app capabilities, changes in influencer marketing and new public health mandates — content creation on social, as well as the ways our audiences consume our content, are adjusting to the signs of the time. So should our visual content.
If you're a social media marketer fine-tuning your 2023 social strategy, this one is for you.
Twitter
Looking for increased engagement, reach or a boost in brand awareness on your Twitter channel? Images are your way to go.
It's no secret that any form of social post performs best with visuals and this has never been truer for this fast-paced platform. Fortunately for us, Twitter now allows users to post images, videos and GIFs all in one post! 
whoa, it works

now everyone can mix GIFs, videos, and images in one Tweet, available on iOS and Android pic.twitter.com/LVVolAQPZi

— Twitter (@Twitter) October 5, 2022

Win the race of the quickest feed with these optimal image sizes: 
Profile Photo: 400 x 400 px

 

Twitter Card: 1200 x 628 px

 

Header Photo: 1500 x 500 px

 

Tweeted Image: 1200 x 675 px

Two Images: 700 x 800 px

 

Three Images: 700 x 800 px (left image), 1200 x 868 px (right images)

 

Four Images: 1200 x 600 px

 

Max File Size: 5MB – photos, 5MB – GIFs on mobile, 15MB – GIFs on web

 

Recommended Aspect Ratio: 16:9

 
Now that our organic posts are secured, let's focus on Twitter ads. Don't be just another promoted tweet on someone's timeline – catch your audience's attention by advertising the right way. 
Single and Multi-image Tweets: 600 x 335 px (the bigger the better)

 

Website Card Images: 800 x 418 px, 800 x 800 px

 

Max File Size: 20MB

 

App Card Image: 800 x 800 px, 800 x 418 px

 

Max File Size: 3MB

 

Carousels: 800 x 800 px, 800 x 418 px

 

Max File Size: 20MB for 2-6 image cards

 

Direct Message Cards and Conversation Cards: 800 x 418 px

 

Max File Size: 3MB

 
Related: Why Twitter Marketing Should Be Part of Your Social Strategy
Instagram
I don't know about you, but Instagram continues to surprise me with its rolling updates. One day I can purchase that blouse I've been eyeing right from my feed and the next day I'm warming up my dance moves for Reels. As our favorite social media platform continues to update and evolve its capabilities, one thing is certain: our social media image strategy should update with it. 
Photo Posts
Fall in line with the 'gram's image guidelines with these sizing recommendations for both organic and paid — and be sure to keep that aspect ratio in check to avoid pesky cropping! 
Photo Thumbnail: 161 x 161 px

 

Square Image: 1080 x 1080 px, 1:1 aspect ratio

 

Portrait Image: 1080 x 1350 px, 4:5 aspect ratio

Landscape Image: 1080 x 566 px, 1.91:1 aspect ratio

 
Instagram Stories
My morning routine usually consists of rolling over to — admittedly — check Instagram. Like many others, I'll view Stories before giving my feed a quick scroll. This means your brand's IG Stories need to be on their A-game with the perfect size for sleepy eyes, as they might be the first thing your audience sees when they start their day. Keep this recommended image size in mind for your next Instagram Story: 
Instagram Stories: 1080 x 1920 px

 

Aspect Ratio: 9:16

 

Max File Size: 4GB

 
Related: Creative Ways to Use Instagram Stories for B2B Tech 
Instagram Reels
Let's talk about Reels, BABY! Earlier this year, Instagram announced that all videos shorter than 15 minutes will now be posted as Reels. Though more immersive and easier on the eyes, IG Reels require a certain level of love, care, and formatting to look appealing in feed. Take note of these guidelines to ensure your video marketing efforts are being seen and appreciated: 
Instagram Reels: 1080 x 1920 px

 

Aspect Ratio: 9:16

 

Note: Reels are cropped to a 1:1 image in your profile feed and a 4:5 image in the home feed

 
Keep in mind recommended Reels cap at 90 seconds — so it's best to keep them short and sweet. 
View this post on Instagram

Lastly, the good ol' profile pic. For your brand's sake, keep it simple and recognizable with your logo. So, what's the perfect profile picture size?
Instagram Ads
After nailing your images for your organic Instagram strategy, let's chat paid image specs. If your audience is big on Instagram, you want to capture their attention quickly before they scroll past your ad without a second thought. Here are paid Instagram ad specs that you'll want to follow.
Instagram Feed Ads: 1080 by 1080px, 9:16 aspect ratio
Instagram Stories Ads: 1080 by 1920px, 9:16 aspect ratio
Instagram Explore Ads (square): 1936 by 1936px
Instagram Explore Ads (landscape): 600 by 315px to 1936 by 1936px
Instagram Explore Ads (vertical): 600 by 750px to 1936 by 1936px
Related: Key Platform Consideration for Your Paid Social Strategy
TikTok
One of the fastest-growing social media platforms with over 3 billion downloads, TikTok presents one of the greatest ways to leverage user-generated content. Not to mention — a new generation of influencers  has taken brand awareness even further.
TikTok videos are usually created natively on the platform, but for those times you are working with an influencer or want to upload a more polished video, follow these recommendations and keep those videos vertical:
File : no larger than 287.6 MB, no larger than 500 MB for ads

TikTok Videos: 1080 x 1920 px

File Type: MP4, MOV

TikTok Video Ads: 540 x 960 px

Ad File Type: MP4, MOV, MPEG, 3GP, AVI

: 9:16 (recommended), 1:1 or 16:9
Video Length: 

15

seconds

–

3 minutes
Related: The Power of TikTok Advertising and Why You Should Invest
Facebook
With nearly 3 billion active users, Facebook has dominated the digital landscape as the world's largest social network. Whether it's creative for ads, event promos or Facebook's fundraiser feature, make sure your images or social cards stand out on your target audience's feed with these recommended image sizes:
Facebook : 1200 x 630 px
: 1200 x 628 px
: 1920 x 1005 px
: 180 x 180 px
: 820 x 312 px
Facebook Stories: 1080 x 1920 px, 9:16
Fundraiser : 800 x 300 px
Next up, we have Facebook Ad image sizing. With so many different advertising capabilities on FB, it's important to note the sizing and best practices behind your chosen creatives.
News Feed Ads, Marketplace Ads and Messenger Ads: 1200 by 628px
Collection Ads: 400 by 150px
Carousel Ads: 1080 by 1080px
Video Ads: 16:9 or 9:16, 4GB Max
Related: 3 Effective Ways to Generate Leads on Social Media
LinkedIn
As the largest professional network, LinkedIn is a great platform to highlight the inner workings of your organization and the best parts of your brand — your people! Therefore, your images should be up-to-par. Follow these guidelines to elevate your business' presence on our favorite networking site:
: 1192 x 191 px

Post Images or Link: 1200 x 627 px

Company Logo : 300 x 300 px

File Type: PNG, JPG, GIF

Max File : 4MB
Next up, we have LinkedIn Ad image sizing. With very targeted and competitive advertising capabilities, utilizing the right image or video sizing can make or break the impact of your paid ads.
Sponsored Content / Single Image Ads: 1200 x 627 px, 1.91:1 aspect ratio
Text Ads: 100 x 100 px
Dynamic Ads Follower Format: minimum 100 x 100 px for JPG or PNG
Dynamic Ads Spotlight Format (company image): minimum 100 x 100 px for JPG or PNG
Dynamic Ads Spotlight Format (background image): 300 x 250 px
Dynamic Ads for Talent Media (logo): minimum 100 x 100 px for JPG or PNG
Dynamic Ads Content Format (logo):minimum 100 x 100 px for JPG or PNG
Dynamic Ads Content Format (document preview): max five images 81 x 104 px
Carousel Image Ads: 1080 x 1080 px with a 1:1 aspect ratio
Video Ads (landscape): max 1920 x 1080px, 16:9 aspect ratio
Video Ads (square): max 1920 x 1920px, 1:1 aspect ratio
Video Ads (vertical): max 1080 x 1920px, 9:16 aspect ratio
Related: A Complete Guide to LinkedIn Message Ads
YouTube
You may only think of video when it comes to YouTube, but your YouTube profile is a great space to highlight your brand via static imagery.
Profile Picture: 800 x 800 px
Cover Photo: 

2048 x 1152 px

Video Thumbnail: 1280 x 720 px, 16:9 aspect ratio
For more image insights, check out our handy-dandy cheatsheet below. Go one step further and print it out for your makeshift home office — see you next year in 2023!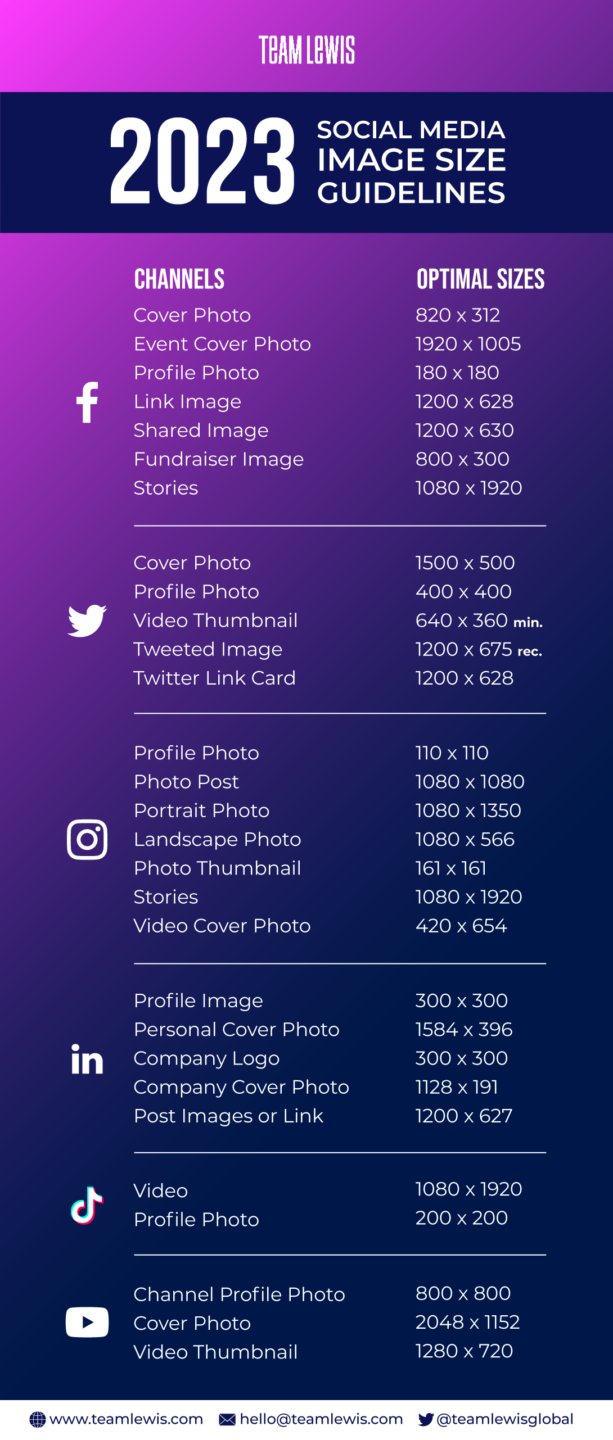 From content marketing to social media strategy and more, we do it all. Reach out to us today!