Often, companies will launch a marketing campaign without knowing how to measure its effectiveness. We know there are many important questions around this topic. It is pertinent to understand the importance of landing page metrics and how they work, including how to find and measure them. Let's say you start a campaign with a goal to get 100 people to join your mailing list or download a blog and want to track important landing page performance metrics? You came to the right place for some answers, but first things first, let's start with the basics! 
What is a Landing Page?
A landing page is a web page that any visitor could come across and "land on" from an ad, email, Google, social media, etc. These pages can include blog pages, product pages, a mailer joining list and so much more. Landing pages usually have a specific goal they encourage visitors to complete, known as the call to action (CTA). This is where landing pages and normal web pages differ. Normal web pages may have multiple links and areas of focus, whereas a landing page is solely focused on one thing – to convert the goal at hand (joining an email list or downloading a blog). Here are some dos and don'ts for creating your landing page! 
What are Landing Page Metrics?
Landing page metrics are a fancy way to say: data gathered from page performance. These metrics are a quantitative way to gauge how well or how poorly your page is performing but also measure the success of everyday business activities that support your KPIs. These metrics include:  
Page Views: This shows you how many times your landing page has been viewed.

Landing Page Sessions: This shows you how many sessions your landing page has received.

 

Sessions by Traffic Source: This is how you see where your traffic is coming from.

 

Goal Completion/Conversion: This is how you see how many conversions have been completed and gives a breakdown of the rate.

 

Average Time on Page: This shows you how long visitors are on your page.

 

Bounce Rate: This tells you the percentage rate that people are entering your page and then leaving. 

 

Page Per Session: This is how you track how many pages the user visited during their entire visit.

 
What Metrics Matter? 
With many metrics available to see how well your landing page is, the importance of these metrics shifts from company to company. Each company has a different goal and KPIs, which means companies look at landing page success differently. But I am here to tell you which landing page metrics are the most important to look at and keep in mind when setting business goals. 
Top 5 Landing Page Metrics
We have selected these as our top 5 landing page metrics for performance. We monitor and report on the following metrics for our clients as well as our own website.  
1. Page Views
This is one the most important metrics to look for when searching for site performance. A page view described by Google Analytics (GA) Page views is "the total number of pages viewed, or repeated views of a single page are counted." Point blank, this shows how many times your page has been viewed or visited, and the more landing page views, the better! The more website visitors, the better opportunity for customers and conversions. Check this often. 

2. Goal Completion/Conversions
This is another great landing page metric to view when focused on performance. First, you'll need to set these goals up in Google Analytics. You can create multiple goals that fit your site/page perfectly, whether it is a review of a product, signing up for a newsletter and so much more. From there, not only can you see how many times your goal has been completed, but you can also see the conversion rate (percentage of visitors who converted). This is valuable when you have KPIs in mind.

3. Landing Page Sessions
This is the second most important metric to look at and it shows the number of sessions your landing page is receiving. A session is described by Google Analytics as "the period time a user is actively engaged with your website." This is similar to page views but gives you more insight on active users on your specific landing page.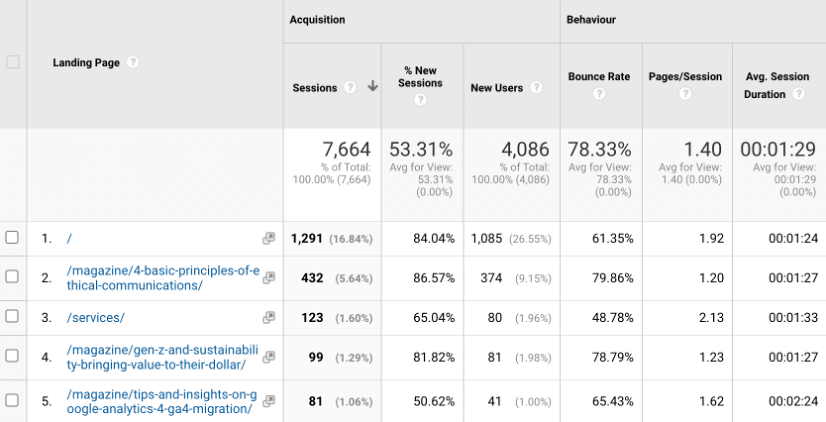 4. Bounce Rate
This is another huge metric to look out for. We have all done it – visit a page quickly to see what it was about and leave if it didn't have what we were searching for. GA describes the bounce rate as, "the percentage of single-page sessions in which there was no interaction with the page" or the percentage of all users who leave after they view a single page. The lower the percentage, the better it is! This means users who came to your site found what they were searching for. 

5. Average Time on Page
This is another important stat to review that shows how long a user is on a page. This is described by Google Analytics as, "the average amount of time users spent viewing a specified page or screen, or set of pages or screens." This can mean varying things: maybe a website visitor has found your page educational and they are reading through it all, or maybe they enjoy your page/content enough to stay on it longer than normal. Either way, with this metric you can adjust your strategy if some pages have a lower average time on page to garner more time from customers. 

How to Track these Metrics
Now you're probably wondering how to track these key metrics. Google Analytics is the answer! Don't be intimidated by this process or the numbers. Just follow the steps outlined below for each of the metrics we find most important, and it will be a breeze. 
Page Views: Sign into GA >

Behavior > Site Content > All Pages

 

Goals Completed/Conversions: Sign into GA >

Conversions > Goals > Overview

 

Landing Page Sessions: Sign into GA >

Behavior > Site Content > Landing Page

 

Bounce Rate: Sign into GA >

Behavior > Site Content > All Pages

 

Average Time on Page: Sign into GA > Behavior > Site Content > All Pages

 
Related: Step-By-Step Guide to Building an SEO Content Strategy 
Landing page metrics are important to monitor to see how well your content and site are doing relative to the goals you set or business objectives you'd like to achieve. Monitoring landing page metrics allows you to change your strategy as you go or implement a successful page across your website. Now that you've kicked off your content or marketing campaign, sent the content out, and have set up your Google Analytics to track specific goals – that's it! It's that easy. You're well on your way to turning that report into something that impacts your bottom line.  
 Looking to improve your landing page performance? Or need some help building a Google Analytics dashboard? Contact our digital marketing team today!