In fact, last year, the average person spent about 2.5 hours a day just scrolling social media channels! Brands need engaging, original content specific to each platform to capitalize on this engagement.
Below is your guide to content curation for the five most popular social media platforms today. We'll explore tips for building a strategy around social media content curation, with helpful brand examples throughout. Follow along to enhance your social media brand awareness, engage your target audience, and build unique content.
Related: 9 Steps for Creating an Engaging Social Media Content Strategy
Twitter
Engaging content mix
Leverage a mix of promotional content, industry news, and entertaining posts to keep your audience informed and interested. Including visually appealing social creative, like videos, can also help increase engagement. Posting on relevant social media holidays is another fun way to add to your fresh content mix.
When it's National Chocolate Ice Cream Day but there's no chocolate ice cream emoji. 🍦

Anyway, tweet us your favorite flavor and we might deliver some 🍦 to your DMs. pic.twitter.com/LpcvCwo45i

— Grubhub (@Grubhub) June 7, 2023
Hashtags
Be sure to research and utilize relevant industry hashtags to include in your tweets. Leveraging trending hashtags can also boost your social content, increasing the visibility of your tweets and joining conversations relevant to your brand.
Encourage conversation
Prompt your audience to engage with your brand by asking for their opinions, experiences, or suggestions in Tweets. Twitter presents the opportunity to hear your audience's thoughts and a direct line to highlighting customer experiences to build brand advocacy.
Tell us something that made you smile today. 💚 pic.twitter.com/Dx0fhue0x5

— Starbucks Coffee (@Starbucks) April 13, 2020
LinkedIn
Showcase your brand's expertise
Share industry-specific content, such as informative articles, research findings, and success stories, to position your brand as a trusted resource. It's also a great platform to highlight your company's executives and further establish them as thought leaders.
LinkedIn live
Leveraging LinkedIn live events can engage your brand in relevant conversations on industry topics and provide valuable insights from experts. This establishes brand authority within the community and engages your audience within the platform instead of pushing the event or conversation to an external link.
Employee content
30% of the engagement on LinkedIn company posts comes from employees! Ensure to highlight employees and encourage them to engage to amplify your content.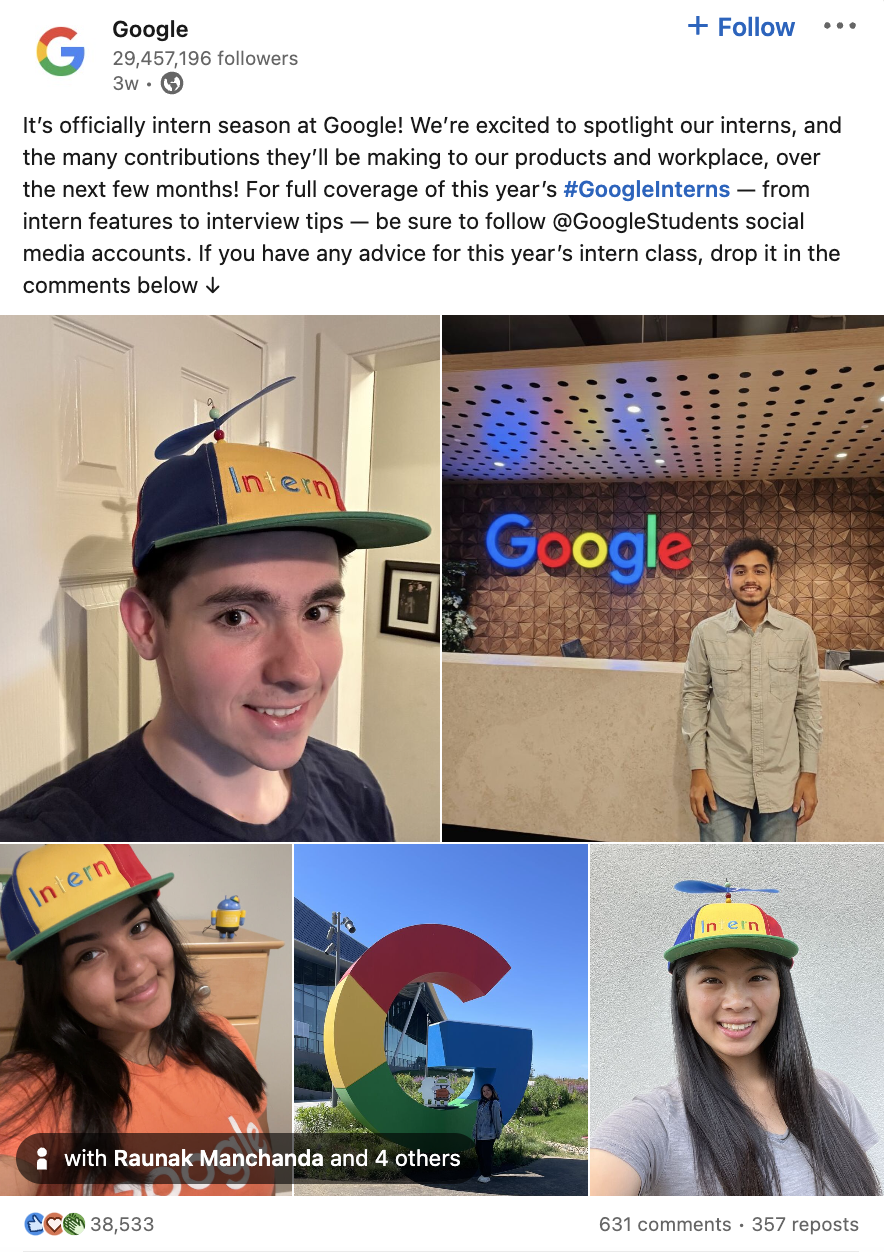 Facebook
Video Content
Sharing eye-catching videos and graphics that align with your brand's aesthetics can help you stand out in the Facebook feed.  
Experimentation
Outside of your regular content mix, spice up your social content with customer case studies, vertical Reel videos, GIF creative, and more. A solid content marketing strategy also plays into this, so leverage infographics or other unique content for Facebook to stand out. 
Related: Utilizing Instagram for Influencer Marketing
Instagram
Aesthetic grid
Maintain a visually appealing and cohesive Instagram feed consistent with your brand's colors, logos, and overall identity. High-quality images will also help stand out and add to this aesthetic.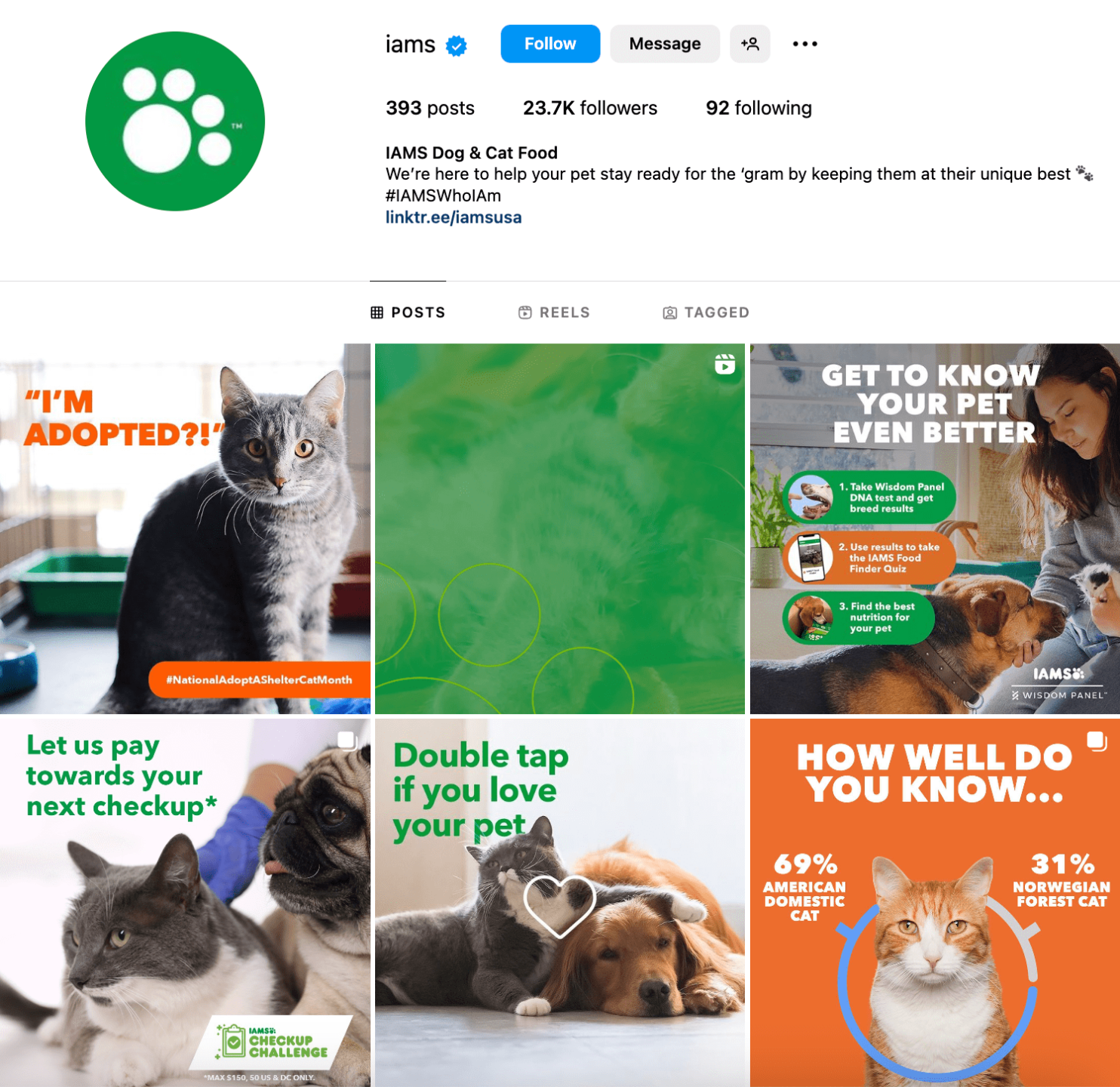 Reels
Capitalizing on the growth of short-form content creation, Instagram Reels can help your brand grow engagement, as the algorithm favors them. Reels can be created on your phone casually or with more in-depth video production. Just make sure to have fun and be authentic!
Instagram Stories
Instagram Stories are also a great way to share more behind-the-scenes content, product launches, tutorials, employee/influencer takeovers, and more. Treat stories as a way to create a deeper connection with your audience. Additionally, sharing relevant stories in which users tag your brand is an easy way to develop this valuable content.
Influencer Marketing
Using influencers also will expand your Instagram content, whether they are micro-influencers, macro-influencers, or everything in between. Learn more about finding the right influencer for your feed here.
View this post on Instagram
TikTok
Embrace Authenticity
Be genuine and authentic in your content; community is everything on TikTok. Create videos that showcase your brand's personality and unique selling points while not being overly sales oriented.
Show Some Personality
Engaging and commenting on relevant videos is important to grow your channel and create trust with your audience. Duolingo is an example of this, leveraging funny, original content featuring its company mascot, leveraging trends, and commenting on relevant videos.
Entertaining and Trendy
With TikTok's in-app editing features, effects, music, and sounds, it's easy to develop and share content that is entertaining. The platform is also a great place to capitalize on trends, which fosters community and encourages conversations about your product.
Related: 2023 Social Media Image Guidelines
Curating quality content for your brand's social media channels is necessary to grow brand awareness to reach new target audiences. Following these valuable content curation strategies outlined for each platform will help build a loyal following and establish your brand as a trusted resource.
Need help in developing your company's social media content? TEAM LEWIS can help provide a social media marketing strategy to build your digital presence. Reach out today!