#1: Make it Interesting | The Who
Take a moment to think about who you are really talking to. You likely have the purview of an internal-facing role and experience a side of the organization the majority of the people you're speaking to do not. Your colleagues out there in the trenches have a different day-to-day and attention to company communications will usually play second fiddle the client, vendor, partner, and other team emails flooding their inboxes.
First impressions matter. Take a page from media relations 101 and the practice of creating compelling headlines with an attention-grabbing subject line. The shorter and punchier the better. HubSpot says to aim for 50-65 characters. Marketo recommends 41 to be exact. MailChimp says it depends ?. Magic numbers aside, the aim of the game it to be succinct yet clear.
Also be open minded to mediums and channels beyond emails and newsletters. We've all seen the stats on how much people love consuming video content. Don't count out the effectiveness of a well-made infographic or interactive flow chart either. When planned properly, the direct engagement from in-person or remote presentations is often undeniable – just always be sure to record and house them in an easy-access, user-friendly content repository!
Don't forget a tasteful balance of humor, wit and kindness are proven to work when it comes to communicating in general. All-in-all, it's about being relatable and empathetic.
#2: Be Concise | The What & Why
"I didn't have time to write a short letter, so I wrote a long one instead." – Mark Twain
Alright, you've made it interesting enough for your audience to be open to your message. Now the challenge is to make the most out of those precious moments of attention you've earned.
If you haven't met the inverted pyramid messaging technique, now is the time. It's a writing style journalists have used for ages to help get the attention of impatient audiences who do not have the time or desire to read thoroughly. The basics to the inverted pyramid writing style are below: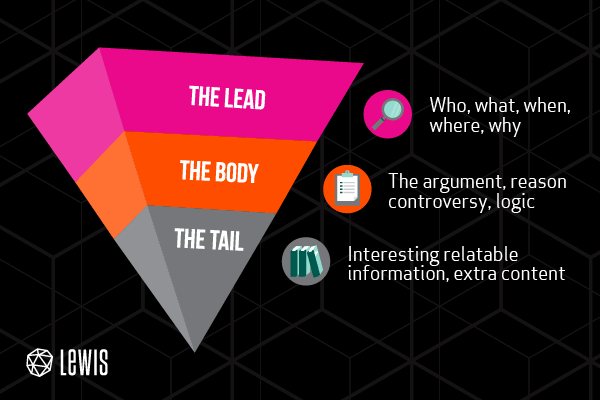 This writing style forces you to focus on the story and supporting details key to message cognition, and retention. What's most newsworthy to your internal audience? More often than not, it won't be the same part of the story the internal team finds most compelling. For example, rolling out a new holiday schedule or pet policy may be exciting for the internal team since the initiative has been in the works for months. It may be tempting to lead with a "New holiday schedule is here" or "We're pleased to announce our new pet policy" type messaging while your audience likely doesn't care about the effort it took to roll out the new initiatives. Try leading with something along the lines of, "Who wants more vacation days?" or "Meet Jasper" to get your team's attention.
#3: Keep it Timely | The When & Where
We've all heard the saying "timing is everything" and it truly is in today's crazy crowded noisy world. Taking another page from media relations pros, pace your communications to relevant matters such as trending current events, national/international hashtags days, annual holidays, viral campaigns, etc. By the same token, be cognizant of possible negative windows such as days that mark national or local tragedies, tax season, Tuesday after a long weekend, and so on. Also be mindful of anything taking place within the organization that may have an impact on how your communications are received.
Conclusion
Just like media relations isn't about blasting any and all reporters your great story, IC isn't about sending emails en masse in hopes it gets read before filed away to never be seen again. The end goal is for employees to actually engage with your content to foster a multi-sided conversation. Putting the right tools in place can often be the tipping point to transforming your IC strategy from a one-sided conversation to a platform that empowers. After all, the one with the best team wins.
This article was originally published on Social Chorus', Future Comms 2019.