What's a schema markup?
A schema markup (also known as structured data) is code to input on the pages of a website to tell search engines what to display on the Search Engine Results Page, also known as a SERP. The schema itself is not directly a ranking factor, but it can help present your website in a way that is more readable to search engines.
Essentially, you're helping the website speak the same language as search engines. You want it to be as easy as possible for Google to find and recognize content on a website and schemas help do that.
How does it look?
The code from a schema explicitly tells search engines what to display on the SERP. These results can be shown as a featured snippet or a rich snippet.
Featured snippet (instant answers). Below is a featured snippet about a featured snippet. Brilliant. A featured snippet is always at the very top of the results page, meaning it is above the first organic listing. Just another reason schema markups are a beautiful thing.

Rich Snippet. Whole Foods ran out of my favorite Kimchi, so I got curious. With rich snippets, I can tell a lot of information before even clicking on a site, like calories, average ratings, number of reviews, a picture and other helpful links. Users and search engines alike love it when there is a lot of useful information on a SERP. You can help Google do this by using schema markups.

This seems too good to be true.
This is not a black hat way to improve your rank. It's by the books. Literally, by Google's book. Google wants your site to be crawlable so it can present the best, most accurate information on its SERP.
Without schema, if someone is trying to find the best phone number to contact you, they will have to search for your name, find your website, locate the Contact Us page, find the customer service line, and finally manually type in your number to their phone. With Schema, someone can search "Whole Foods Customer service phone number" and up pops the number, right in the SERP. You and Google both want to find the right information, quickly.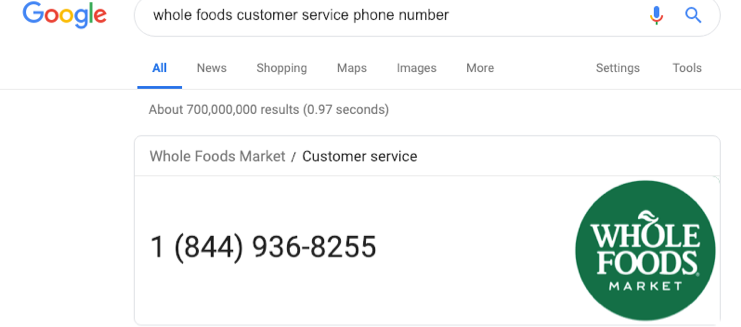 Okay, so where do I begin?
To kick things off, you'll need to make sure to register your website with Google's Search Console. You can then use Google's Structured Data Markup Helper to create the HTML code to add to your website. A good place to start is your homepage. Here are a few important items to fill in.
Name: The name of your brand.
Alternate Name: Any alternate names of your brand that people might search for.
Email: The primary email address you want to be contacted through.
Address: Where your business is located, or your HQ.
Owns: If you sell products, list the products owned by your company.
Telephone: The main telephone number of your company.
URL: The URL of the page you are using to create your schema.
Founder: Who was the original creator/founder of your business.
Founding Date: The date your company was founded.
Type: Pick which type best matches your company, using this list as a guide.
Additional Type: Use this to further clarify your business. For example, if LEWIS chose "Organization" as our first type, we can clarify with "Digital Agency" here.
Logo: The logo you would like Google to display on the SERP.
Brand: The various brands associated with your company.
Number of Employees: If someone searches for your company name and "number of employees" this will appear on the SERP as a featured snippet. Including this can help clarify the size of your company over the results from Glassdoor or other articles.
My favorite schema uses.
Okay, summarize this for me.
Although schema markups do not guarantee your pages will be featured as you have listed in the markup code, it will help Google crawl the site to find the right information, thus increasing the likelihood that the information you provide will land on the SERP. It is an often-overlooked best practice for websites.
Schema markups are a win-win-win. Google is happy because it's easy crawling, your audience is happy because they get the information they need efficiently and you're happy because, well, your audience is happy. Happy customers = more $$$.
Want to deploy schema markups on your website? Reach out to [email protected] to get the full run-down.
Bonus Fun Fact: Voice searches like Alexa and Google Home often use the information search engines gather from schema markups.