Undeniably, the marketing tactic for 2020 was "adapt." From toggling between push and pull strategies to switching up campaign messaging, to reacting to changing customer behaviors and experimenting with new channels — marketers can liken the past year to running a marathon without a finish line in sight.
But there's plenty of good that emerged from the chaos: being pushed out of comfort zones, an imperative for transformation and the rise of the empathetic brand. And while it's frightening for any weakness to be exposed, the truth is it's never too late to learn and grow.
The lessons learned in 2020 will play a huge role in shaping your brand's priorities, digital marketing strategy and overall marketing effort in 2021. Let's start by looking back at the key marketing trends from this past year.
We recently surveyed over 200 marketers globally with specialties ranging anywhere from marketing automation to content marketing. 50% of marketers were operating with a reduced marketing budget in 2020. The good news is there is a strong level of optimism. They predict budgets will either maintain or exceed pre-COVID levels and even foresee opportunities to grow their marketing teams in 2021.
In addition to proving ROI, marketers also anticipate these challenges:
Changing consumer behaviors
Cutting through the digital noise
Growing uncertainty
Maintaining relevance among their target audience
The most prominent shifts according to the marketers fall in three categories: the pivot to virtual and digital marketing, the need for marketing to play a bigger role in the sales function and social media becoming the reigning marketing channel champion.
Marketing Amidst Uncertainty
In our latest guide, Marketing In 2021: Pushing Forward In Uncertainty, we cover the top five areas marketers should focus on and the three potential strategies to adopt to stay ahead and retain brand awareness. The approach to take in 2021 will remain fluid. Month-by-month planning will no longer be effective and instead, pivoting key priorities will work best. Here's a sample of our tips to navigate upcoming marketing trends:
#1 Lead Generation & Conversion
Lead generation relies on a solid digital marketing strategy, the right tools and a dedicated approach. Your brand's content strategy forms the core of an effective lead gen program. It needs to capture attention, communicate a point of difference and be engaging. Your content marketing effort should speak to the customer rather than at them.
Related: LEWIS Guide | The Marketing Funnel Re-Imagined
#2 Dealing With Digital Fatigue
Your potential customer is now online and all too familiar with digital advertising. The size of digital audiences has exploded, but it's a double-edged sword. A larger digital audience comes with more marketers competing to connect with them. How do you cut through the noise and help your digital marketing campaign stand out? Start by refreshing your brand message. Get creative with recent design trends and test out new visual formats to capture the attention of your target audience.
#3 Boosting Brand Equity
B2C and B2B marketers must play an active role in decision-making and advising senior leadership on how actions and strategies will be perceived. Whether in your next marketing campaign or on your website, consistency in purpose and messaging will also be key for your strategy.
#4 Streamlining Your Marketing Tech Stack
If you're looking at areas to invest in, marketing technology should be on your list. As your customer's buyer persona evolves, the way we work must change to adapt. From search engine optimization to tracking social media metrics, consider adding a different marketing tool and trying new platforms that can help you get organized, keep you informed and measure performance in a timely and meaningful way.
#5 Strengthening Skills & Talent
With the increased emphasis on digital channels, adoption of new MarTech stacks and lead gen strategies, marketers must also ensure they have the proper skills and talent for successful implementation. Take the opportunity to assess any gaps and opportunities that can be filled with internal training or upskilling, or with the help with an external marketing agency.
Finding The Right Strategy
Whatever the stage of recovery is in your country or industry, there are 3 strategies every marketer should consider: Cornerstone, Agile and Conquest.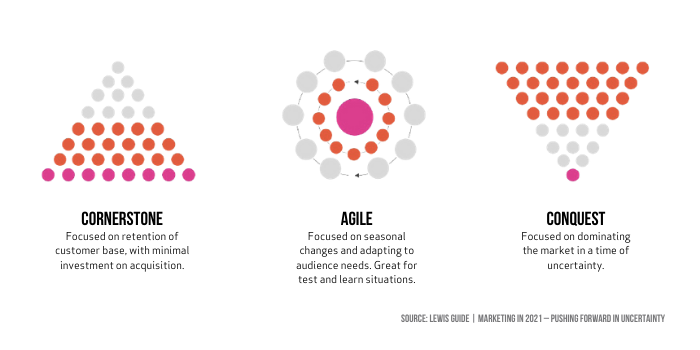 Start looking outward in 2021 and take the time to better understand your audience — when and where they are most engaged and the messages that resonate with them at various stages of the marketing funnel.
Want more guidance for your marketing plan in 2021? Download our free marketing guide or get in touch with our team to find out more about our digital marketing services.